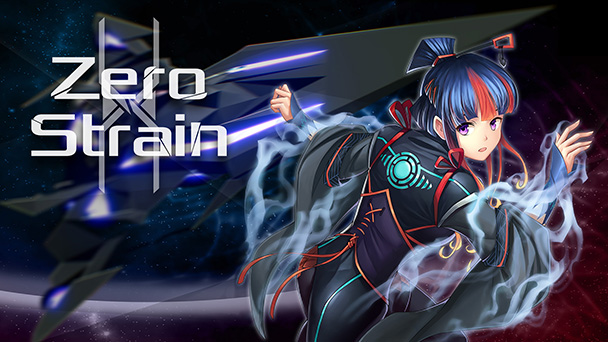 An arena-shooter with MOBA-esque aspects, Zero Strain's visual cacophony can initially be overwhelming. Adjust to the chaos, and masochists might find a bit of enjoyment.
Zero Strain
Platform:
Switch, also on PC
Developer:
Kaio Meris
Publisher:
EastAsiaSoft
Release date:
August 13th, 2020
Price:
$9.99 via digital download, launch discount price of $7.99
Availability:
Nintendo eShop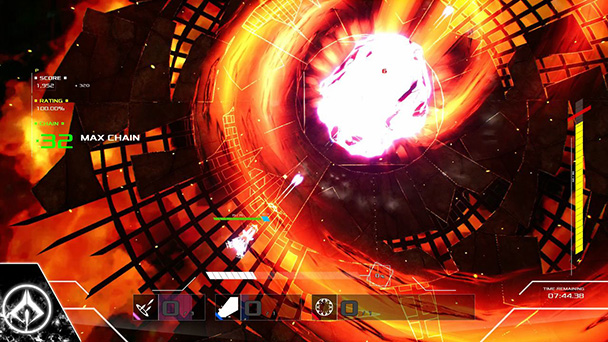 At first glance, Zero Strain resembles a twin-sticker shooter like Geometry Wars. Working within cramped spaces, your tiny ship is persistently assaulted by scores of enemies, prompting a steady steam of projectiles to defend yourself. But solitary developer Jaron Kong (working under the name of Kaio Meris) isn't interesting is merely duplicating the efforts of Bizarre Creations and Lucid Games.
One of the most prominent differences is the movement of your ship. Instead of using one analog stick to move and the other to aim your gun, Zero Strain forces players to use a single control stick. Aiming is mostly automatic and will lock onto to the nearest threat, provided you are reasonably close to the target. Holding down the firing button naturally releases a succession of shots. But you do have to pay attention to an energy meter. All too often, it's easy to drain the gauge when the action heats up. On the upside, Zero Strain presses you into playing precariously. If you want a solid lock-on, you'll have to be treacherously close to adversaries.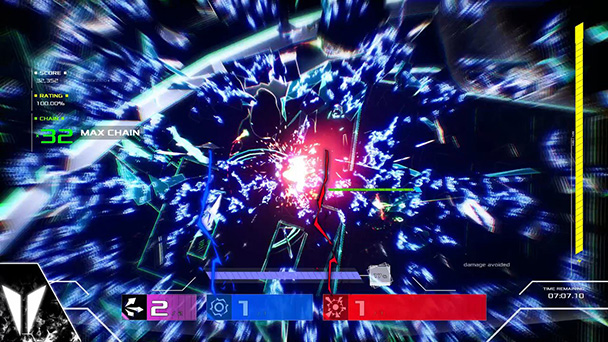 Pushing Boundaries
Zero Strain's other departure from tradition is the momentum as you maneuver around. Don't expect your ship to come to an immediate stop. Unfortunately, this means you'll often fly outside the boundaries of each stage, which quickly siphons away your health. When this happens, you'll want to use your dash to get back inside the playfield. But dashing isn't just used to make quick corrections or dodge out of the way when a cluster of foes is about to box you into a corner. When careening around, you'll also magnetically attract power-ups left behind by defeated adversaries.
These square-shaped pick-ups prove invaluable. By collecting them, you'll fuel a trio of different weapons. Each is exponentially more powerful that your default gun. Depending on your ship, they'll extend different abilities. Some release an ally of obliteration directly in front of your ship, others trigger an area-of-effect assault, and while other weapons lock-on to foes. Since elevated enemies are unyielding to your basic attacks, these are needed to penetrate their resilient defenses. Much like the cooldowns of many MOBAs you won't be spamming your elevated attacks. Miss your target and you'll build up your offensives, which feels properly dispiriting.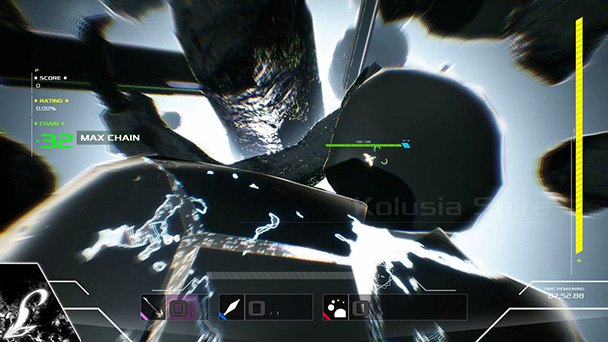 Bringing Out the Big Guns
Woefully, Zero Strain's control scheme might prompt a bit of uneasiness. Firing more formidable arms requires a press of the left trigger along with a simultaneous tap of one of the face buttons. Since the latter don't have any other function, the input method feels unnecessarily cumbersome. Unfortunately, the game's options are sparse, offering no way to change the default button settings.
Another issue stems when playing the game in handheld mode. With a myriad of diminutive enemies and projectiles all darting around, it's all too easy to lose focus of the threats around you. This becomes exacerbated by the game's graphic effects. I love visual spectacle that overloads the retinas, but occasionally, Zero Strain borders on being too busy. Another final sticking point is the game's nomenclature. Yes, language helps establish context, but Strain takes it too far, with ships called "constructs", power-ups referred to as "cells", as stages called "destinations". Aleira, the anime-style handler who provides missions, is attractively drawn, keeping the game from feeling too sterile and abstract.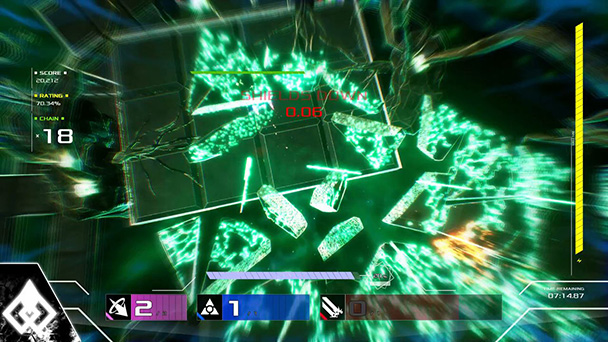 Conclusion
Shooters that strive for originality are a bit too rare. Zero Strain presents some noteworthy ideas. Single-stick moment and auto-aiming aren't perfect in execution but feel distinct. Meanwhile, a weapons system that shirks cooldowns and goads gamers into danger is a novel concept. Across stages that pit players with protecting objects, or fighting waves of enemies as well as bosses, Zero Strain is diverting. Stages will frequently end in failure until you master the deployment of every bit of your arsenal. I wasn't always motivated to continue, as the game pads progress by making you replay missions. Maybe those charmed by innovation and who don't mind level grinding will appreciate it more.
Zero Strain was played on Switch with review code provided by the publisher. 
Review Overview
Summary : Zero Strain is a bit of a misnomer. You'll undoubted feel tension fueled by an obstinate control scheme. Master that, and the game's high level of challenge will definitely apply pressure.