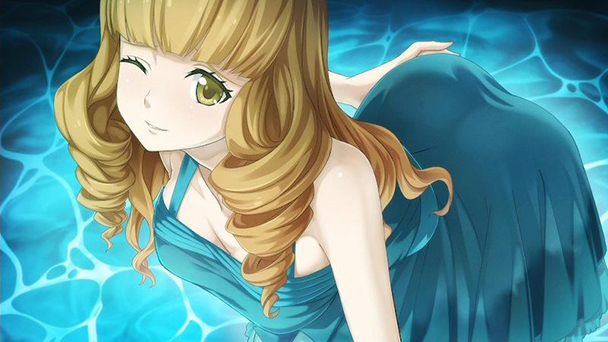 As anyone who tries to keep up with contemporary media will tell you, there's simply not enough time in the day to enjoy every new movie, series, game, manga and novel. Entertainment is being created faster that we can consume it. But this wasn't always the case, especially before the late nineties.
Despite the prominence of the tokusatsu genre, some Japanese creatives didn't find enough cerebral science fiction at home. As such they sought out the kind of ruminations on technology and morality that were being produced abroad. American sci-fi writer Harlan Ellison's Hugo-winning short story, The Beast that Shouted Love at the Heart of the World undoubtedly influenced several prodigious young talents. Hideaki Anno weaved some of the ideas into Neon Genesis Evangelion, (titling episode twenty-six, "The Beast that Shouted I/Ai at the Heart of the World"), with protagonist Shinji Ikari exploring an alternate reality and recognizing the steadfast balance between good and evil.
Similarly, game designer Hiroyuki Kanno was stirred by Ellison's writing. Amidst the mid-nineties, the visual novel was already growing stagnant. Able to be created quickly and cheaply, a micro-industry had emerged and myriad of derivative eroge was flooding the market. Working with sound designer Ryu Umemoto, the duo developed a trio of novels that demonstrated the duo's escalating ambitions. Together, a trio of titles- Desire, Xenon, and EVE Burst Error gradually prodded at the capacity of the visual novel. Especially the latter, which allowing players to switch between protagonists at any time, earning distinction for developer C Ware.
Kanno and Umemoto's aspirations would continue to grow. An offer from Elf Corporation permitted the duo to push the medium even further, resulting in the 1996 release of YU-NO: A girl who chants love at the bound of this world. Sure, there were the obligatory sex scenes, but YU-NO aimed to stimulate more than just libidos. It tackled a multitude of scholarly concepts, melding a convincing (and thoroughly researched) model for time travel, discursive explorations of ethics and history- all while still managing to incorporate dating sim elements. Undoubtedly, YU-NO was influential, establishing the foundations for the Science Adventure, Fate, and Muv-Luv franchises.
Players took the role of Takuya Arima, a rebellious third-year student at the Sakaimachi Academy. An opening flashback reveals a troubled relationship with his dad and a close bond with his mother who would later pass away. Later, it's divulged that his father, a noted historian and researcher, might have died, conceivably spurring Takuya's disobedience. But a package seemingly sent by his father signals a more complicated situation. Inside, is an enigmatic slotted mechanism, called the Reflector Device, along with detailed instructions. Apparently, the contraption is a gateway to alternate dimensions. While Takuya can't immediately comprehend all of this, he's impelled by the prospect of his father's existence.
YU-NO's prologue is deceptively grounded in deliberate insipidness. Here, Takuya seems like the sharp-tongued pervert of countless visual novels. Whether it's flirting the Academy's physician or verbal sparring with the underclassman he rescued from a group of bullies, Takuya seems consistently aloof. But slowly, YU-NO reveals this quality is a coping mechanism for dealing with thorny issues.
Unsurprisingly, several other characters engage is similar 'face saving' techniques, offering a rare glimpse into a trait that hard to fiction struggles to realistically depict. Likewise, the complexity of conversation is handled quite remarkably. Occasionally, you're not able to leave an exchange because of Takuya's perceptions of non-verbal behavior. By reading another character's tone and body language, its apparent that they have something else they wish to address. Later, these intricacies are shown in subtle shifts to Takuya's personality. Like an actual person, he's influenced by the people and actions around him, which are mirrored by Takuya, almost imperceptibly.
Yet, YU-NO is much more than discussion and dating, weaving adventure game elements into its branching journey. To help visualize the game's concept of interwoven, parallel worlds, players are given access to the Auto Diverge Mapping System (or A.D.M.S.) which helps chart the player's complex course. Jewels collected during play are slotted into your Reflector Device, becoming literal save points that record a moment in time and space along A.D.M.S. Although there's plenty of flexibility in your journey, the restrained number of jewels help players from becoming hopelessly adrift in the time-space continuum. However, if you do regret the use of a jewel, it's possible to jump back, reclaiming the jewel.
But that's not to imply it's going to be simplistic, linear trek. You'll hold onto your inventory when vaulting across parallel dimensions. And you'll need certainty need these tools, as progression is occasionally halted until you bring the proper item. Fortunately, YU-NO is quite forthright, so there's no pixel hunting for objects, while A.D.M.S. color-codes different routes that require specific tools.
The sum of these elements means that YU-NO demands concentration from players. This is true when the game was released in 1996 but might be a bit more difficult for a 2019 remake published amidst the dawn of the holiday shopping season. Sure, you might be capable of juggling a handful of action games and a marathon RPG, but YU-NO's knotted realities and painstaking character studies function best with a minimum of cognitive competition. There's a wealth of preparation and care that went into the original and this reconstruction and you'll likely want to savor every morsel.
Pleasingly, the team at Mages proficiently transported YU-NO into the contemporary era. Although Nagaoka Yasuchika's character designs originally met with a bit of criticism, the consensus is that the artistic decisions helped benefit the game's storytelling, especially though the depiction of emotional underpinnings. Remarkably, this version captures the essence of each character, while vigilantly diluting the 90's-era look of each figure. Tampering with Ryu Umemoto's soundtrack might be a bit more contentious, with many proclaiming the late composer one of the top talents in the FM-synthesis realm. Elegantly, there's the option for both the original work as well as a more modern, but respectful adaptation.
Most twenty-five-year-old visual novels feel antiquated not just aesthetically, but thematically as well. YU-NO: A girl who chants love at the bound of this world is the rare exception. Not only are its influences on the medium evident and worth experiencing, but the storyline is just as intriguing a quarter-century on. The game's final route, which delivers new understandings of previously seen events is nothing short of phenomenal, making YU-NO a requisite who appreciate the capability of interactive fiction.
YU-NO: A girl who chants love at the bound of this world  was
played on the Switch with review code provided by the publisher. 
Review Overview
Summary : There's several good reasons why YU-NO: A girl who chants love at the bound of this world is revered. It's the landmark title that demonstrated the capacity of the visual novel, weaving in adventure game components and extending branching plotlines in daring new directions. But more importantly, it's a meticulously researched and deftly written work that like Evangelion, explores some of the recesses of the human psyche.