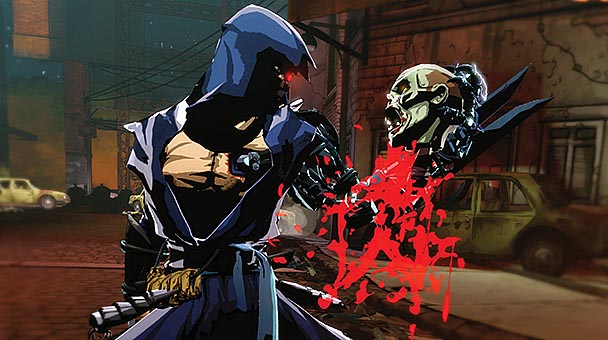 A decade after its release, Ninja Gaiden remains the quintessential reimagining. Transforming the eight-bit platformer into a hyperkinetic hurricane of violence, weapon-based combat, and nimble ninjutsu, director Tomonobu Itagaki established many of the tenets of the three-dimensional action/combat genre. The game also extended an amazing value proposition, providing players with an engaging campaign as well as emulated versions of the SNES-based Gaiden Trilogy, two free downloadable packs, and online tournaments. Yet, following a reworked version of Ninja Gaiden subtitled Black, the development team at Team Ninja began to waver. Itagaki-san left the studio before the release of a sequel, and each successive title drifted further away from the prodigious premiere offering. Most recently, critics and consumers denounced Ninja Gaiden 3, finding Team Ninja's efforts both repetitive and mechanically insubstantial.
So when word circulated that follow-up Yaiba: Ninja Gaiden Z was going to be a collaborative effort between Team Ninja, Keiji Inafune's Comcept, and Lost Planet 3 developer Spark Unlimited, many speculated if the alliance would produce an invigorating synergy or just another disheartening follow-up. In execution, Yaiba turns out to be a disappointing jumble of ideas, unable to replicate either the nuance of traditional Gaiden gameplay or even to establish a solid direction for the series. Likely it would take a Sigma-style redux to mend the majority of Yaiba's mistakes.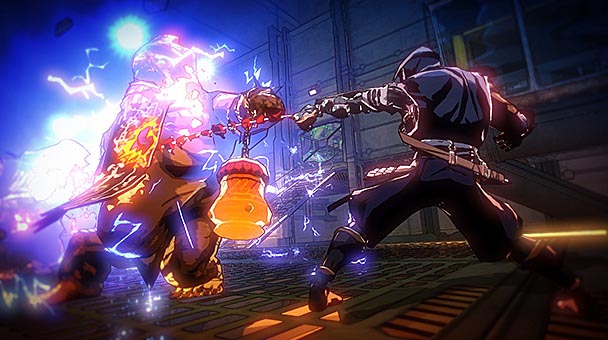 Ninja Gaiden Z's opening cinematic inadvertently divulges a few of the game's failings. A vividly rendered prologue shows Yaiba Kamikaze challenging franchise mainstay Ryu Hayabusa to a battle. Tragically underestimating the capabilities of the master ninja, Yaiba is defeated- losing a limb, his left eye and nearly his life in the ensuing encounter. Fortunately, an eccentric magnate rescues the disgraced combatant, replacing his damaged body parts with a robotic arm and bionic optical abilities. Despite these enhancements, it soon becomes clear that Yaiba's offensive abilities lack the precision and diversity of Ryu's arsenal. Little wonder he lost the fight.
Recalling the offensive options of the God of War series, players have three principal weapons which each offer a different balance of range and potency. Yaiba's primary weapon is his trusty sword, capable to quickly carving up crowds of foes. Although his claw lacks reach, it's a devastating weapon against nearby antagonists. Meanwhile, the protagonist's chain works best at crowd control, with a circular attack which slows the rush of encroaching enemies. Lacking Ryu's Ninpo abilities, Yaiba can collect elemental-based weapons left by the defeated opponents, somehow turning a pair of zombie arms into an impromptu pair of nunchucks. Unfortunately, the action is far too frantic and the camera perspective is zoomed too far out to exploit any sense of macabre mischievousness from the gag.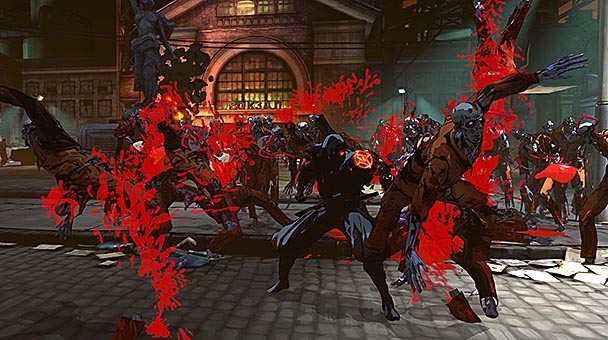 Whereas Ninja Gaiden's demanded unflinching precision from players as they confronted no more than four simultaneous foes, Yaiba mistakenly assumes that large crowds of enemies would make combat more enjoyable. Woefully, it spoils the whip-quick combos, abrupt defense stances, and the ability to read tells' of opponents- all the nuances which made the original Ninja Gaiden so invigorating. The apparent upside is that Ninja Gaiden Z is more accessible, allowing newcomers to cleave their way through the game's lower-level enemies through inattentive button mashing. But even this approach isn't without problem. Players can perform finishers on damaged foes to siphon a bit of health- but with the large quantities of enemies and frantic nature of fights, you'll never be quite sure if an attempt will be successful.
Once the game throws out its more formidable antagonists, adversaries like knife-wielding clowns, fire-hurling priests, and ghostly brides protected by electrical fields, these thoughtless methods will have to be revised. Thanks to environmental-themed attacks and resultant weaknesses, these elevated enemies are gratifying to fight at first. But soon, Ninja Gaiden Z's arena-based skirmishes start throwing out these raised rivals in larger numbers, making fights frustrating. Near the midpoint of the seven-stage campaign, players will confront a screen-full of foes simultaneously launching fireballs, initiating electrical storms, and teleporting about, plunging the game's combat into a cacophony of confusion. Here is where Yaiba's departure from franchise canon is most evident. Whereas Itagaki-era Gaiden was unapologetically tough, demanding players dig deeper and hone their abilities, Yaiba: Ninja Gaiden Z only tests a player's patience, rather than trying to improve their skillset.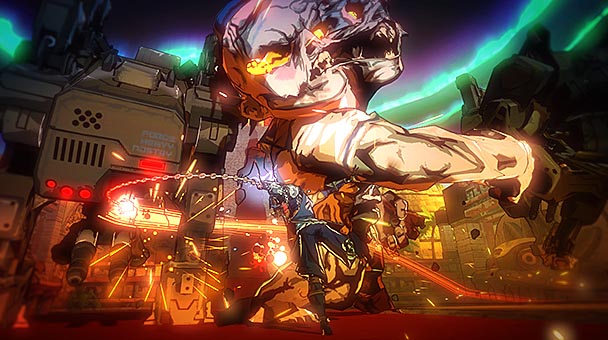 Complementing combat, Yaiba offers a few additional gameplay elements- unfortunately, they all feel underdeveloped. Lacking the ability to jump during battle, environmental navigation consists of successions of rapid-fire quick time events. While visually rousing, there's little substance to be found in these tests. Likewise, the game's puzzles feel hollow, typically tasking players with finding a zombie in an environment and flinging it to engage some sort of switch. Beyond being variations of the same impasse, they also tend to disrupt the game's otherwise breakneck cadence.
With a multitude of mechanical issues, Yaiba: Ninja Gaiden Z attempts to use sophomoric humor to enliven its experience, but the results can be mixed. The game's writers make the mistake of thinking that any crassly-worded dialog will elicit a guffaw from gamers, instead of looking for wit in wordplay or intriguing interchanges. Thankfully, the title's visual gags fare far better, with Yaibi standing triumphantly during a rainstorm of falling panties or sending a bus into the cleft of a building outfitted with colossal, outstretched, fish-net covered legs. The sequences certainly aren't sophisticated, but they do offer a bit of much needed levity between stages filled with swarms of cheap enemies.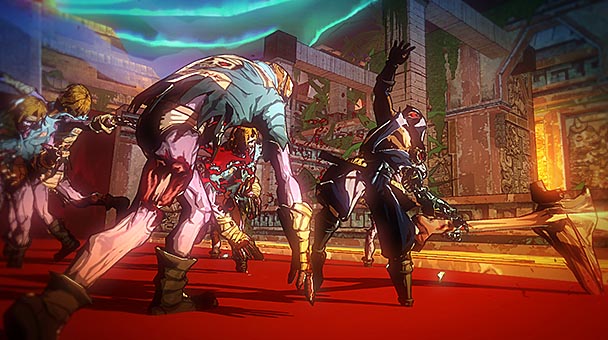 Visually, Ninja Gaiden Z's aesthetics are commendable, providing a richly hued style which echoes the appearance of Borderlands. On the PlayStation 3 and Xbox 360 versions of the game, the look isn't with loss, with occasional framerate drops and screen-tearing evident on both platforms. For gamers with a modest rig, the PC iteration of Yaiba is the way to go. With a lowly Radeon 7770 the game was playable, and with a 7850, fidelity and framerates were remarkably improved over the console versions. As for extras, the title offers a retro-themed, side-scrolling game which bridges the gap between Ninja Gaiden Z and older franchise entries.
Inafune once accused Japanese studios of bring "at least five years behind" the developmental output from other territories. As such, players might assume that Yaiba: Ninja Gaiden Z's conglomeration of talent reflects the best design practices from both parts of the globe. But strip Yaiba of its cool visual style and you're left with a game that has the finesse of a forgotten PlayStation 2-era brawler. The Gaiden franchise doesn't need zombies, juvenile humor or a foul-mouthed antihero and unless you're masochistic, die-hard completionist, you don't need this game in your collection.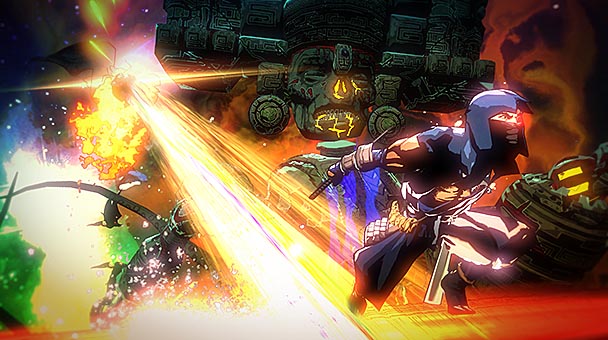 Yaiba: Ninja Gaiden Z was played on the PlayStation 3 and Xbox 360 with review code provided by the publisher. A PC version was briefly played for comparison purposes.
Review Overview
Summary : A game about a perverted, cybernetic ninja should be a blast. But thanks to repetitive, often infuriating combat, Yaiba: Ninja Gaiden Z is more of a bust.