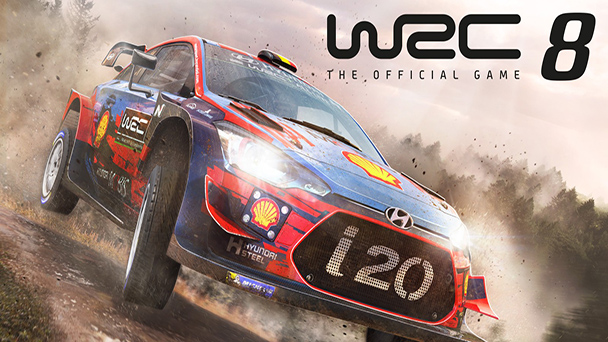 Pity the officially licensed WRC game. Despite continued advancement from a trio of developers across an eighteen-year span, the property has habitually remained in Colin McRae/DIRT's shadow. The series has rarely been substandard, demonstrating fleeting moments of achievement across its extended history. But it's also have been routinely overtaken by Codemasters' franchise. Save for DIRT: Showdown's tryst with arcade handling, pick-ups truck racing, Gymkhana, and destruction derbies, the Codies have habitually outraced their main competitor.
Better than Dirt (Rally)?
But a two-year development cycle has positioned Paris-based Kylotonn Games in a rather competitive position. When WRC 8 FIA World Rally Championship for released for PlayStation 4, Xbox One, and PC, the title revealed a few uneven edges, but it competed quite competently. However, the recently released Switch port is another story. While the officially licensed tracks, drivers, and cars make its content indistinguishable, performance is restrained on Nintendo's systems. The Switch iteration attempts to scales down visuals to the bare essentials, yet WRC 8 FIA's fluctuations in resolution, framerate hiccups, and pop-in introduces hindrances that aren't on other platforms.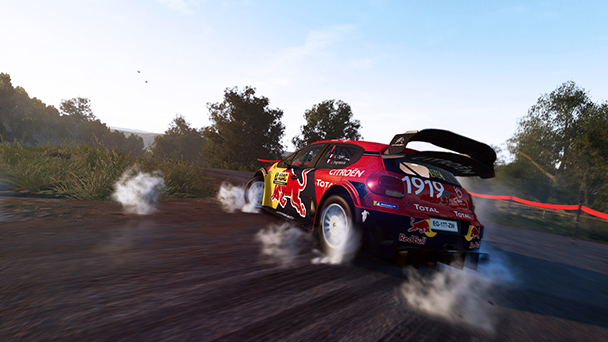 Right off the starting line, Kylotonn is eager to flaunt their two years of industriousness. Head into Quick Play mode, select from one of the game's fourteen, real-world venues, and you'll be able to adjust the time of day and weather before starting a race. With the former showing off the game's impressive lighting modeling. Tackle Turkey's Datça peninsula and you'll witness an uncanny glare as your driving lamps create a haze in the misty night air. The latter allows for dynamic weather changes, with emerging storms causing you to second-guess your tire choice. Unsurprisingly, the developers often showcase the extremities of their new weather, with challenges that send you skidding on Sweden's snow-buried paths.
Making a Career Out of It
For those seeking an enduring pursuit, WRC 8 lets you instigate a career mode, which brings all the popular role-playing-esque embellishments along. Here, you'll be pulling double-duty, laboring as both driver and manager for either a Junior WRC or WRC 2 team. Day to day decisions are handled through a calendar interface, where daily duties revolve around hiring a meteorologist or a mechanic. Each worker provides their own perks, like forecasting the weather or quicker repairs, but they all come with a payroll cost. While it lacks the complexity of a staunch simulation like Football Manager, you'll definitely feel the pressures mount as the team's performance is on the cusp of a lucrative sponsorship deal.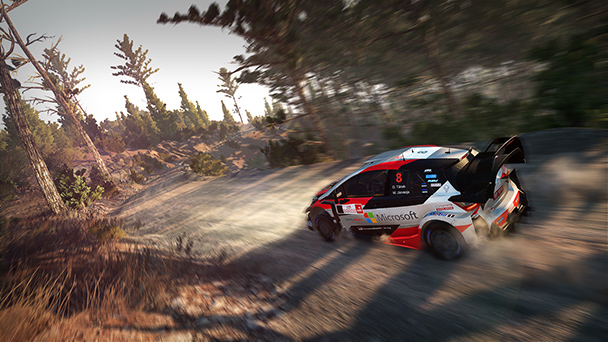 Stat-addicts might yearn for Kylotonn Games to double down and create an independent sim mode, staffed with AI drivers. But for this this year, you'll have to supplement your bean-counting with careening around cliffsides; driving is always required. That said, you can opt for season mode that dispenses with the business side of things, if you're just seeking the thrills of long-term competition.
A Commendable Attempt at Simulation
The WRC games have sporadically struggled with their interpretation of driving physics, but nobly this effort nails the thrills associated with flawless flinging your Citroën C3 around a hairpin, at least on portable hardware. Undoubtedly, WRC 8 leans toward simulation and with a bit of practice (or any of the game's three discretionary, assistive driving aids) you'll be drifting around bends like Sébastien Ogier. You probably battle the tendency for overcorrection for a few hours and if playing on the Switch's diminutive screen, you'll probably be squinting to see obstructions, especially in sunny areas.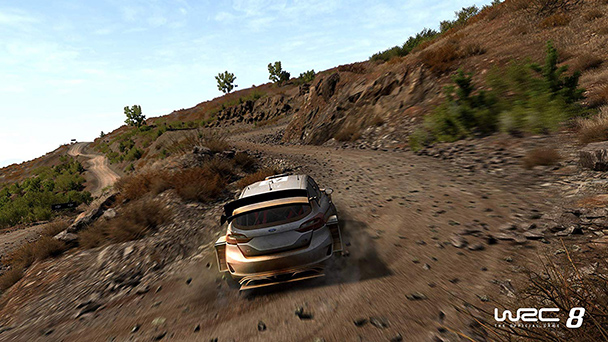 That said, there's still some obvious issues that can detract from racing. Clip part of the environment and your vehicle might spin like it's caught in a twister. Damage modeling could also use some improvement. Although there's some understated indication of crashing, what visually represented doesn't accurately reflect the changes to handling.
Problems with the Port
Undoubtedly, the biggest issue is the game's performance. The Switch iteration targets thirty frames-per second in both docked and handheld mode. The former is undoubtedly the better experience, with fewer instances of dynamic resolution changes and an output that's less prone to dropped frames. When playing on the Switch Lite this caused minor control issues resulting in slower stage completion times. Another problem is rooted in the Switch's non-analog 'ZR' trigger that's used as an accelerator. Expect plenty of feathering as you make you way around the bends of each course.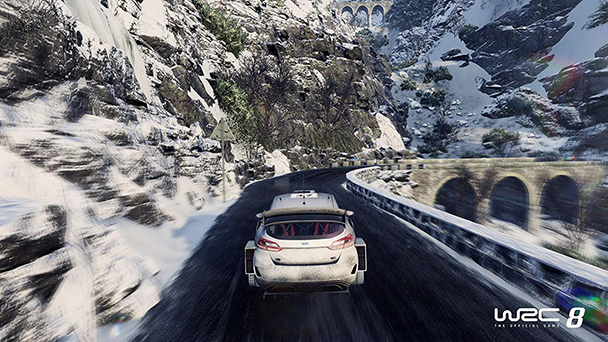 WRC 8's co-drivers aren't quite as good as DIRTs. They're a bit more robotic and focus solely on road conditions, eschewing any details about car damage. Intermittently, they're a bit slow on the pace notes and will end up issuing a warning as the front end of my Ford Fiesta is being launched off the side of the mountain. Success in rally racing hinges on the communication between co-driver and driver, but in WRC 8, you'll never fully trust your partner.
Good Looking Car Models and Landscapes
Reliance issues aside, you can depend on WRC delivering some spectacular recreations of actual stages. It's evident that the development team spend the last two years attempting to capture environmental details, which is evidenced in everything from Corsica's sections of aging asphalt to the rocks and boulders that line the periphery of Sardinia's stages. The game attempts to juxtapose the beauty of nature against human design, on Switch the contrast works. Cars models and landscape are often impressive, drawing close to the attractiveness exhibited by other versions. Likely, this is the source of the game's performance issues.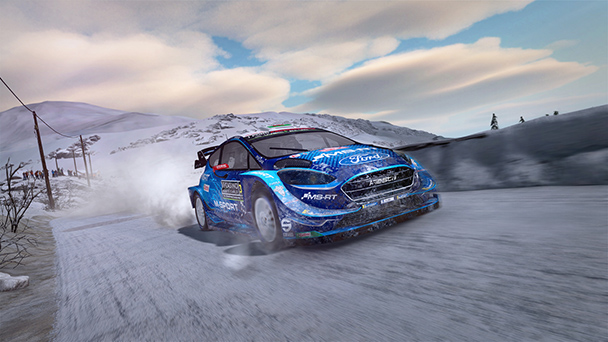 The WRC franchises have consistently had a subordinate showing at the podium. But coming off a two-year development period, WRC 8 FIA World Rally Championship was a mighty contender on other consoles and on PC. On Switch, the whole thing is a middling affair, often lacking the responsiveness needed to remain competitive. Undoubtedly, Kylotonn Games should have followed the formula established by the FIFA series, with one iteration for PlayStation 4, Xbox One, and PC, and the use of another, more appropriate engine for the Switch.
WRC 8 FIA World Rally Championship was played on
Switch with review code provided by the publisher. 
Review Overview
Summary : FIA World Rally Championship is far from perfect on Switch, but it's incorporation of real-world locales, drivers, and teams and improvements is commendable.