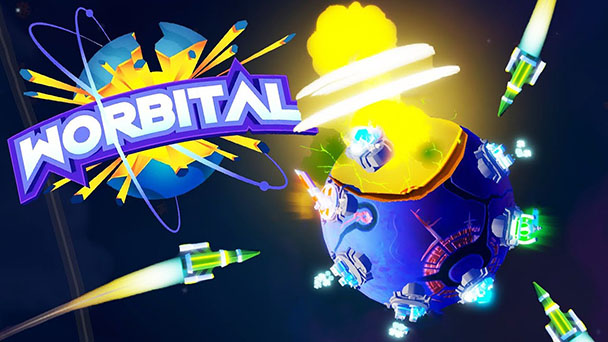 With popular entries like Scorched Earth, Shellshock Live, and the ever-popular Worms series, the artillery genre has enjoyed a lengthy legacy. But beyond the shift into the third-dimension with games like 2001's Scorched 3D and 2003's Worms 3D, the mortar-trading mayhem hasn't experienced much in the way of innovation. Sure, franchises have supplied new additions to their arsenals and many have added online competition, but truly ground-breaking developments have been rather scarce.
The PC release of Team Jolly Roger's Worbital attempts to changes that with intergalactic battles so intense that entire planets can be knocked out of orbit.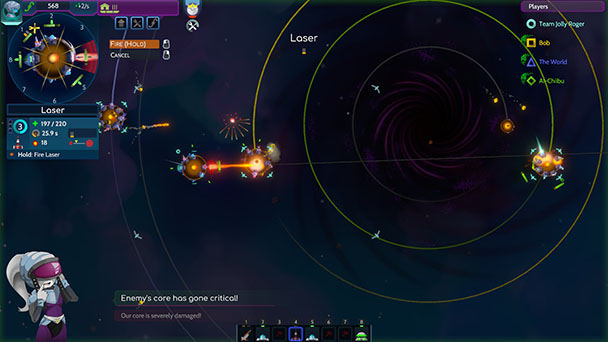 When the Planets Align
Instead of shooting at targets spread out across a craggy battlefield, Worbital tasks players with building giant turrets on the exteriors of small planets. Once these armaments are built, you take aim at other interstellar competitors. Often, the arena looks like a two-dimensional map of our solar system, with several planets following concentric orbits. Unsurprisingly, aiming at a moving enemy using weapons affected by multiple fields of gravity can be tricky. But it can also be rather gratifying.
A journey through Worbital's playable prologue imparts the basics. Much like StarCraft, the three-faction campaign is effective at teaching all the techniques needed to be a formidable online competitor. The lessons demonstration that planets are split into wedge-shaped portions where you can build your turrets. Like a real-time strategy game, construction is restrained by your monetary resources and well as available space.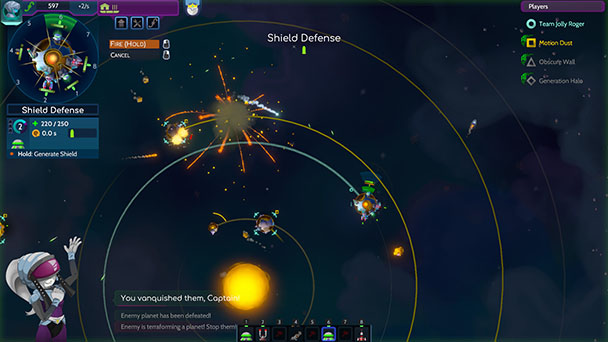 Weaponize the Globe
But since the spheres are constantly rotating, you'll also have to worry about the positioning of your offensive and defensive systems. Energy-based weapons, like lasers need a direct line of sight to your target. If your turret isn't facing a foe, it's of no use. While you're given a trajectory indictor for unguided missiles, you'll be hard-pressed to whip a projectile around a planet and hit a moving target. Like many strategies in Worbital, it's often possible, but it's going to take more calculation than an advanced physics exam.
Although there's a healthy amount of equivalence in each faction's arsenal, there's also a lot of divergence. Don't expect the simplistic roshambo-style system of RTS titles, where an opponent with a different type of weapon can completely overpower you. Instead, there's a carefully curated inventory of offensive measures and enough defensive options to really make matches truly appealing. Those moments where you feel like you're just delaying an inevitable defeat are few. Instead, Worbit usually gives you the tools to turn the tides with a sly long-shot play. The downside of course, is that game can turn into battles of attrition, with control constantly shifting between adversaries. Occasionally, I faced a few hour-long matches, that was taxing, but also incredibly tense.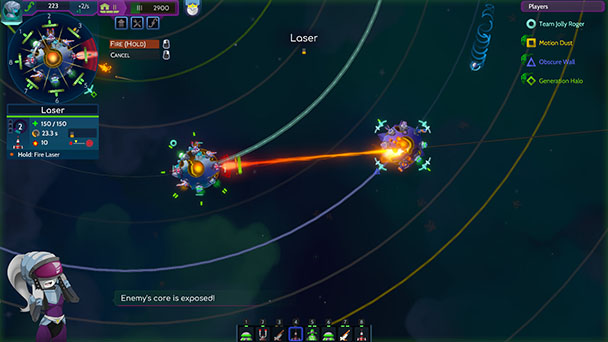 More Strategies than Stars in the Sky
Worbital's developer unmistakably spent a lot of time playtesting the title. Not only is it a solid performer, but it seems like it was cultivated though brainstorming sessions. "What if you could knock the sun out of its position?", someone asked. "Well, what if you could destroy the sun and cause a black hole that corroded planets?" was the reply. Finally, someone imagined the option for a giant, mechanized star that would defend itself if it felt threatened. In the hands of a less skilled team, Worbit's ideas might have resulted in a convoluted mess. But here, a multitude of possibilities are skillfully integrated into the game. The end result is an experience where you'll see something new even after playing for dozens of hours.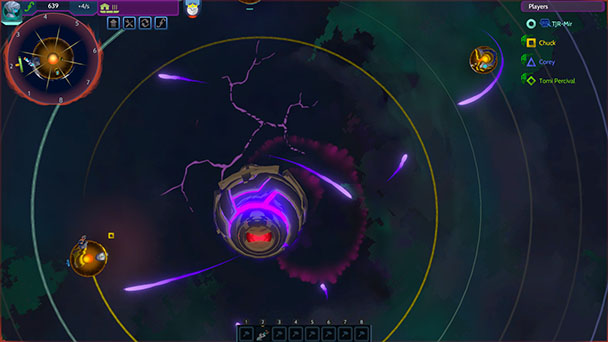 The Difficulty of Colonization
One of Worbital's most curious mechanics is the ability to sent out a shuttle to colonize other planets, potentially expanding your interstellar foothold. When managing a single base, the game's user interface can be a bit ungainly, prompting players to use hotkeys to guide the real-time action. But when multiple planets are in play, things become a bit messier. Fortunately, cultivating a cluster of war-planets isn't usually required during the campaign, so this might only affect those concerned with multiplayer contests.
Performance-wise, Worbital employs low-poly visuals, permitting the game to be run on lower-power notebooks. As the same time, if you have a more robust rig, the game offers an ample amount of visual pyrotechnics that can be stunning in higher resolutions. Pleasingly, in-game currency called Dark Matter lets players purchase new weapons, upgrade their existing ones, or buy graphical variations that can alter the look of your planet or avatar.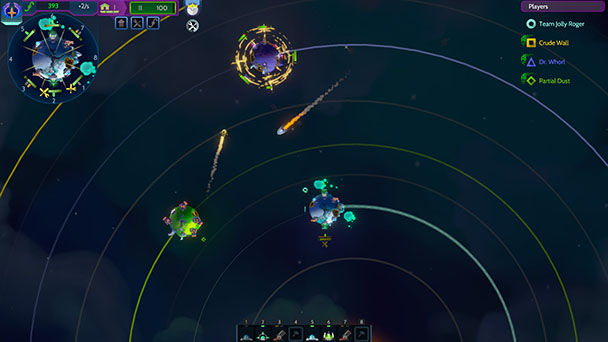 Try the Demo(lition)
Fans of the artillery genre are encouraged to give Worbital's generous demo a try. Likely, they'll discover a title that brimming with strategic possibilities. From the enjoyment of shooting down an incoming missile to leaving a planet just before it detonates into destructive shards, there's a lot of minutia baked into the game that should keep single-players satisfied, and competitive-minded ones overjoyed.
Worbital was played on PC with review code provided by the publisher. 
Review Overview
Summary : Appreciate the artillery genre, but seeking innovation? Let Worbital take you on a journey across hostile, weaponized solar systems, where physics and feverish tactics intersect.