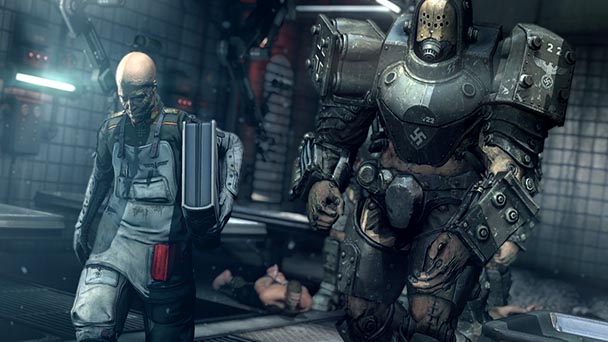 Not long ago, the shooter genre teemed with technological innovation. Although Halo 2 didn't invent the concept of regenerating health (credit can be given to the 1984 JRPG Hydlide or inaugural deathmatch title MIDI Maze/Faceball 2000), Bungie Studios' adept adaptation cemented the mechanic's status in the pantheon of shooter precepts. Likewise, Max Payne's incorporation of Bullet Time introduced a technique which gave players an astounding advantage over enemies. And let's not forget the invention of iron sight aiming- thanks to games such as Medal of Honor and Wolfenstein 3D, players were given a more convincing perspective on the action.
But in the last few years the number of mechanical advancements began to wane. In their place, developers began to advance the narrative underpinning of the shooter. The result were games like BioShock, Metro 2033, and Spec Ops: the Line– experiences which promoting a bit of rumination amidst the reflex-driven gunplay. Similarly, Wolfenstein: The New Order exhibits the same inclination, balancing accomplished but homogeneous first-person shooting with a storyline which sporadically delivers unexpected gravitas. Seeing B.J. Blazkowicz evolve from a humble health indicator to a brooding character who becomes our chaperone through the ungodly intersection of war atrocity and spectacle shows just how far the medium has matured. That said, Blazkowicz's propensity to dispense the occasional sophomoric one-liner reminds us that games still might have a bit of growing up to do.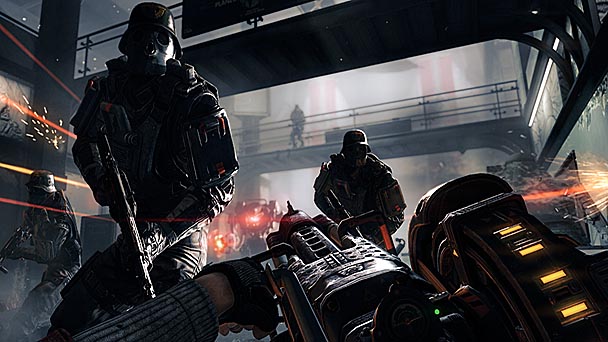 New Order's prologue places players on a battered aircraft, where Blazkowicz is tasked with a number of tasks- from clamping down a flaming fuel line to hopping in the gunner's chair for no less than two turret-based sequences. Naturally, there duties are framed as last ditch allied efforts against a formidable Nazi war machine, but they'll likely seem like mundane errands for FPS vets who are eager to spill some Schutzstaffel entrails. Play improves drastically once players slink into the trenches, storm a seaside castle, and destroy a few fierce robotic dogs who like they built from the components of an old power excavator.
Following a series of prolonged gun battles, it seems as if Blazko might be tipping the balance against the third reich, but an explosion sends the protagonist plunging into the waters below, with a gaping head injury turns the ocean into a dispiriting shade of crimson. A cinematic sequence plunges players through Blazkowicz's subsequent fourteen-year coma, culminating in an alternate 1960's where the Nazis reign with merciless resolve. Like S.T.A.L.K.E.R.: Shadow of Chernobyl or Homefront, New Order crafts a particularly atmospheric set of milieus, devoting fastidious attention to everything from topography to typography. Level design is especially commendable, extended a mix of expansive battlegrounds, wide-open interiors, just enough corridors to create a few tense bottlenecks. Tonally, the game adeptly amalgamates the revenge fantasy that fueled Tarantino's Inglourious Basterds with the merciless menace and viscera of Eli Roth's Hostel films. Needless to say, players won't feel a tinge of regret as they reduce these fiends into piles of pulpy flesh.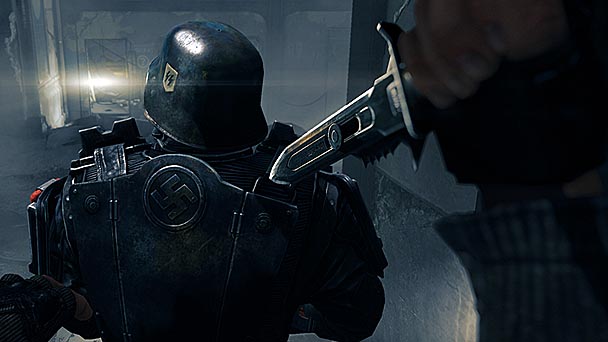 Wolfenstein's shooting is largely proficient, filled with weapons which convey a pleasing sense of stopping power. Interestingly, the game doesn't force players to iron-sight their way through the ten-hour campaign, extending an on-screen cursor that makes hip-firing a feasible alternative. Likewise, a leaning mechanic is largely elective on the game's lower difficulty levels, but is instrumental once the difficulty is ratcheted up a notch or two. Another pleasing design decision is the adaptability of play. Gamers may approach The New Order with either a run-and-gun mentality or use a stealthy approach to thin out the Nazi packs. Despite four separate tiers of perks that reward a corresponding play style with incentives like damage boasts and faster reloading, gamers can freely shift between the two approaches.
If there's a weakness to the ballistic barrages, it can be seen in the artificial intelligence conferred to enemies. While foes occasionally dart out of danger and sporadically struggle to commandeer a mounted machine gun, they're habitually undertrained- adhering to the FPS principals of periodically peeking around corners and talking potshots while rising from cover. Games like Halo and Crysis 2 have demonstrated how adaptive foes can generate especially engaging sequences. Here, success at shootouts doesn't feel like in stems the protagonist, there's not quite enough sensory information to divulge the threat. Or maybe the Blazkowicz is that tough; he rises from debilitating setbacks like most people awaken from an afternoon siesta.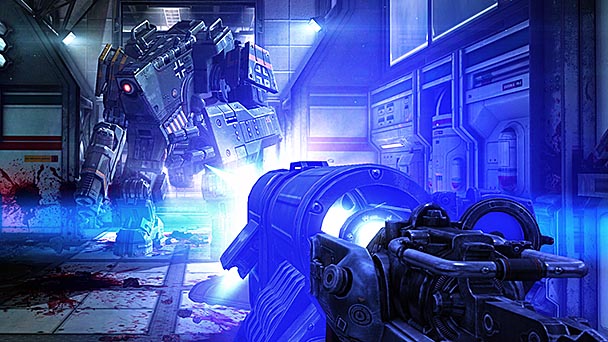 Fortunately, Wolfenstein's locations help to disguise the dimwitted AI. While environmental destruction isn't ubiquitous, developer MachineGames knows where players are going to let loose with the game's most formidable weapons, allowing elements like concrete columns to be splintered away or a giant laser cannon to cleave away parts of the playfield. A decision posed at players early in the game also shapes accessibility- so much so that The New Order supports at least two playthroughs.
On both PC and PlayStation 4, the id Tech 5 engine delivers a largely engaging experience. Whether playing on console or on a rig with a decent GPU, the game exhibits a habitually smooth framerate and meticulous image quality, even when the screen is filled with enemies and explosions. While character and environmental detail is remarkably high, a few texturing blemishes can be spotted on both forms of hardware, as details pop into prominence- but beyond this minor blemish, the game is a consistent graphical marvel. Sonically, the game's voice work, expositions and gunblasts, as well as ambient noises congeal into a booming cacophony that fitting for the genre.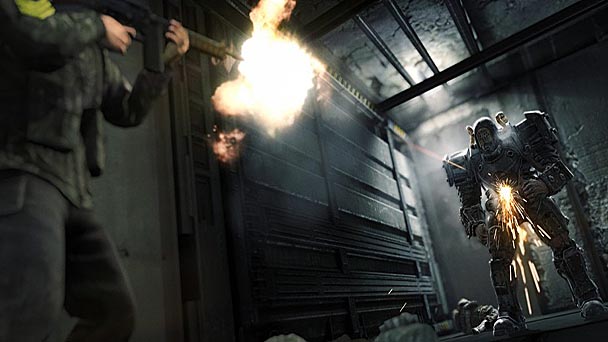 Although Wolfenstein: The New Order doesn't attempt to establish any new mechanics into the shooter genre, between an involving storyline, absorbing atmosphere, and a polished sense of play, the game is certain to satisfy the appetite of FPS aficionados. MachineGames decision to shirk the conventional multiplayer component has allowed the developer to refine the campaign, easily elevating New Order above contemporaries like Call of Duty: Ghosts, Battlefield 4, and Killzone: Shadow Fall. In an era when single-player campaigns often feel integrated to provide a back-of-the-box bullet point, Wolfenstein reminds us of the satisfaction found in a bit of gaming solitude.
Wolfenstein: The New Order was played on the PlayStation 4 and PC with review code provided by the publisher.
Review Overview
Summary : While killing crowds of Nazis in a single-player campaign might seem clichéd, Wolfenstein: The New Order wraps the concept in a surprisingly effective plotline- while providing all the enjoyable tools needed to exterminate those third reich rats.