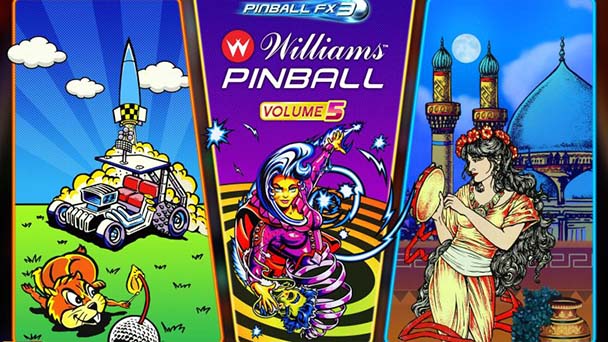 The Disappearance of Pinball
In 2007, Budapest-based Zen Studios released their first virtual pinball title. At the time, physical machines were growing increasingly difficult to find. Arcades were on the wane, and most remaining amusement centers favored video game cabinets, which took up less space and required less maintenance. While the last few years has seen a subdued resurgence with a new generation enamored by tactical feedback, it can be quite difficult to find a specific pinball machine.
As such, Zen Studios (along with FarSight Studios) efforts are appreciated. Originally, Zen created their own simulated machines. While each table fastidiously conformed to real-world physics and progressively incorporated well-known properties like Star Wars and the Marvel Cinematic Universe, they didn't capture the appeal found in recreations of actual machines. That changed in 2018 when Zen acquired the rights to recreate Bally and Williams tables.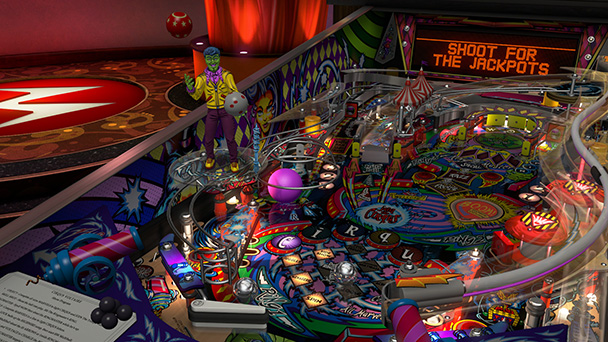 A Filler-Free Package
Examine each three-pack of tables and you'll likely discover a pattern. Typically, there's one cherished title, along with the equivalent of a B-side or two. With the fifth iteration of Williams Pinball, Zen adjusts the formula, bundling Tales of the Arabian Nights, Cirqus Voltaire, along with No Good Gofers. For aficionados, it's a respectable assemblage, merging a trio of beloved tables from the late nineties.
Expectedly, Zen offers their usual, non-compulsory embellishments. If you like to see point values materialize every time the ball hits a target and table features animate fluidly, these tables can indulge. Alternatively, classic mode does away with the superfluities of video game pinball, offering a no-frills and physically authentic recreation of the original experience. Additionally, there's a light role-playing aspect found in Pinball FX3, where progress earns optional 'Wizard Power' perks like slow-motion, score bonuses, and even the ability to rewind time. Of course, there are comprehensive leaderboards, showing rankings among friends, weekly challenges, and overall table scores. Given Zen Studio's twelve-year history with virtual pinball, nearly every conceivable appendage has been built into Pinball FX3.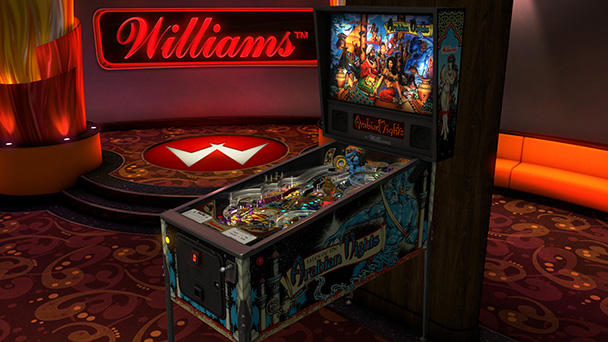 One Thousand and One Points
A round of Tales of the Arabian Nights begins with a skill shot where the ball is launched over a trio of holes in a translucent ramp, with players aiming for a snake hidden in one of the pits. Pleasing, that's not the only piece of habitrail found on the playfield, with the table flaunting a Pin-Bot-like spiral on the right side that leads to a meandering trip to the inlanes. Naturally, tubing on the left side contributes a sense of symmetry and keeping the pace delightfully erratic. Arabian Nights was the first machine to use a vertical magnet diverter, which briefly holds the ball before launching it across the playfield, which also contributes to the table's variable tempo.
Seven modes represent different stories told by Scheherazade, with a jewel earned after completion of each one. From hitting standup targets that spell out S-E-S-A-M-E, hitting the ramp with a flying carpet on it, to the Genie Battle showdown (the table's Wizard Mode), there's a multitude of scoring potentials. Although the showdown offers a huge payout of 20 million points, there are a number of other targets and approaches to secure a spot on the leaderboards.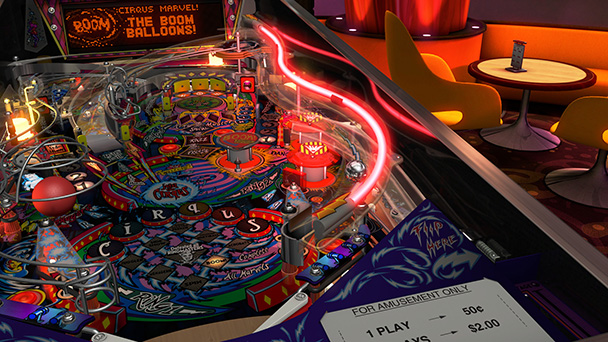 JPop's Cirqus
A year after the release of Arabian Nights, designer John A. Popadiuk (aka JPop) would construct Cirqus Voltaire. During testing, the table performed poorly, reporting earning less that $50 in its first week. But in the ensuing years, the machines merits became recognized, with many becoming enamored by its creative elements and vibrant coloring. With eight multiball modes and nine modes, there's a multitude of scoring opportunities as well.
Undoubtedly, the game's most prominent feature is the Ringmaster, a green suited prankster who occasionally provokes the players with soundbites like, "Do you still want to play? I think you've had enough for today." While his head popped up on physical machines, Zen brings him to life on the left side of the table, complete with motion captured gestures. Unsurprisingly, defeating him and his clones is one of the main modes in Voltaire, with five hits earning players a million points. Each subsequent defeat grows in value. The table's only disappointing aspect in the inclusion of a rather monotonous video mode.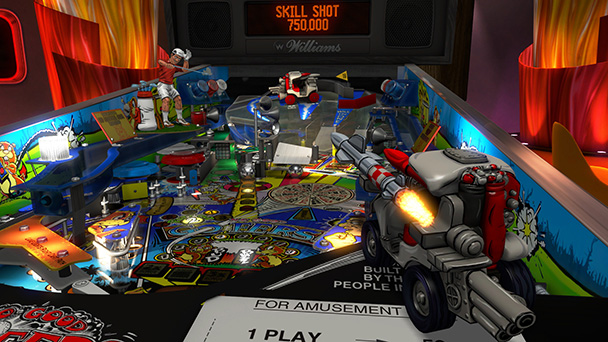 Golfer vs. Gophers
Indisputably inspired by the 1980 film Caddyshack, No Good Gofers premise pits golfers against a pair of rowdy rodents, each claiming authority over the local links. Like many of designer Pat Lawlor's previous tables, there are a number of remarkable features, from Buzz and Bud's popping up on different places of the playfield to a notoriously difficult 'hole in one' shot accomplished by precise aiming down a mini-ramp.
Naturally, whacking the two smack-taking gophers with the steel orb earns a generous point value. But more importantly, each thrashing subtracts one stroke from the table's game of golf. Essentially, you'll want to aim for Driving Range shots until the Putting Green is illuminated. Once the Green is lit and successfully hit, you'll finish the hole with a bonus is determined by a spinning wheel in the center of the table. Although No Good Gofers is a fast table, with featuring sending the ball careening around the playfield, it's enjoyable thanks to the multiplicity of high-scoring opportunities.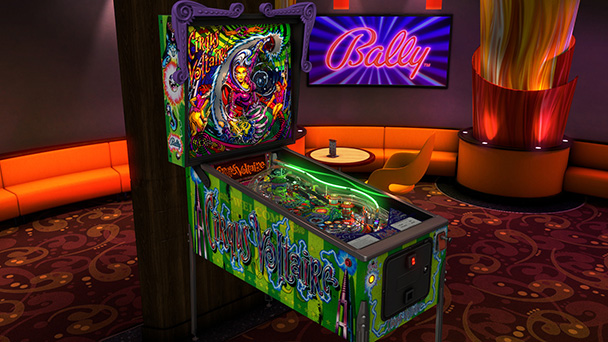 Conclusion
Regrettably, physical pinball machines are disappearing from the recreational landscape. Digital simulations are a proficient way of preserving the pastime, especially when machines like Cirqus Voltaire had a production run of less than 3,000 units. For pinball aficionados who might not have the disposable income or space for actual machines, compilations like Williams Pinball: Volume 5 might be the closest we get to enjoying these classics. Sure, they can't reconstruct the physicality of pin, but they're adept at simulating almost everything else. For annoying hoping to relish the gravity-defying recreation, the Williams Collections are a worthwhile venture.
Pinball FX3 – Williams Pinball: Volume 5 was played
on PC with review code provided by the publisher. 
Pinball FX3 – Williams Pinball: Volume 5 
Platform: PlayStation 4, Xbox One, Switch, PC, and mobile
Developer: Zen Studios
Publisher: Zen Studios
Release date: December 10th, 2019
Price: $9.99 available via digital download
Review Overview
Summary : Watching pinball disappear from public places is a maddening as an uncontested drain. With Williams Pinball: Volume 5, Zen Studios rescues a trio of cherished tables from the clutches of obscurity, which is about as invigorating as a ball save.