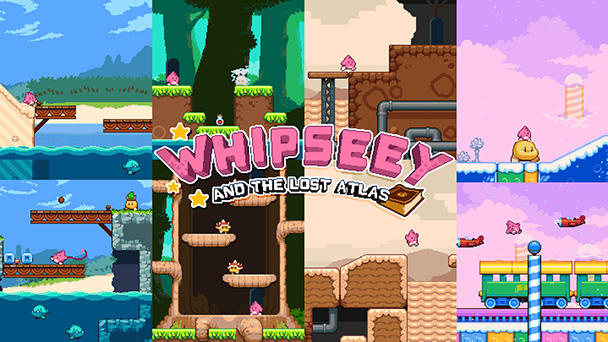 Masahiro Sakurai's cheerful pink blob has been captivating players for more than a quarter-century. Ever since the 1992 debut of Kirby's Dream Land, the gelatinous, ability-cloning character has been the star of over thirty sequels and spin-offs, with almost every one of those efforts demonstrating an elevated level of quality.
But the Kirby games have habitually lacked an amplified difficulty. By design, the franchise has been accessible, allowing players of all skill levels to experience enjoyment rather than the kind of frustration that can emerge from an unyielding, trial-and-error style approach. Undoubtedly, it's one of the fundamental reasons for the property's success.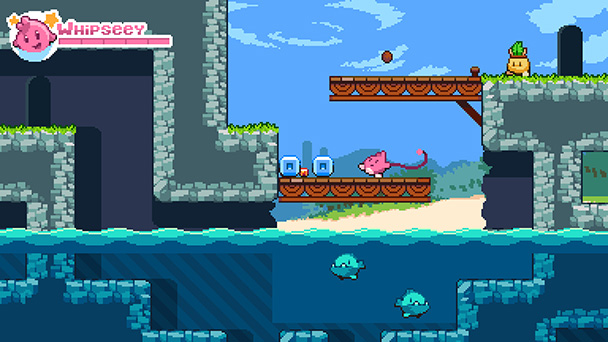 Certainly, Whipseey and the Lost Atlas is poised for comparison with Nintendo's celebrated franchise. With a stout, pink body and resolute facial expression, protagonist Whipseey unquestionably looks like Kirby. Enemies resemble rotund, little Waddle Dees, with the occasional hat or set of racoon ears added to presumably prevent a cease and desist order. Even the game's backdrops channel the type of eight-bit environments that wouldn't be out of place in one of the early Kirby games.
But that's where the similarity largely ends. Instead of shapeshifting abilities, Whipseey inherits a lash that can be used to flog enemies, slow your descent, or latch onto points so he can swing across gaps, Bionic Commando-style. Whipseey can swim through waters teeming with spikes and enemies. But subaquatic movement reveals little of the precision found in Kirby games. Instead, the jerky navigation is likely to push you into a pointy object, with Whipseey unable to withstand more than a single hit. Whereas Kirby channels playfulness, Whipseey all too often feels punitive, confiscating enjoyment.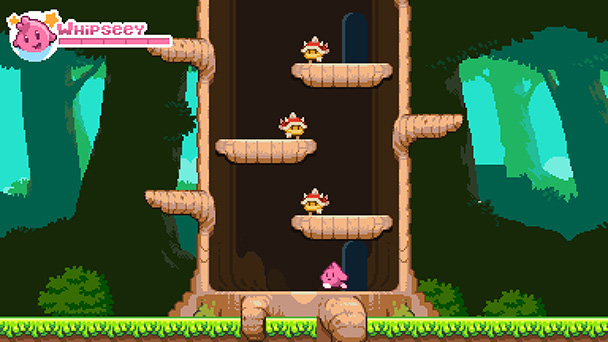 Games like Shovel Knight have been able to recreate the gratification found in yesteryear's classics. But Whipseey and the Lost Atlas feels more like empty imitation than retro inspiration.  Sure, the brightly hued visuals, chiptune soundtrack, and attempt at mechanical simplicity all attempt to evoke nostalgia. But it never gels into anything that's actually engaging or novel. Sure, they are the requite end of level bosses, but each of these showdowns felt disappointing homogenous.
Most of the time I was playing Whipseey, I was ruminating on why I was playing this game instead of the vastly superior title that inspired it. I ended up revisiting the Nintendo Online iteration of Kirby's Adventure, making a return to the tedium of Whipseey particularly tough.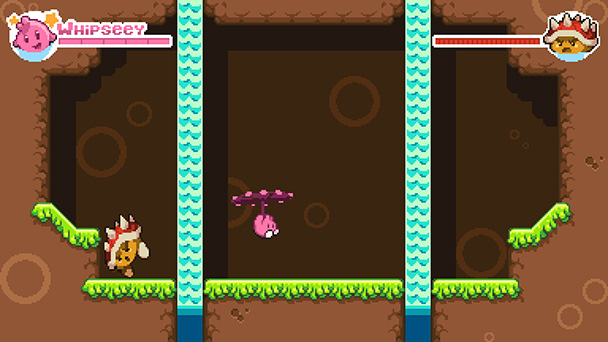 But the game's issue with Lost Atlas is the game's length. You can finish all five of the game's stages in about 45 minutes. If these levels exhibited creativity or were at least interesting, that would have helped to justify the game's six-dollar price. But they're woefully bland and short. Chances are, you'll have no interest in revisiting them or perhaps even finishing them in the first place.
Whipseey and the Lost Atlas was played on the PC
with review code provided by the publisher. 
Review Overview
Summary : Whipseey and the Lost Atlas is overly derivative, woefully short, and not enjoyable. Those seeking satisfaction should replay any of HAL Laboratory-developed title and donate six dollars to a charity of your choice rather than endure the disappointment connected to a purchase of this title.