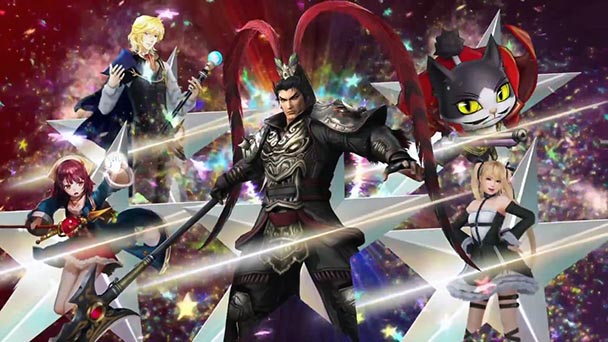 For the last seventeen years, Koei's (and since 2009, Koei Tecmo's) Warriors franchises have been crafted around a cumulative approach, inserting content into each successive iteration. As such, series like Dynasty Warriors and Samurai Warriors have grown toward the encyclopedic, extending a plethora of protagonists culled from China's Three Kingdoms and Japan's Sengoku periods. As such, the last few entries of each property probably have players wondering what Koei Tecmo can do for an encore.
Unsurprisingly, the response to that speculation can be found in Warriors All-Stars, a game that unites characters across a number of Koei Tecmo franchises. While the title might have held back, offering a less than exhaustive roster for its inaugural iteration, there's no denying its ambitions in appealing to faithful fans. With disparate teams and playable characters whose skillsets have been cleverly reimagined as musou mechanics, All-Stars is poised to please the hardcore.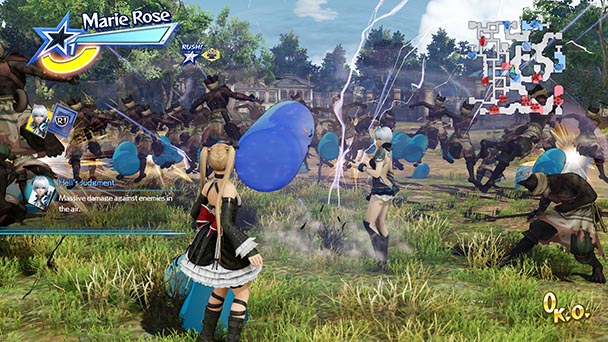 Let's face it- there's no easy way to unite Atelier's Sophie Neuenmuller, Deception's Laegrinna, and the rotund and nearly overlooked Opoona from 2007 Wii title of the same name. As such, Warriors All-Stars impetus feels flimsy, employing the same environmental metaphor that's provided motivation across a multitude of adventures. Here, a well-spring serves has served as an abundant source of life, but its vivacity is on the wane. Attempting to restore its vitality, All-Stars' three original characters perform a restorative rite. But alas, the ritual goes awry, flinging Koei's characters across the landscape, and generating a quarrel on how the situation should be remedied.
Sure, it's all fluff, bu developer Omega Force devotes the resources to somehow make it work. Yes, there's little logic here, but it's difficult to not be stimulated by the combination of orchestral swells, urgency in the voice acting, and the title's brightly-hued graphical charms. Lucidity be damned, the concept of two decades worth of isolated universes intermingling, bringing brethren like Nioh's William Adams and Ninja Gaiden's Ryu Hayabusa together is slightly intoxicating- especially to those loyal to Koei-Tecmo's prolific output.
Masterfully, Omega Force makes it all work.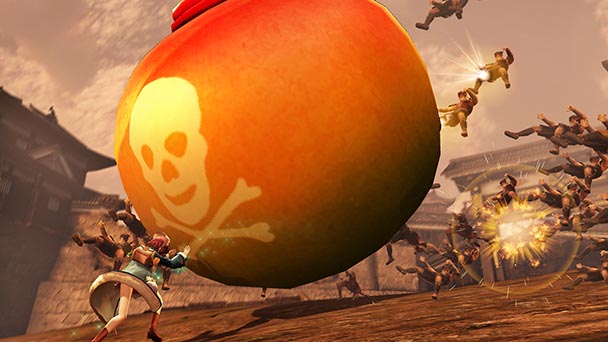 Sure, the thirty playables might seem like a subset of the typical Warriors line-up, which can exceed a hundred characters in size. But whereas the movesets of most musou games divulge a bit of copy-pasta, there's little homogeneity here. Take, Nobunyaga Oda, a feline-ified take on the legendary daimyo, exclusive to an Eastern mobile game. Although he can scratch his way through adjacent adversaries, Nobunyaga's strength if found in the hollowed end of his Tanegashima musket, where he can pelt peons with a steady stream of fire and even summon a line of foot soldiers to conclude a combo.
Meanwhile, Laegrinna brings the same sadistic toolset that she used to inflict pain in Deception IV: The Nightmare Princess. Staying true to character, she rather weak when confronting foes directly, and can easily be slammed by a basic enemy. But she also has access to rising spike beds, cleaving pendulums, and an enormous circus cannon. Master her moveset and you'll be able to create a chain a pain that can pulverize an enemy gatekeeper in seconds. Following Smash Bros. formula, Omega Force constructed arsenals are stay true to character while still providing functionality, which is a remarkable feat.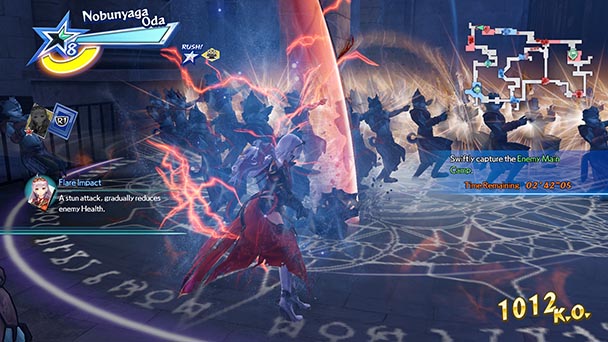 Much like Brandpresto/Monolith Soft's Project X Zone's series, enjoyment also stems from the interactions between characters. Sure, it's often superficial banter without much substance, but seeing the exchanges between disjointed universes is intriguing. For faithful fans, there's a number of jokes, (one of the best centers on "taru", a long-running gag in the Atelier franchise), and inside refences, paying dividends for a commitment to Koei Tecmo's output. For a few personalities that haven't only been awarded a bit of backstory or haven't been given a Western localization, All-Stars indulges, whether it's insight into DOA's Honoka, or a chance to meet Rio: Rainbow Gate! and Haruka: Beyond the Stream of Time's leads.
Pleasingly, even hardened musuo masters will find a few divergences in Warriors All-Stars. The game's campaign adopts a much looser structure, with an overworld map extending events that have a looser order or progression, typically providing a multitude of ways to advance. Inside a mission, this approach is replicated, with the inclusion of Bravery Levels. While some missions permit players to jump into one of the labyrinth environments and charge the final boss, statistical dissimilarity will lead to a crushing defeat. Instead, players will have to gradually build their Bravery, challenging lesser foes to reach parity.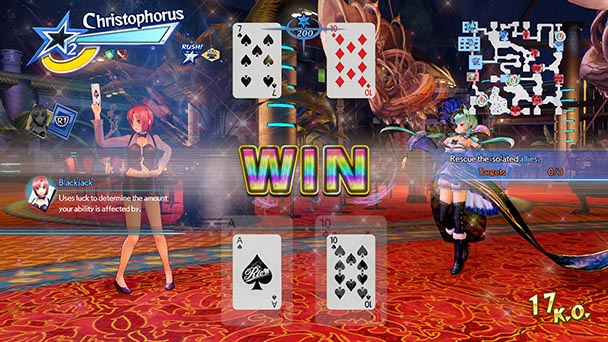 Although that might seem like a literal and figurative grind, being able to utilize the assistance of up to four additional characters help to keep fatigue from setting in. Beyond your customary musou assault, platers can also order their secondaries to utilize their movesets, creating vortexes that pull in an entire battalion of foot soldiers or comically dropping pumpkins on enemy heads. Completing mid-mission objective adds to the number of time you can initiate Rush Mode, which amplifies the on-screen mayhem. Here, KO Counts grow exponential and the screen fills with opponents. With colleagues cheering you on and a sepia filter applied, these moments can feel surreal, as players attempt to exceed KO thresholds to earn more time. At the end of the sequence, you'll get a superfluous of power-ups and health replenishing goods, making Rush a curious but also crucial mini-game, especially on the harder difficulty settings.
Naturally, some reoccurring Warriors issues are evident. While the maze-like environments are supposed to convey a tense push-pull dynamic as the tide of war constantly shifts, you can effectively ignore any type of tactical approach and just charge toward the nearest flashing icon. Veteran musou fans are bound to dislike a few approaches the title takes, from a card system that effectively oversimplifies character augmentation to the lack of any cooperative component. While those seeking depth and content might want to stay with the mainline Warriors games, players acquainted with Koei Tecmo's title's will thoroughly enjoy this playful outing.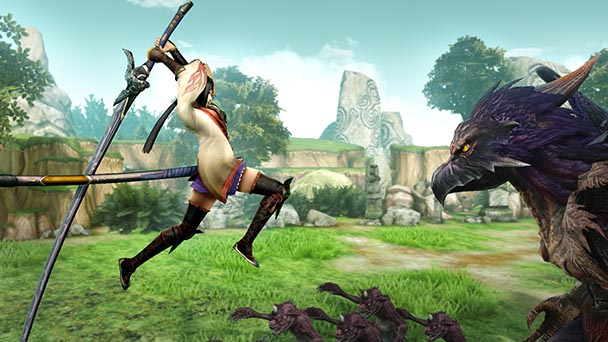 Warriors All-Stars was played on the PS4 with review code provided by the publisher. 
Warriors All-Stars
Platform: PlayStation 4, PC
Developer: Omega Force
Publisher: Koei Tecmo
Release date: August 29th, 2017 (US)
Price: $59.99- Available via retail, PS Store (PS4) and Steam (PC)
Language(s): Japanese audio, English subtitles

Warriors All-Stars review
Review Overview
Gameplay - 80%
Controls - 85%
Aesthetics - 80%
Content - 80%
Accessibility - 85%
82
82%
VERY GOOD
Summary : Warriors All-Stars is a jubilant celebration of Koei Tecmo's franchises, uniting thirteen different properties. As with these type of cross-overs, enjoyment hinges on familiarity. For players who've spent their recreational hours with Atelier Sophie, Ninja Gaiden, or Nights of Azure, All-Stars is nothing less than a taru—sorry, barrel of fun.

User Rating:

3.89 ( 7 votes)