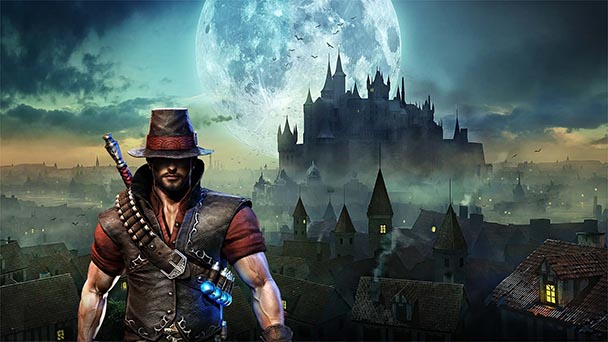 Diablo III's 2012 launch didn't exactly go over smoothly. The decision to require a constant online connection meant the game's inauguration was tainted by overloaded servers, making play impossible for many. The inclusion of an auction house where players could sell in-games for real money proved to be another ill-fated decision. After game director Jay Wilson admitted that it "really hurt the game", the component was subsequently removed. So, if the mighty Blizzard can bungle Diablo, what hope does an independent game studio have in crafting a competent, loot-driven, action-role-playing game?
The short answer? Plenty, if you're Haemimont Games. Released on Steam's Early Access program in February 2015, Victor Vran, much like Diablo III, has benefited from several years' worth of tuning. But largely, the game's foundations were already astoundingly solid, allowing Vran's diminutive design team to sporadically outshine an industry leader. Where many of Diablo III's innovations seemed like adjustments for the sake of change, Victor Vran's deviations are wholly beneficial, striking a nimble balance between accessibility and long-term playability.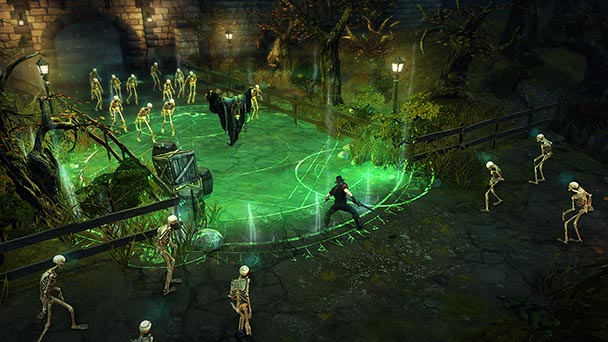 Pick up the recently released Overkill Edition, and you'll discover that the title menu presents players with three separate campaigns. Zagoravia is the main time sink, where players step into the well-worn boots of the game's eponymous protagonist, helping the sprawling town rid itself of an incursion of vile creatures. Motörhead: Through the Ages is an expansion that unites Lemmy-lore and Troma-auteur Lloyd Kaufman, in a fight against a tyrannical Fuhrer.  Finally, there's Fractured Worlds, an add-on that offers higher level characters an endless dungeon, as well as four different procedurally-generated environments each day. Agreeably, you can freely switch between each campaign, taking your experience level and items along with you.
Whichever excursion you decide to take, you'll find that Victor Vran eludes the traditional role-playing archetypes. Instead of playing as a stalwart, hard-hitting fighter or nimble ranger, the lead demonstrates adaptability, and is equally proficient with sword, hammer, shotgun, or even guitar. Sure, there's a progression system, with each level gained permitting players to pick from several boosts or perks, but fundamentally the title shuns the carrot-on-a-stick motivation of the persistent loot drop.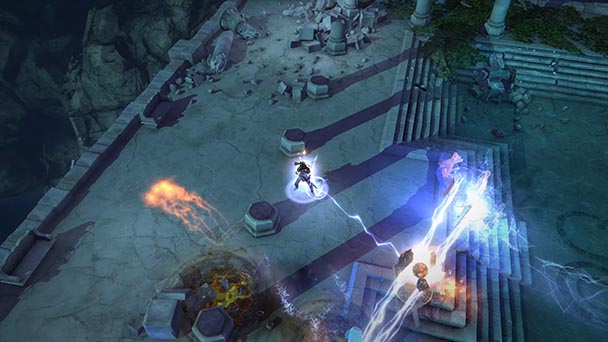 Skills are tied to your weapon of choice, meaning that if you want a wide area of effect to clear hordes of nearby creatures, you'll want to switch to your shotgun. Conveniently, swapping out a weapon is tied to you controller's shoulder button, granting swift access to another pair of abilities. Although there's a three-tier color system to indicate the grade of your weapons, don't expect to have to constantly compare what's in hand with the one you just picked up- at least not in the early game.
Victor Vran's outfits increase your defensive rating, but more importantly, they are built to complement your play style. Each wardrobe affects your overdrive meter differently, allowing players to emphasis an increased amount of critical damage or able to summon your demon abilities with greater frequency. Finally, there are Destiny Cards, which when found, extend a variety of different bonuses. Unsurprisingly, there are limitations, with players restrained by their pool of Destiny Points and the occasional card that cannot be duplicated in your loadout. Courteously, when you're stuck with a number of duplicates, you can transmute new ones, recycling fodder into the functional.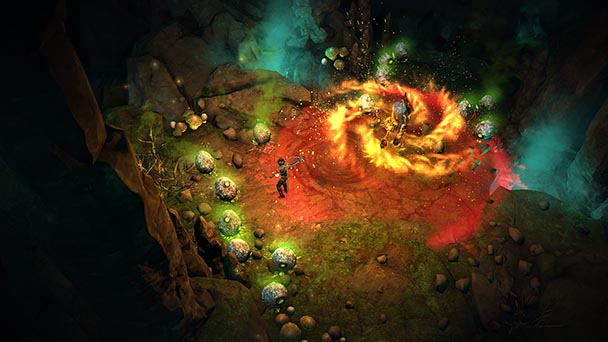 While there are multiple difficulties available to players, Victor Vran's Hex system offers an organic way to adjust the level of challenge. Here, Hex Cards can be activated, which augment adversaries, making them more resilient or boasting their attack power. The upshot is that players receive more gold, loot, and experience for consenting to the gamble, with masochists even able to stack multiple cards. Collectively, Victor Vran's interpretation of a character class system is accessible, appealing, and contains more nuance than it may seem at first. But players accustomed to more Diablo-esque mechanics might find fault, as the core stimulus of persistent loot drops is subdued.
Instead, combat is highlighted, with the game's opponents demonstrating a variety of tactics. While some lesser foes might try to overwhelm the players with sheer numbers, others will hang back, peppering players with a persistent volley of projectiles. Others might react to Victor, running away when they realize the stats are no longer in their favor. In short, the assortment of attacks will keep you vigilant, as you learn that every element of your arsenal contains a specific advantage. And you'll need to fight appropriately, as the title likes to task players with a multiple of goal-based tests. From smashing a certain number of skeletons to quashing eggs before they hatch, Victor Vran is adept at stacking objectives.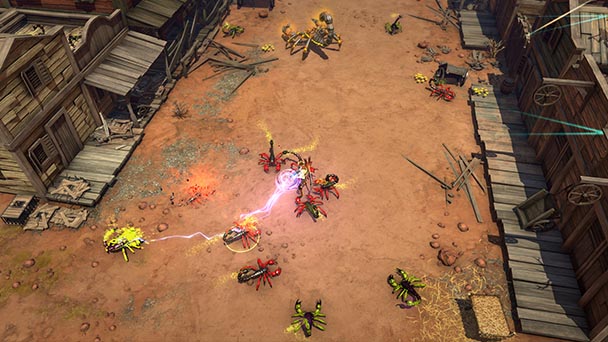 Gratifyingly, combat feels fluid, with the game targeting and usually meeting it's sixty frame-per-second aspirations. Beyond using the DualShock 4's face buttons to issue attacks, players can jump or dodge. The latter is especially useful, ensuring Victor doesn't get caught in an attack animation. Graphically, the title extends a number of visual treats, with building exteriors disappearing to avoid visual obstruction. Enemy spell fields are another highlight, flaunting radiant auras to signal the potential for damage. Unfortunately, the look of Motörhead: Through the Ages doesn't quite match the quality of its gnawing soundtrack, with bright colors and some environmental adornments that appear they were drawn by Haemimont's B-team.
Likely by the time players make their way to Through the Ages or Fractured Worlds, Victor Vran might have exhausted some of its enjoyment. Typical for an action role-playing game, what's enjoyable for the first few hours can feel like a trudge as you make your way toward the conclusion and credits. While the Overkill Edition offers a plethora of content for players, you might be hoping for more variation when tackling the expansions.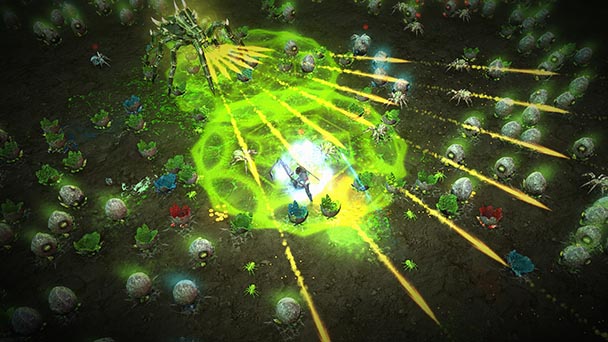 Victor Vran: Overkill Edition was played on the PlayStation 4
with review code provided by the publisher. 
Victor Vran: Overkill Edition

Platform: PlayStation 4, Xbox One, and PC


Developer:

Haemimont Games


Publisher:

Wired Productions


Release date:

June 6th, 2017


Price:

$39.99 via retail and digital, $11.99 for standalone expansions (via

Steam

)

Victor Vran: Overkill Edition review
Review Overview
Gameplay - 85%
Controls - 80%
Aesthetics - 80%
Content - 90%
Accessibility - 80%
83
83%
GOOD
Summary : While Victor Vran: Overkill Edition might be the rare example of too much of a good thing, action role-playing aficionados are likely to appreciate the title's take on combat and character class.

User Rating:

4.18 ( 3 votes)