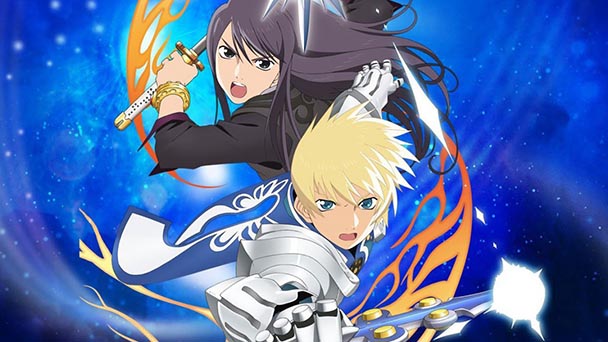 Tales of Exclusivity
Today, Microsoft's consoles are little more than curios in Japan, with market share besieged by competitors. But back in the late 2000s, the company was hoping to strengthen their presence across the Pacific, and actively courted developers like Mistwalker, Feelplus, tri-Crescendo, and the Namco Tales Studio. The latter partnership resulted in 2008's Tales of Vesperia, a title which is widely considered one of the shining efforts within a consistently solid sixteen-entry franchise. Hoping to capitalize on their investment, Namco Bandai released a PlayStation 3 port the following year which expanded on elements of the original release. Sadly, the augmented title never made the journey stateside, disheartening Tales fans in Europe and the Americas.
A decade later, Bandai Namco has released the definitive edition of Tales of Vesperia on Switch, PlayStation 4, Xbox One, and PC. Undoubtedly, Tales fans have a reason to rejoice. The game's cell-shaded visuals, enjoyable cast, and sweeping plot have all aged gracefully. The action-driven combat remains an enjoyable alternative to the turn-based battles that are almost ubiquitous to the genre. Role-playing enthusiasts will certainly be pleased by Vesperia's charms, while there's enough content to warrant and polish to warrant a double-dip by those who played the original Xbox 360 iteration.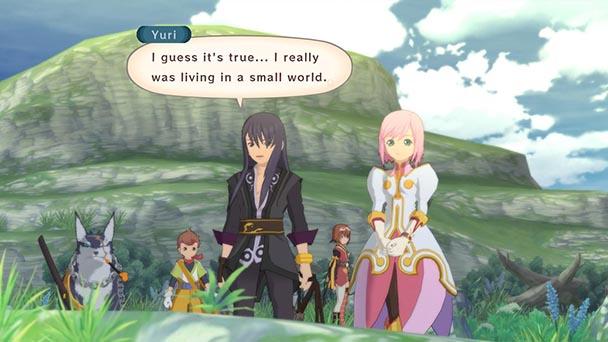 An Unabashed Love of Yuri
One of Vesperia's standout strengths is the game's assemblage of personalities. Yuri Lowell, the game's lead, has little in common with most RPG protagonists. Instead of being the plucky but hopelessly naïve kid, Lowell is older, brimming with confidence, armed with his trusty blade and an ample supply of quips. His expertise with a sword and uninterrupted bravado undoubtedly draw comparison to the legion of samurai played by Toshirô Mifune. The incorporation of free DLC which drapes him in Mitsurugi's armor, solidifies the allusion.
But Yuri is just one example of Vesperia's masterful characterization. The game's other heroes subvert trope and demonstrate some charming interplay during the game's lengthy 50-60 hour campaign (which could exceed 100 hours for those who appreciate exploring elective content). Yuri's best friend and rival is Flynn Scifo, who unlike the lead, continued his training in the Imperial Knights. Whereas some RPGs might dispense trivial banter between the two, Vesperia often delves into the pair's ideological differences.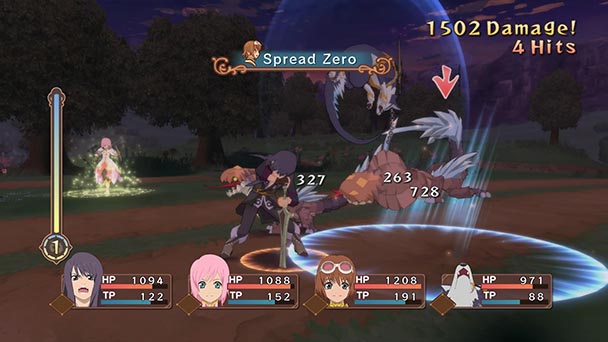 Gratifying Character Arcs and Optional 'Skits'
Elsewhere, the title exhibits absorbing character arcs. Estelle is a studious noblewoman encountered by Yuri at the beginning of the game. Confined to a castle during most of her upbringing, she theoretical knowledge makes real-world decisions difficult in the game's early hours. But watching her grow and handle situations decisively is a restrained treat. Similarly, Patty Fleur, a character who wasn't in the original Xbox 360 game seems included sole for comic relief, with her childish attitude irritating more serious characters. But as the pirate girl's backstory is unveiled, she becomes sincere and less of a set-up for the sporadic punchline.
In keeping with Tales tradition, the game's inclusion of 'skits' pushes the storytelling to lofty level. These bits of optional exposition are triggered when a prompt appears on-screen. Activating them reveals a bit of dialog which offers backstory, inner thoughts, or just a bit of playful charm that endows cast members with nuance. Overwhelmingly, the show the writing team's knack for relational banter. For those who appreciate the depth of characterization in their role-playing games, skipping any of these will be excruciating, since you won't know what you're missing.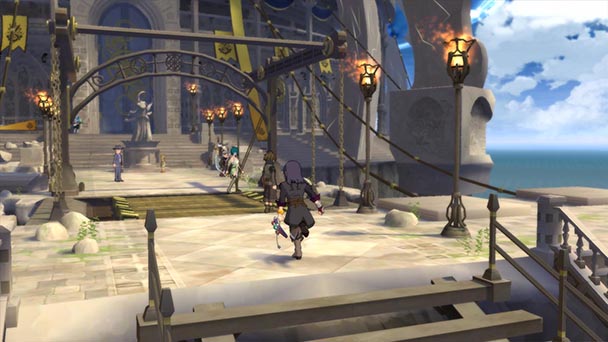 Eerily Relevant Themes and Gripping Battles
Pleasingly, Vesperia's themes of environmentalism, class opposition, xenophobia, and being critical of a power structure remain germane, and might even be more relevant in the years after the game's original release. But satisfyingly the storytelling is rarely preachy. While players might not be able to identify with the foundation for antagonist in the game, the game's allies express a multiplicity of approaches in dealing with adversity, making the experience quite engaging.
Early on, confronting opposition might seem a bit grindy. Here, Vesperia employs the 'Evolved Flex-Range Linear Motion Battle System' which revisits many of the foundations for combat employed by the Tales series. Running into an enemy transitions to an arena-based battlefield, where players can shift control across a team of your four party members. The remaining characters act on artificial intelligence, with players able to select from an array of commands and attitudes to guide squad strategy.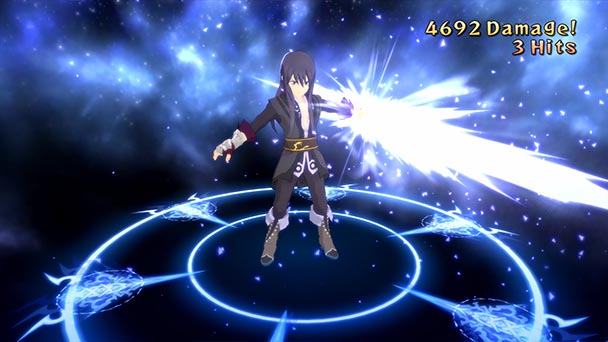 The character that you control can more freely, select targets or fight foes on a shared plane. With physical attacks, magical attacks known as 'artes', and guarding, battles can feel like a fight game. To keep things from growing tedious across the titles prolonged playtime, Vesperia is always adding new wrinkles, with new, mappable Artes to be learned, uninterrupted strikes causing Fatal Strikes, which can instantly kill subordinates or severely damage bosses. However, game's most prominent downside is rooted in these showcase duals. Occasionally, bosses bring elevated difficulty spikes, prodding players to do a bit of grinding to even the odds. While it's not a deal killer, these instances can impair the flow of Vesperia's journey.
Truly Definitive?
This release incorporates all of the additions the Tales Studio added to the PlayStation 3 iteration along with a handful of new improvements. Having played the original Xbox 360 game, I was surprised at how seamlessly Patty was woven into the storyline. Typically, the incorporation of new character is obvious and occasionally it can ruin a balance of personalities. Additional bosses and rewards for players who venture off the game's beaten path reduce the slight sense of linearity that lingered across the game's three chapters. The inclusion of additional voiceover fills in the gaps left by unspoken dialog in the original release. But for those who prefer the English language option should know that Troy Baker didn't record supplemental voice for Yuri. Instead, Bandai Namco opted for an artist who doesn't his best to imitate Baker vocal qualities. But the change is noticeable and might break the sense of immersion for some.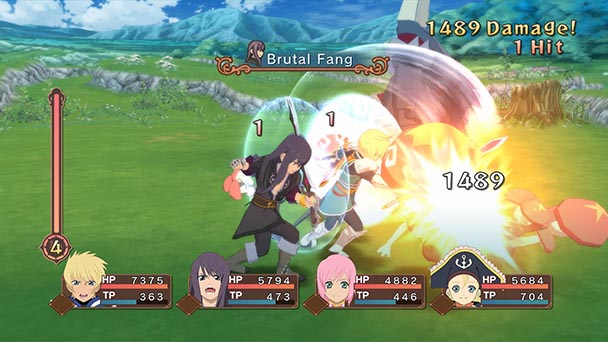 The Definitive Edition's enhancements elevates an already splendid Tales entry to requisite role-playing status. A decade ago, Vesperia offered a satisfying expedition, filled with likable characters, an absorbing plotline, and an enjoyable battle system. Ten years on, the game continues to delight. Now only have the visuals been upscaled, but the game's themes speak to contemporary issues. Whether you're a Tales devotee or franchise newcomer, Vesperia will undoubtedly strengthen your sentiment for the series.
Tales of Vesperia: Definitive Edition was played on
the PC with review code provided by the publisher. 
Review Overview
Summary : Successful role-playing games meld intriguing plot, stimulating characters, and a captivating battle system. Tales of Vesperia: Definitive Edition is a textbook example of that blend, with a remaster that improves an already prodigious experience.