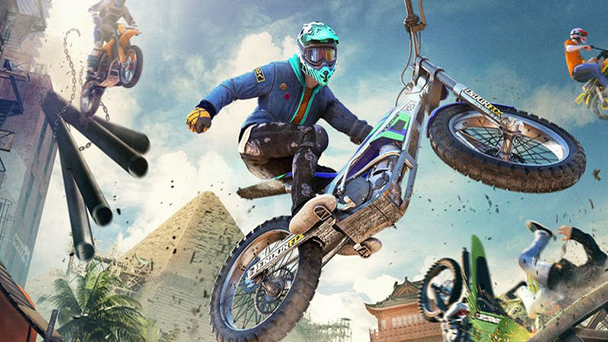 Released as a Java game nineteen years ago, Trials was a prototypical example of brilliant game design. Each stage tasked players with maneuvering a motorcycle across a series of obstacles. Difficulty was rooted in the game's semi-realistic physics modeling. If the rider came into contact with the ground or any other part of the environment, they would crash, pushing them back to a previous checkpoint. Razor-sharp reflexes and the ability to read the environment were the only attributes that would protect you from witnessing a procession of rag-doll rider causalities.
A relatively minimal concept bolstered by ingenious level design, the foundation was strong enough to sustain a multitude of sequels and spin-offs in the ensuring years. But when developer RedLynx decided to add in insipid futuristic settings and stunting (Trials Fusion) or on-foot missions (Trails of the Blood Dragon), the franchise began heading toward decline. With the release of Trials Rising, the Helsinki-based studio (with assistance from Ubisoft Kiev) attempts to get things back on track. While there's still a few gratuitous features to be found, it's largely a positive shift for the franchise.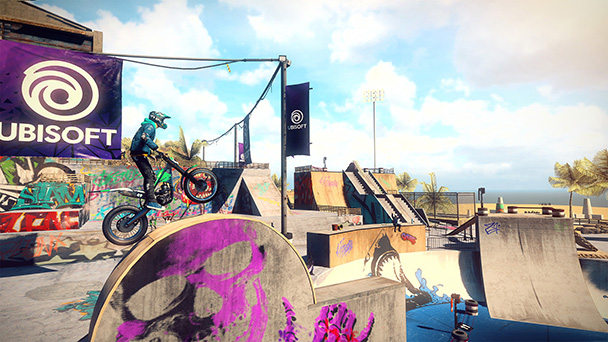 First-rate Education Without the Student Loans
Trials entries habitually began with stress-free level that players of almost any skill level can complete. Gradually, things ramp up, requiring the ability to execute high-level maneuvers. If you don't invest the time to master these techniques, at least some of the game's latter stages wouldn't be beaten.
For Rising, RedLynx recruited the assistance of Australian YouTube content creator, Brad "Professor FatShady" Hill, who has been making Trials lessons for the past six years. Delve into the game's tutelage and you're be privy to more than just basic training. Enroll at the 'University of Trials' and Hill will coach you in a dozen fundamentals, using everything from slow-motion footage to meters that offer visual feedback of controller inputs and suspension load. Pleasingly, a button press even gives context-based assistance. Be warned that earning top grades in Hill's upper-diversion lesson are quite tough and will probably take dozens of attempts. But by the time you graduate from Trials U, you'll be bunny hopping and nailing transitions with ease.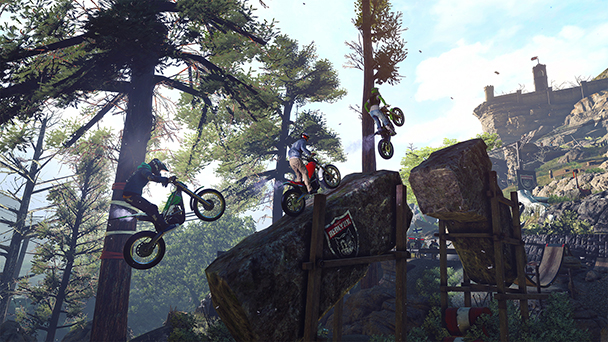 Riding the Path to Fame
Head into the game's Race component and you'll begin a globe-trotting tour across over a hundred tracks. Like many of its contemporaries, Trials Rising aims to emulate the trajectory of celebrity-hood. On the game's initial course, you'll be careening through one of the traditionally isolated arenas. But, in a brief moment, your propelled before a roaring crowd, as a cluster of fireworks signals your arrival. Subsequent tracks are populated with fans who cheer wildly when you land a near-impossible leap, ebbing away at the sensation of playing a simulation far removed from the actual sport.
Earning sponsorships and tackling contracts solidifies the slog toward stardom. The latter are especially interesting, requiring you to perform certain tasks on a stage, like completing a course in a certain time or completing a specified number of backflips. Effectively, they change the way you approach a course. No longer are you just trying to shave milliseconds off your completion time but now you'll be actively looking for places where you can pull off a quick flip.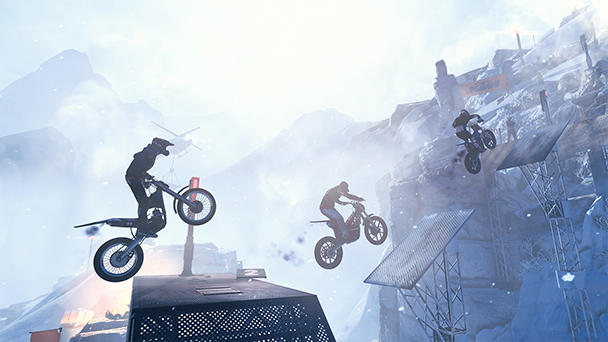 Moot Loot
The downside is that the Contracts are the title's biggest source of experience- which is needed to unlock Risings' new Leagues. Even if you've aced the tests at University of Trials, some of the late game challenges will be downright tormenting, leading to a slowdown of progression. Another puzzling aspect in the sloppy integration of loot boxes. They're all cosmetic, with rewards like avatar outfits, decorative parts, and stickers you can slap on bikes and clothing. Seemingly, you'll use multiple stickers to create the kind of itasha that players made with the Forza series. But too many of the rewards are just simple splashes of paint or blobs, which won't do much good for those you lack artistic skills.
At present, the loot crate algorithm could use some work and you'll encounter duplicates with frustrating regularity. The upside is there is no incentive to open your wallet to purchase premium currency unless you absolutely must own tawdry cosmetic items. Another blemish is the game's overuse of ambiguous currencies and icons. Between acorns, Trials coins, gears, and experience gauges, there's enough signifiers to overwhelm newcomers.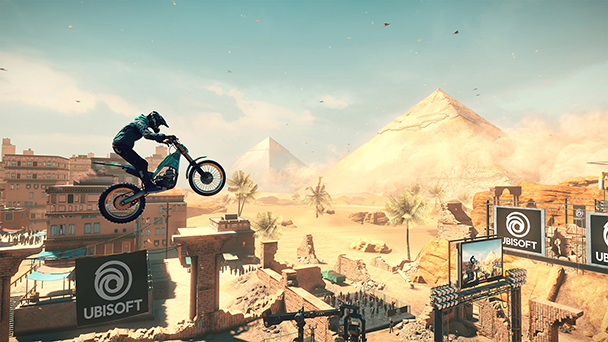 See the World and Leave Tread Marks Behind
But largely, it's easy to forget about the lootboxes and user interface issues when you're navigating the title's imaginative courses at breakneck speed. From a jaunt that runs from across a Universal Studios replica, a Southwestern sprint where you'll jump over moving trains, and a trip to the Eiffel Tower and China's Great Wall, Risings iconic locations add excitement across the main campaign. In keeping with tradition there's a punch line at the end of a stage, whether you rider contorted in a Porta Potty or flung at an enormous wrecking ball sporting a finish line belt. Course designs in RedLynx's previous outings have propelled Trials past rivals like the TrackMania series. With Rising it's no different with levels that will put your skills through a wealth of wonderfully inventive, nerve-wracking tests.
Undoubtedly, you'll witness several creative additions. Challenge races force you to adjust your approach. No longer will you just be facing off against the clock. Now, you'll be given three faults (Trails parlance for wipeouts) when chasing a trio a wins. Tandem mode is the ultimate test of relationship, where two players share control of a bike, requiring impeccable coordination between the pair. Elsewhere, Rising offers a number of creative variations to online multiplayer matches. From having to complete a course with a full throttle, or with moon-like gravity, these matches were designed with comical intent in mind. Sadly, there's no pass-the-controller, local mode.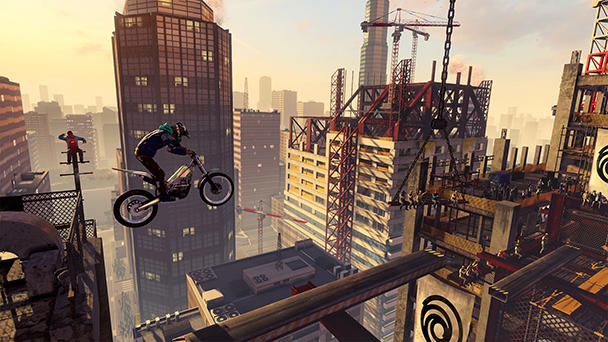 A Powerful but Aloof Level Editor
For those able to invest time in Rising, the title's level editor permits players to create their own stages. There's little in the way of assistance, so FatShady's teachings would have made a welcome inclusion. However, what the course creator lacks in accessibility it makes up for in power. With expansive areas and a plethora of ramps, loops, obstacles to place, it's definitely possible to make a level that rivals the quality of the game's pre-made courses but doing so will undoubtedly take some time.
Predicting how Trials Rising will perform on your PC can be difficult. On an i7 with an RTX 1070 and a nimble SSD, the framerate would often sputter and load times were protracted. Yet, surprisingly, the same visual settings, Rising performed fluidly on a i5 laptop outfitted with a GTX 1060 Max Q. Yet, regardless of CPU and GPU, crashes were worryingly frequent.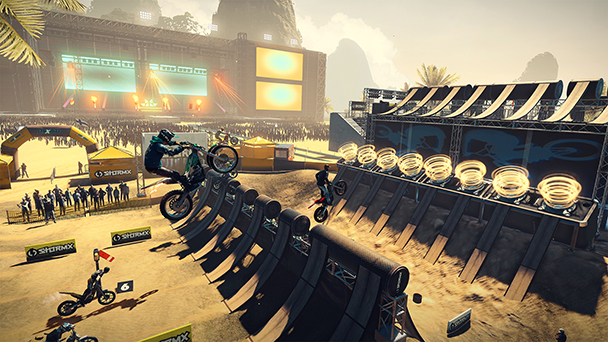 Save for the perfunctory inclusion of lootboxes, Trials Rising course-corrects RedLynx's franchise. For fans, there's a multitude of inventive new courses, taking players on a journey from easy to exasperatingly different.  But with an in-game tutorial system, you've given enough training to tackle these supreme tests and as well as those online rivals who treat games like a full-time job.
Trials Rising was played on the PC with review code provided by the publisher. 
Review Overview
Summary : A patch to normalize performance is really the only amendment that Trials Rising needs. With a robust single-player campaign, enjoyable online competitive play, and a robust level editor, this is a well-balanced package.