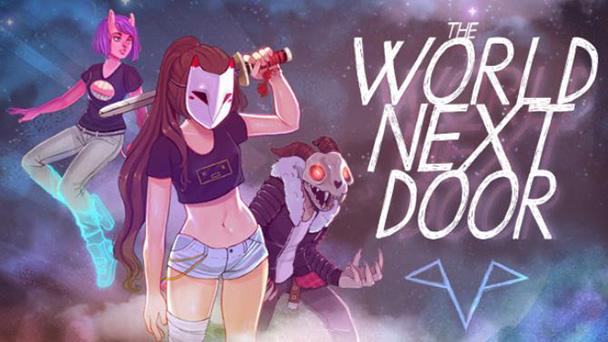 Unsurprisingly, VIZ Media's inaugural interactive publishing extends a chatty narrative conveyed through manga-like character portraits. What is unexpected is the ingenuity behind The World Next Door's real-time mechanics, which offer an innovative twist on match-three tradition. Although the title doesn't always offer enough incentive or variation across its six-to-seven-hour playtime, there's certainly a viable foundation established for a sequel.
As the title implies, Next Door is set in a realm divided by two dimensions. Where Earth has shaped a civilization built on technology, the parallel world Emrys is dominated by magic. Pushing for a peaceful coexistence, the two domains nurture alliance through the once-in-a-generation opening of a portal that permits a lottery winner to visit the parallel world. You play at Jun, a mask and crop-top wearing human who has the opportunity to go to Emrys. But woefully, your holiday goes awry when the portal closes before you can return home.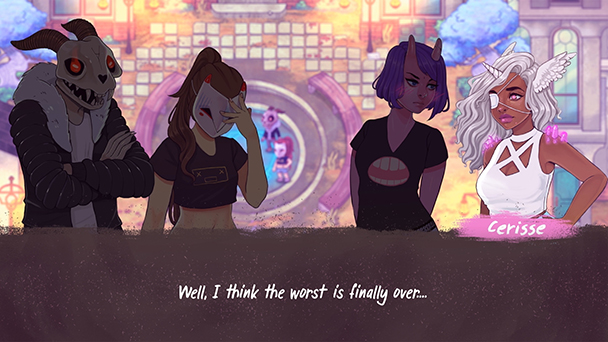 On the upside, you have a cast of friendly characters on hand to help assist you in journeying back to Earth. But the disturbing downside is that the magic-based environment of Emrys is steadily killing Jun. Escape entails visiting several shrines to collect special glyphs that can assist your efforts. However, monsters known as Grievances linger across each of these areas, ensuring that collecting these magical items won't be easy.
Developer Rose City Games attempt to endow The World Next Door with a rich lore and eccentric cast. Unfortunately, the results are uneven. With muted colors and an abundance of stone, the handful of environments you'll visit in Emrys offer muted tones feel certainty feel otherworldly. But all too often the conversations you'll have with Emrys' denizens are rooted in the routine. This is especially true when the title opts for a conversation of text messages like "yo, girl" and "whr you at?" on a cracked mobile phone interface. All too often, Next Door feels like you're forced to overhear a conversation between middle schoolers on a morning commute. There are moments when the game reaches for sentiment, but by that time you'll likely have stopped caring about most of the characters.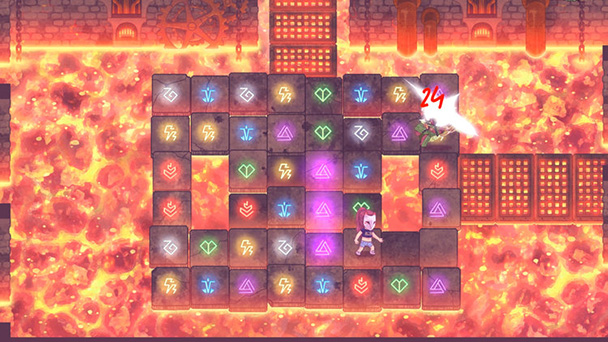 Periodically, you'll be able to pick from different dialog selections when responding to characters. Selections won't radically change the plotline, but they will generate different replies from people. In theory, there could have offered an opportunity to find out more about Next Door's intriguing context. But the succulent, mundane replies mirror the type of answer you'd get from a student rather than the type of exposition from a skilled storyteller. For most of my time with The World Next Door, I longed for an omniscient narrator to replace the bits of information gleaned from conversation.
Fortunately, there's redemption to be found in Next Door's gameplay. Here, you character is able to walk around freely across grid of different symbols. Press the action button when you're on a set of three or more of the same runes and you'll summon a spell which flies at the Grievance. Depending on the symbol and color, you can activate different types of attacks and even regenerate a bit of health. And you'll definitely need the latter. Grievances will stalk you on the grid, rousing spells of their own. If you permit them to come too close, they'll strike with vicious melee attacks.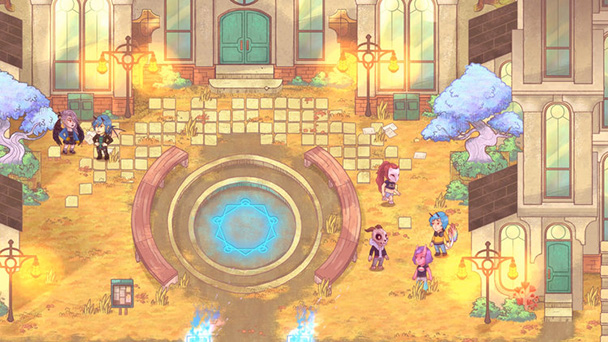 If you're able to combine a set of four or more runes, special symbols appear. If you're able to unite these, you'll summon an ally that brings special skills to the fight. But other than this addition, don't expect Next Door's combat to change in any notable way. Largely, this feels like a missed opportunity. While there's a multitude of sidequests to take on, there's little incentive for competition. Ideally, you could have leveled up your arsenal of spells, learning new attacks, or experience some other RPG-like stat progression. Instead, there's little reward for taking on these duties.
Certainly, there's fun to be had in The World Next Door. Fighting Grievances offers a new twist on match-three formula that holds potential. But disappointingly, the game neglects to build on it, resulting in a largely unvarying five-hour experience. Still, there's hope for a sequel.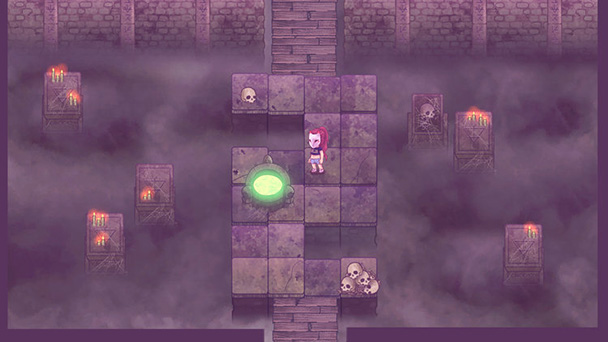 Review Overview
Summary : Viz Media's first foray into gaming is a decidedly mixed experience. While the visual novel elements aren't stirring, the gameplay is fun, but without variation.