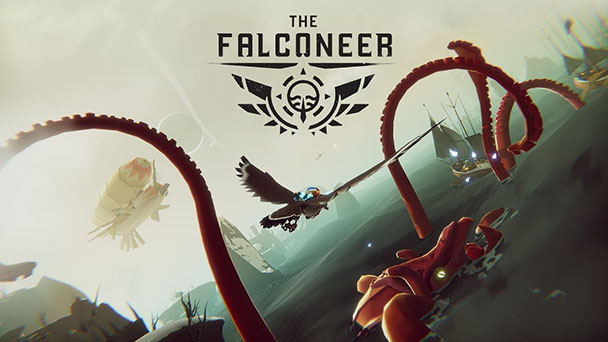 Can we call aerial combat involving giant birds, "dogfighting"? Even if the moniker is an awkward fit, The Falcooneer delivers a distinctive take on airborne action. Sure, it's not perfect, but the title exhibits a gratifying amount of ambition as it flaps its massive wings.
The Falcooneer
Platform:
PC, Xbox One and Series S/X
Developer:
Little Chicken Game Company
Publisher:
Wired Productions
Release date:
November 10th, 2020
Price:
$29.99 (PC) via digital download, $39.99 (Xbox One and Series S/X)
Availability:
Steam
Games developed by sizeable studios often demonstrate tremendous technical prowess. But in execution, they can feel a bit too safe. Between sequels that are reluctant to tamper with formula or play that's been focused-tested to maximize casual appeal, there's often scant substance to accompany the visual sizzle. As such, it's difficult to not champion the effort of a lone developer with a lofty ambition. Such is the case with Little Chicken Game Company's The Falcooneer, which recently released for PC, Xbox One, and as a launch title for the Xbox Series S/X.
The title was crafted by Tomas Sala, who began his development career constructing a mod for The Elder Scrolls V: Skyrim named Moonpath to Elsweyr. His latest effort represents the culmination of several years of dedicated coding and graphical artistry. While gameplay might remind you of Crimson Skies: High Road to Revenge, its world is far more breathtaking. The Great Ursee, the game's aquatic world, is a filled with turbulent tides, vast gorges of rushing water, and details like schools of fish and whales breaking the surface. It's a flight sim that shifts between moments of exquisite tranquility and tense showdowns, unafraid of losing a player's attention during an extended escort mission.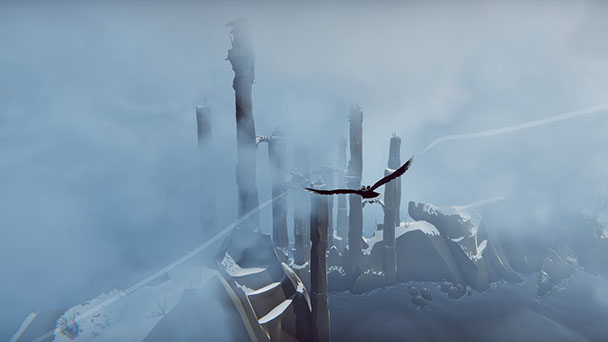 You are The Wind Beneath my Wings…
Pleasingly, Falconeer captures the feel riding atop a massive bird as you soar into battle. Naturally, you won't experience the edgy responsiveness of a multi-million-dollar jet fighter. Instead, you'll guide your avian mount through cloud-filled skies, accelerating as you dive through a layer of mist. Should you want to decelerate, there's a maneuver to tug on your falcon's reins, which feels like slowing an enormous airborne horse. When enemies get a bead on you, you'll also have the ability to perform a barrel roll, offering a discreet nod to Mr. McCloud and his Arwing.
As a mercenary, you'll have access to weaponry to protect yourself. At the beginning of the game you'll start with a lightning caster, a rifle-like gun that's refilled by flying through stormy areas. But don't expect any kind of fire-and-forget type of convenience. Like a World War II-era flight game, you'll have to lead targets, firing at a small circular target that forecasts where a foe will be when the projectile hits.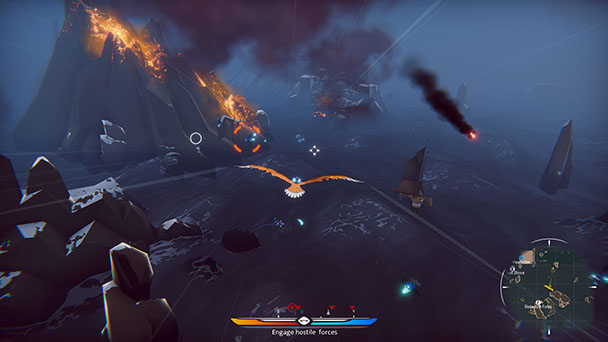 …As Well As the Ammo for My Guns
Later, you'll have access to other guns that offer different balances of firing rate and damage output. Likewise, you can purchase different falcons that cater to different play styles. Whether you prefer a robust but less than lumbering bird or a swift one with little armor, Falconeer accommodates. The downside is that you'll have to grind for soulshards, the game's currency by undertaking side missions. Not only do these occasionally not provide enough information for the assignment, but you'll frequently feel underpaid for your services.
Both requisite missions and side quests take place on an expansive, open-world map. As you navigate Falconeer's water-logged world, you'll come across outposts that are charted on your map, extending an exploratory vibe. But be aware that Sala wants you to relish his murky world and they'll be large stretches of inactivity between encounters. And while Great Ursee might have vacant patches of physical space, there's plenty of expositional world building. Surprisingly, the storyline about a quartet of factions is well envisaged, exploring tensions between imperialists, technologists, and at least one vengeful underdog. It certainly helps that much of the dialog is performed by a capable team of voice talent as well.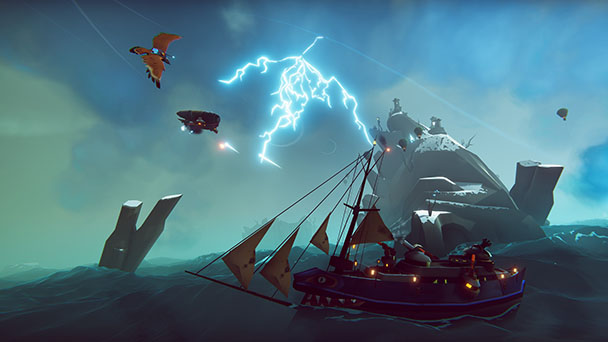 Conclusion
But a few other quibbles might cause a bit of frustration in players. Falconeer's checkpointing is infrequent, resulting in mission replays that feel baked in to pad playtime. This is exacerbated by occasional difficulty spikes that emerge during the game's campaign. Although the game's motivation seems to be pushing players toward auxiliary tasks that can augment abilities, these digressions aren't concealed very well.
Falconeer's sporadic stretches of relaxed navigation would probably never emerge in a triple-A title. A deliberate departure from the succession of showpieces found in many action games, Sala provides motivation as well as context for all the action. So, if you're merely interested in air combat, The Falconeer might seem like a flight of fancy. But for those fatigued by a formulaic game design should appreciate the game's soaring ambitions.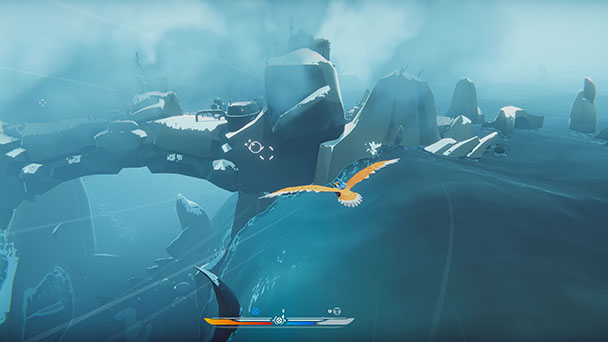 The Falconeer was played on PC with review code provided by the publisher.
Review Overview
Summary : The Falconeer is a combat flight sim set in a world that's flaunts RPG-esque nuance. It doesn't always capitalize on that set-up, but there's enough distinction to warrant a recommendation to players hoping to exercise more than just trigger fingers.