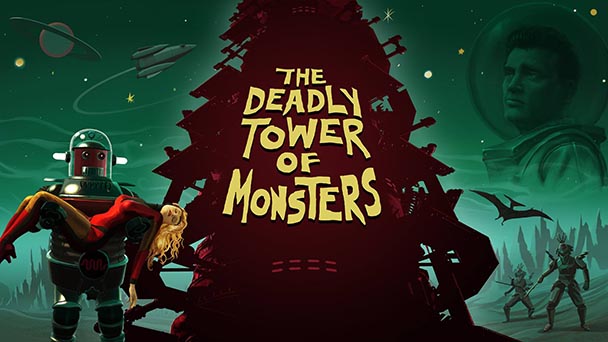 Few development teams have a body of work as bold and imaginative as Santiago, Chile-based ACE Team. Formed by a trio of brothers who crafted a Doom II mod, the studio garnered mainstream attention with 2009's Zenoclash, a game which depicted first-person melee combat against a slew of surrealistic foes. Save for a sequel to Zenoclash, ACE has refuted reiteration, with titles like Rock of Ages and Abyss Odyssey drawing inspiration from sources as diverse as Monty Python, Chilean Mythology, and two millennia of art history. This visual distinction was matched by the divergence of mechanics, with each effort delivering radically different gameplay systems.
Expectedly, the PC and PlayStation 4 release of The Deadly Tower of Monsters continues ACE Team's pattern of prodigious creativity. This time out, homage is payed to pulpy low-budget shlock. Echoing Bastion's omnipotent narrator, with Monsters our raconteur is the fictional direction Dan Smith, brought out of obscurity to provide a commentary track to the home video re-release of his eponymous science-fiction film.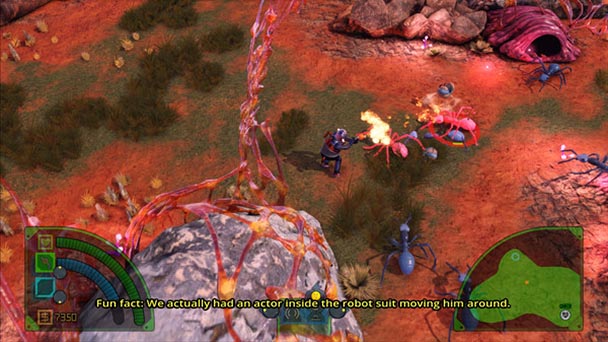 Far more than the male, female, and robotic protagonists that players control, Smith is the real star of the game. Comedy stems from his stanch adherence to stereotype, with the director arrogantly recalling reckless decisions that put actors in peril or the dim-witted assumption that the fishing line used to move rubber monsters would disappear in post-production. Much like Portal 2, Tower of Monsters doesn't restrict its humor to cut scenes, with verve stemming from the simultaneous mix of wit and gameplay. Considering the game's combination of humorous dialog, a consistent allocation of weapons, and an enjoyable mix of ranged and melee combat, Monsters recalls the merriment of the early Ratchet & Clank games, which should be an exciting prospect for PC gamers.
Sure, Tower of Monsters lacks of the polish of Insomniac's series. The absence of an adjustable camera means that Dick Starspeed, Scarlet Nova, and Dick's faithful mechanical companion, Robot can become hidden behind solid objects. Although the twin stick controls used for navigation and aiming are largely intuitive, if you take your hand off the right thumbstick, protagonists can get locked into a direction. Periodically, stepping near the quick-save beacons or cracking open the obligatory commodity-filled containers that dot each level makes the game sputter on PC. But Tower of Monsters helps makes up from these transgressions with enjoyable combat against a bevy of B-movie baddies.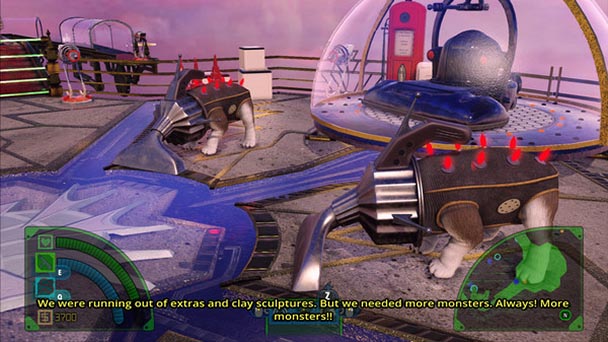 From lizard men who move like men in rubber suits, pugnacious white apes, and hordes of giant, angry ants, ACE Team clearly understands their source material. But just assembling a collection of cinematic villains doesn't ensure enjoyment in interactive form. Fortunately, the studio proves adept at level design constructing areas where just the right variety of creatures deliver a variety of simultaneous strikes. While capable of augmentation with collectable cogs, weapons feel powerful, taking down common foes with a hit or two. Masterfully, players can occasionally lure enemies into environmental objects, allowing gigantic gorilla hands to push foes off the side of platforms. After years of being defeated by these objects, it's rewarding to see that antagonists succumb to these snares.
The Deadly Tower of Monsters' journey has players scaling up the colossal stronghold, with backtracking eliminated by a teleportation system. Climbing any soaring spire presents the prospect of plummeting, but with Monsters this risk is mitigated. Blunder when using your jetpack, and you can instantly teleport the protagonist back to the last traversed platform with a push of the left shoulder button. Sporadically, you'll be tempted to take these plunges, as sequences of rings surround the tower, providing bonuses if players can freefall through them. You'll also be tempted toward edges when the warning of adjacent adversaries appears- prompting a turret-like sequence as you blast encroaching enemies. It's not all that gripping, but the perspective does offer variety from the standard overheard view and helps to remind players of their altitude.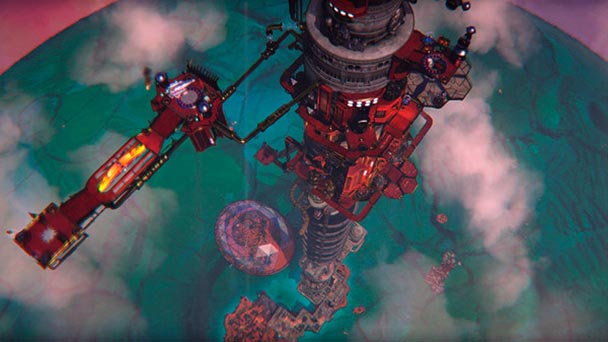 While gameplay is dependably straightforward and streamlined, overcomplication does exist in the tower. Multiple types of domes house the ability to upgrade and outfit weapons, others present sub missions, and another variant allow players to switch between the three protagonists. Ideally, this could have been unified, with a single structure extending a multi-tabbed menu to switch between utilities. On the upside, the game's convolutions are noted by the director, offering a few amusing attributions for the mechanics.
On PC, The Deadly Tower of Monsters is a component performer, flaunting foliage that looks deliberately plastic and character models that purposely change into puppets to mimic the low-budget feel of a drive-in cinema. Save for the aforementioned drop in framerate, the game is a solid performer, exhibiting elevated draw distances and skillful texturing. Aurally, the title perfectly channels the antiquated sounds of 70's cinema and television, with at least one song that sounds like a collaboration between the composers of Flash Gordon and the Six Million Dollar Man.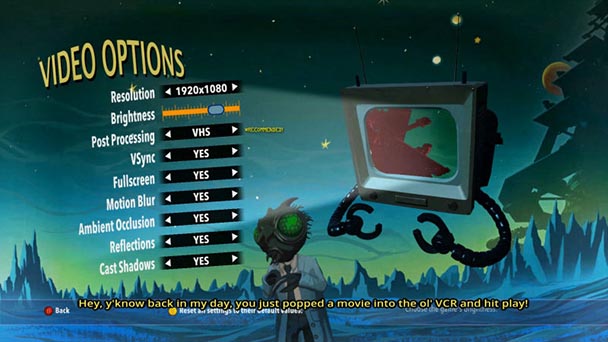 Mechanically, The Deadly Tower of Monsters isn't without a few minor terrors. But largely, these issues should be able to be excised with a prudent patch. But even without those remedies, the trek up this tower shouldn't be missed, with ACE Team once again demonstrating an ability to make a compelling, creative title that's rich in distinction.

The Deadly Tower of Monsters was played on PC with review code provided by the publisher.
The Deadly Tower of Monsters  
Platform:
PC, PlayStation 4
Developer:
ACE Team
Publisher:
 Atlus USA
Release date:
January 19th, 2016
Price:
Currently $9.89 on
Steam
and PSN (PS+), regular price $14.99
Review Overview
Summary : While the prospect of listening to five hours of commentary by unknown B-movie director sounds painful, The Deadly Tower of Monsters is anything but. Instead, this slash-and-shoot romp is brimming with creativity and comedic enjoyment, making it the first sleeper hit of 2016.