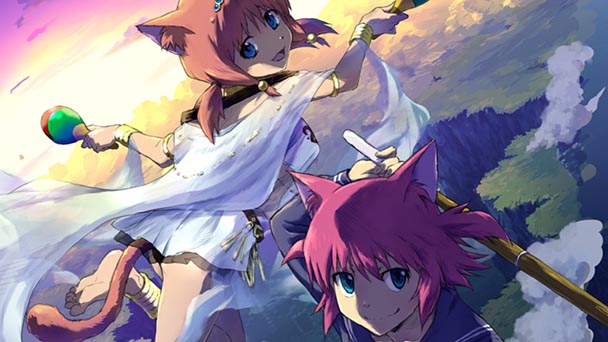 With quaint aesthetics and a poetic but passive plotline, The Adventures of Ten and Till isn't just another STG chasing aiming to dethrone CAVE's prodigious projectile dodging.
The Adventures of Ten and Till
Platform:
PC
Developer:
Toro Nishino
Publisher:
LionWing Publishing
Release date:
May 6th, 2020
Price:
$11.99 via digital download, launch discount price: $10.79
Availability:
Steam
If the recent renaissance of shooters has taught us anything, it's that STGs need distinction. The genre has a long history of exemplary efforts. There's the serpentine Plasma Laser of Raiden II that would coil around foes, siphoning away their health. Or there's Ikaruga's polarity system, where your ship could absorb bullets of a matching color. And of course, there's the loligoth charms of Deathsmiles, challenging players to remain in an overwhelming 'power-up mode' as long as possible. Given the amount of creativity shown by shooters over the years, contemporary efforts that fail to rival these retro classics are fated for fleeting fan-bases.
For better or worse, The Adventures of Ten and Till doesn't immediately let on to all of it's nuances. Sure, the game's pixelated, perpetually sun-soaked visuals recall the hours spent on a Super Nintendo. You'll be soaring vertically across Lowres' cloud-filled skies, high above castles and ancient temples that all look vaguely familiar. But the game's graphical style shrouds smart design decisions. Vibrantly colored enemy projectiles easy to distinguish from the softer hues of backdrops. Likewise, enemies are menacing and lean, tapping into primal fears associated with the shapes of insects and spiders.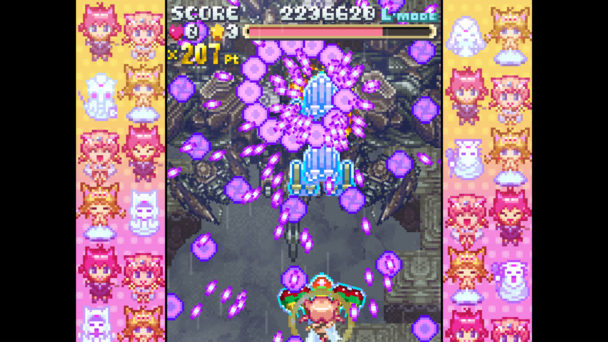 Two Cat Girls, Each with Their Own Shooting Style
You'll be taking to the skies with the game's two eponymous catgirls. Like Ikaurga, you shift between the girls at any time, and each had their own strengths. Ten is a swordsman in training, with a volley or forward firing shots that deliver a concentrated punch. Till is a dancer and tosses an endless supply of maracas at foes with a wide shot pattern. Mercifully, the dichotomy isn't forced on players, but you'll regular be thrust into situations where one girl has a slight advantage.
Interestingly, Ten and Till takes a more relaxed approach to power-ups. Grab one of the shining emblems released from a defeated enemy and you'll enjoy a slight augmentation in shot output and speed. Just don't expect your offensive output to grow exponentially. The other item that will float around the screen are badges that replenish your shielding. Ten and Till can have up to three layers of protection around them which become invaluable when bosses start putting out hundred of projectiles. Another irreplaceable tool is a restrained number of special attacks, which can both clear the screen of bullets and bring the hurt on bosses.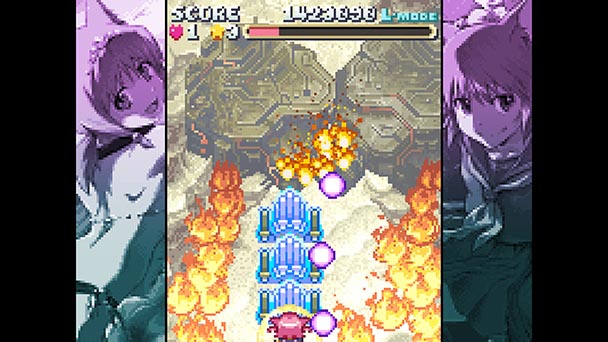 Close Proxemics= Extra Points!
Like any respectable STG, Ten and Till has a number of risk/reward systems build in. The most evident is a mechanics where foes will flow when players are adjacent. This signals a scoring bonus when they are eliminating, but naturally, it makes bullet evasion more difficult. Those obsessed with maximizing their score can even limit the span of their shot, toggling between short and long ranges with a button press. When it comes to controllers, the game isn't too friendly. Beyond an inability to remap buttons, firing forced us to hold down 'Start' on an Xbox One controller, which isn't a very ergonomic way to play. Hopefully, this will be remedied after launch.
Beyond this, two other elements endow Ten and Till with distinction. Players accustomed to pulsating electronic soundtracks might be captivated by the title's sonic selection. Here, you'll find gentle flute-driven melodies to accompany the game's ten-stage trek. It's a relaxing reprieve from the usual high-energy tempos on the genre and demonstrates that music with more than 140 beats per minutes isn't required in an STG. Storylines are often a neglected element in shooters, and it's refreshing that Ten and Till contributes some substance. While the poetic on-screen text which bookends each stage might be a bit too ambiguous at first, once you view the game's two endings, the narrative will begin to congeal. Mercifully, the plotline isn't forced on players, so those who are here for the action won't grow bored by the light exposition.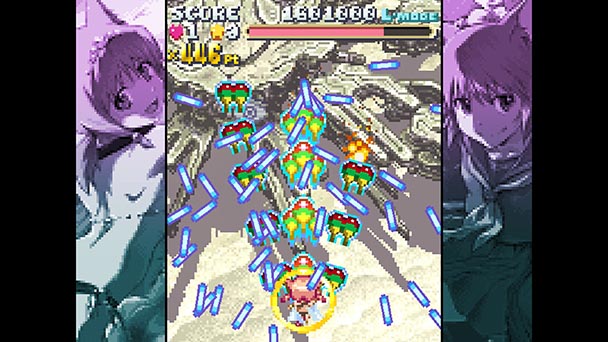 Conclusion
Created single-handled by doujin designer Toro Nishino, The Adventures of Ten and Till is a praiseworthy effort. While controller and visual options are needed, the shooters fundamentals are quite secure and the game's execution is solid. Ten and Till isn't not revolutionary, but there are enough divergences here to warrant a purchase from STG fans of all skill levels.
The Adventures of Ten and Till was played on PC
with review code provided by the publisher. 
Review Overview
Summary : Players looking for a charming, protracted shooter are encouraged to give The Adventures of Ten and Till a look. Beneath the veneer of pixelated visuals and relaxing soundtrack is an accessible and engaging voyage into bullet hell.