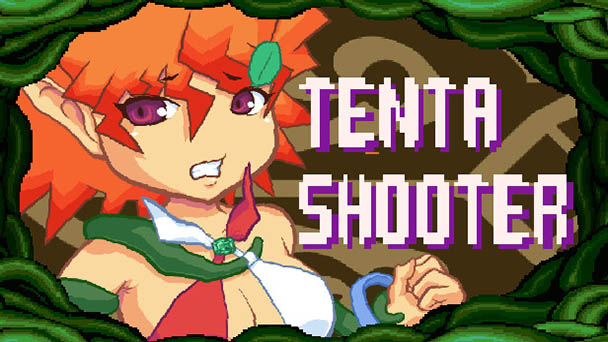 Every respectable shoot-'em-up has a hook. The Raiden series has its distinctive purple plasma beam, which moves like a giant serpent, before latching onto to foes and siphoning away their health away. R-Type's distinction is found in the Diffusion Wave Cannon Prototype, a chargable weapon that can annihilate the majority of on-screen antagonists when at full capacity. And while Deathsmiles is probably best known for its darling little lolitgoths, power-up mode is the real star of the game- extending an advantage that can help tame some of the more challenging stages.
The recent release of Tenta Shooter for PC extends a number of unique elements. Most notable is the incorporation of collectable cards within Shock Mode. Once acquired, these can be activated to change various elements of the game, altering the strength of your weapons, or even modifying the number of projectiles produced by enemies. While Tenta's selection of modes and offensive-power types already offer adaptability, the cards offer further customization, permitting the shooter to be enjoyed by players with a wide range in skills.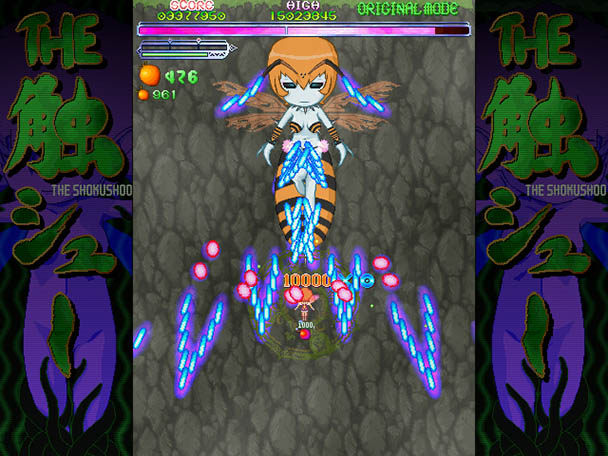 Head into Tenta Shooter's menu, and you'll discover a "hentai filter", which defaults to the wrong position. Switch it on, and the plain cards now come to life with all kinds of playfully lewd drawings of young women and appendages poised to probe the subject. The original Japanese release of SHOKUSHOO (a portmandu of "Shokushu" meaning tentacle and the word "shooting") displayed a bit of nudity, and amazingly, the Steam version doesn't tone it down, revealing a bit of naughtiness.
Fortunately, the game has much more for it than just pixelated titillation. While there's are some minor balancing issues, the core mechanics and programming polish are just shy of CAVE-quality- which is a mighty achievement, especially for a doujin circle.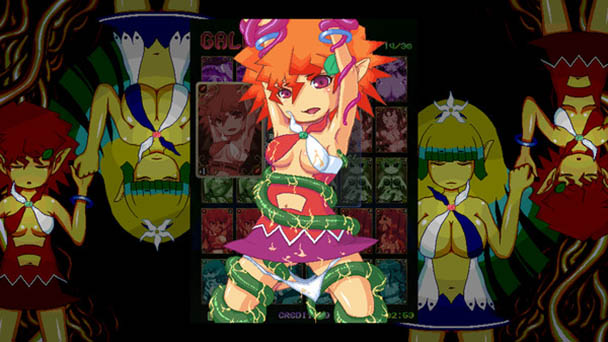 Tenta Shooter's contribution to the shooter genre is rooted in the Bullet Counter. When triggered it creates a glowing ring around the game's protagonist, transforming any blue or red projectiles into lasers that home in on nearby foes. More importantly, absorbing enemy shots refills the counter, allowing skilled players to keep the circle activated.
Despite the awesome amounts of firepower provided by most shooters, you often feel vulnerable, as a projectile or two can spoil a good run. But with Tenta, you'll regularly feel like the aggressor, turning the tables on persistent packs of attackers. It's remarkably satisfying when you convert a bulky cloud of projectiles from something perilous into a powerful offensive tool, while simultaneously keeping your ability active.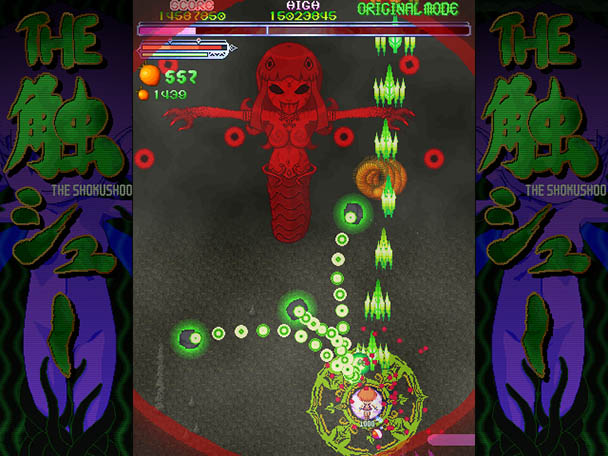 Bullets reflected from the interior of your magic circle contribute to your score multiplier, adding in yet another incentive. But projectiles just outside the perimeter can be converted as well; they just won't boost your score in the same way. Collecting dekopan, a Japanese citrus that resemble an orange with a bump at the top, is another way to augment points. Although the protagonist absorbs nearby fruits, you'll might still want to veer off to collect the larger, more compensating, variety.
Gathering dekopan also helps deplete the death gauge, a meter that fills with every collision. Once the gauge has reached capacity, the game ends, extending a nice change from the life or damage system used by most shooters. None of Tenta's mechanics are revolutionary, but collectively, they make for a distinctive and remarkably engaging experience.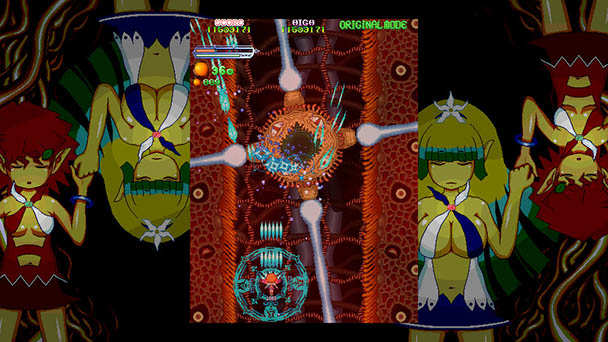 At the start of the five-stage journey, players select what kind of weapon they'll provide for the games' protagonist. Beginners are advised to begin with Type-B, which sacrifices movement speed, but extends a wide angle of offensive firepower. Type-A forgoes a bit of firepower, while increasing maneuverability, while Type-C's weapon has a limited range, but awards a brief period of invulnerability after bullet countering. Type-SB offers a variation that radically changes the feel of Tenta, providing only a single stream of firepower but offering a rapid recharging of your countering capabilities. Coupled with the ability to select manual and automatic conversion of enemy shot, the game offers an augmented amount of customization, reinforcing multiple play-thoughts.
Often shooter stages just seem like a variety of different milieus, but there's intention behind the Tenta's voyage. Originally, the game's protagonist, a fairy named Kai, flies through wooded forests, confronting pedestrian foes like bees and birds. But gradually the journey grows more surreal, with enemies resembling the kind of horrendous phallic monsters and toothed vaginas envisioned by Swiss surrealist H. R. Giger. And while there's not an intricate amount of detail in the game's backdrops and enemy designs, Tenta Shooter's framerate doesn't waver even when the screen is awash with a plethora of projectiles and an excess of expositions. Sonically, the game's almost as adept. Save for the second stages rather pedestrian theme, there's some wonderfully melodic compositions to complement the action. Since Tenta is a vertically scrolling shooter, the inclusion of letterboxing is understandable, but the lack of any tate mode is disheartening.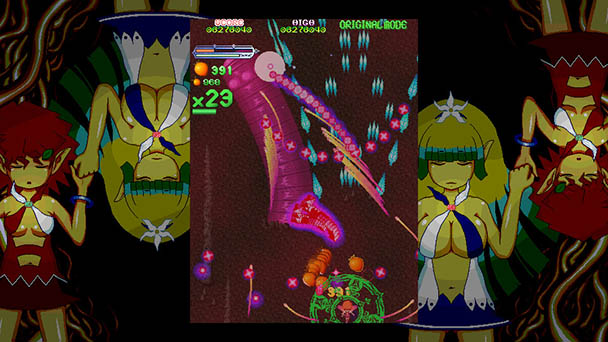 Following the success of Graze Counter, Henteko Doujin has now released two impressive efforts that any STG aficionado should add to their collection. In the West, Tenta Shooter will inevitably draw attention with its subject matter. But know that the title is much more than a few lurid pictures. There's a thoughtfully designed shoot-'em-up that will likely bring you back, long after the thrill of seeing a few racy cards has passed.
Tenta Shooter was played on PC with review code provided by the publisher. 
Tenta Shooter
Platform:
  PC
Developer:
Rakugaki Games
Publisher:
Henteko Doujin
Release date:
December 8th, 2017
Price:
$9.99 via 
Steam
Languages:
English, Japanese, Chinese
Review Overview
Summary : Come for the young ladies and encroaching tentacles, but stay for the polished play mechanics and programming that will delight STG fans.