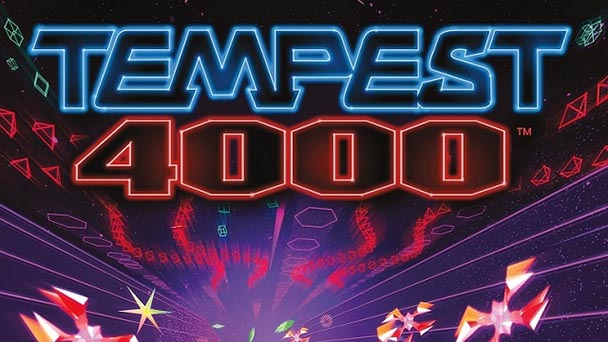 One of my earliest and most enduring gaming memories was produced by Dave Theurer's 1981 classic coin-on, Tempest. As one of the first machines to employ Color-QuadraScan vector graphics, the game's vibrant output looked like a neon sign that had sprung to life in a convulsive fit. Geometric shapes shifted around mesmerizingly, yet with their prickly edges and menacing movement, danger was ubiquitous. I often wish I could go back to the moment when I first spun the control dial to select a starting level, completely immersed as I desperately tried to make sense of this abstract cacophony of color and sound.
In the subsequent years, Jeff Minter's efforts have attempted to rekindle that salient memory. Both 1994's Tempest 2000 for the Atari Jaguar and 2014's TxK for the PlayStation Vita replicated the basic mechanics of the seminal tube-shooter, swapping vector graphics for raster-scan psychedelia. And with the release of Tempest 4000, those without Sony's beloved portable are able to get in on the action. Deliberately abandoning narrative to focus on scoring chasing, it's a brilliant anthesis to contemporary game convention. And while it excels putting players on the outer rim of stages brimming with unremitting intensity, it ultimately feels like a safe iteration rather than the bold step forward a revived Atari needs.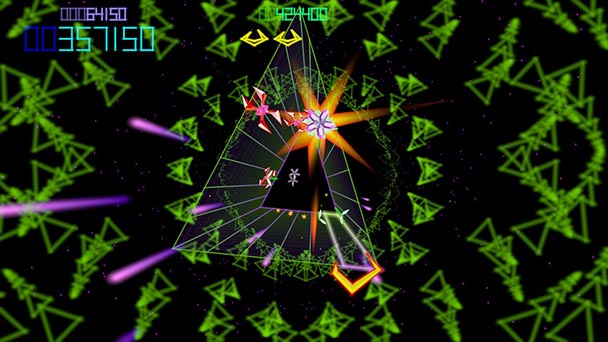 As with any Tempest title, the player takes control of a yellow, claw-shaped ship that moves along the outside of a wire-frame stage, shooting bullets down each lane. Levels come in two varieties, some that contain edges, and others that form a loop, permitting your craft to spin around the entire perimeter. Enemies emanate from the distant end of the stage and follow a number of predictable behaviors. Basic foes look like shuriken and idly float down the lanes, before perilously flip-flopping around the rim, encroaching you. Others resemble flowers, and when shot, drop enough digital leaves to create a visual distraction.
Over time, enemies increase in number, speed, and ferocity, making the loss of your three starting lives inevitable. Fortunately, Tempest 4000 does extend a few tools to even the odds. Periodically, plus-shaped power-ups will slide down the alleys. Collecting these adds an increasingly powerful ability, from an AI drone that attacks opponents, particle lasers that improve your offensive arsenal, as well as the ability to jump. The latter sends you airborne for a second or two, long enough to blast those irritating critters who incessantly seem to surround you. Since these powers reset with each new stage, you'll be constant torn between grabbing an assistive ability and focusing on the invasion at hand.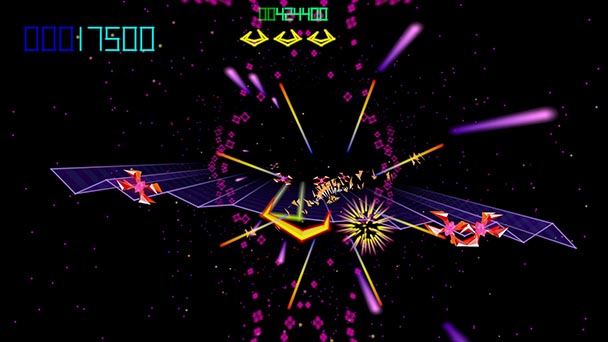 A second chance known as the Superzapper is still around. Once per stage you can activate it to kill every onscreen enemy. But like insects at a summer cookout, tranquility is short lived, and their invasion will soon commence anew. Like Minter's previous effort, the Supperzapper can be deployed just before an enemy drags you down the alley to your doom, making it an occasional lifesaver. Since progressing through Tempest 4000's hundred levels might be a bit grueling for most gamers, there's an option to continue at the point of progress. To keep you from racing through the campaign, you'll begin anew with only a single life once you reach the eleventh stage, which is a fair tradeoff.
Tempest 4000's 4K visuals are a treat if you have the hardware to host such a visual feat. But with the game's busy backdrops and acid-trip graphical effects, you'd be hard-pressed to notice the uptick in fidelity when the action gets going. Unfortunately, the game's camera took a step backward with this iteration. On stages with more contorted shapes, alleys can be distressingly narrow. Without any automatic zooming, it's can be frustratingly when you get hit when crossing those reed-thin gaps. Another disappoint is the bonus zone between levels. Essentially, you gain points for keeping a crosshair in the middle of a series of zooming rings, which is a bit simplistic.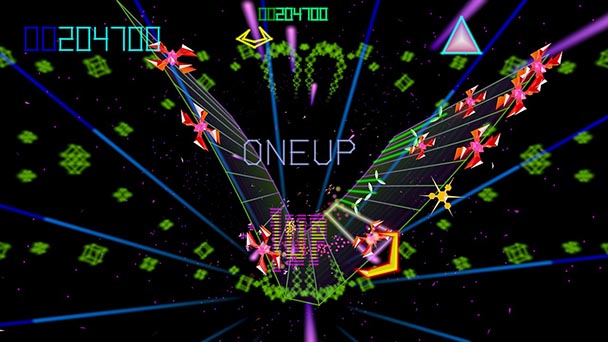 The other incentive that Tempest 4000 offers is a selection of three different soundtracks. From the original motivating chiptune melodies of Tempest 2000, a remix of those songs, and TxK's music, there's a nice selection of tunes. But Minter's appreciation for eccentricity goes a little too far here, as there's no mention that you can switch soundtracks from the level select screen (with the "Y" button). Other times, Yak's idiosyncrasies are endearing, such as the staged named after Atari semiconductors or beloved foodstuffs.
For Tempest diehards, 4000 probably doesn't offers enough innovation, essentially ushering in higher resolution visuals and extra soundtracks. I suspect veterans might be seeking to recrate the sensory overload and unfamiliarity that accompanied their first play through of the game, rather than a capable remaster of the Vita title. But if you're a retro aficionado who hasn't played the property since the PlayStation One-era, 4000 is a trip worth taking.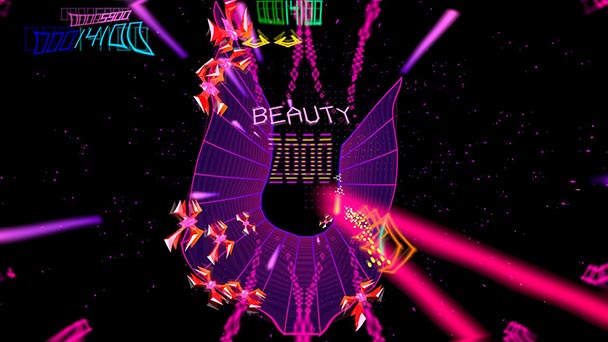 Tempest 4000 was played on PC with review code provided by the publisher
Review Overview
Summary : Tempest 4000 delivering acid-tripping, arcade action but beyond the aesthetic upgrade isn't radically different from 2014's TxK.