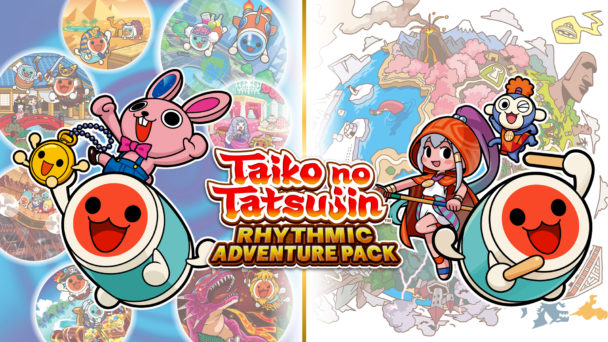 Combining two Japan-only releases, Taiko no Tatsujin: Rhythmic Adventure Pack blends music rhythm with a pair of role-playing campaigns. Having a minor interest in either genre is all that's required for an enjoyable time with this cheerful package.
Taiko no Tatsujin: Rhythmic Adventure Pack
Platform:
Switch
Developer:
DOKIDOKI GROOVEWORKS
Publisher:
BANDAI NAMCO Entertainment
Release date:
December 3rd , 2020
Pricing:
$49.99 for
Rhythmic Adventure Pack
1
and
2
, or $29.99 each Pack separately
Availability:
Nintendo eShop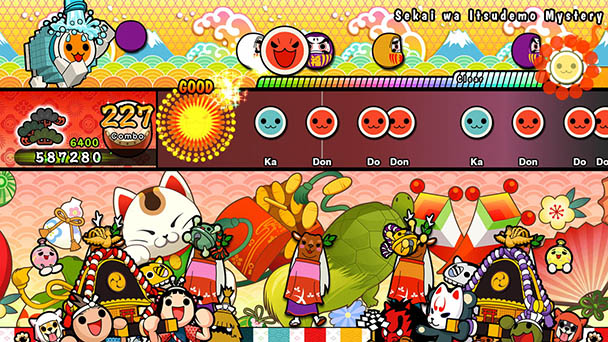 Walk into most Japanese arcades and you'll likely notice a Taiko no Tatsujin coin-op. Introduced in 2001, either the sight of the massive simulated wadaiko drum or the sound of its resonant rhythms are bound to seize the senses. But woefully, Bandai Namco's music rhythm game hasn't made quite as much of an impact on the rest of the world. The 2004 home adaptation arrived with a miniature taiko, but the original soundtrack was lamentably replaced with English-language artists for its stateside debut. Years  later, 2018's Taiko no Tatsujin: Drum Session! and Taiko no Tatsujin: Drum 'n' Fun! were sold as a digital releases, forcing players to find a drum peripheral on their own.1
The release of Taiko no Tatsujin: Rhythmic Adventure Pack bundles two series entries that had not been previously localized. Originally crafted for the 3DS, Don and Katsu's Space-Time Adventure and Dokodon! Mystery Adventure have been given a respectable revitalization as well as a simplification in titling. With higher resolution spites and enhanced texturing, they look like native titles on the Switch. But still, you're on your own when it comes to purchasing a drum.
Crucially, the pair of games aims to bring the delightful franchise to a wider audience. Beyond the customary tests of rhythm, Rhythmic Adventure Pack injects the kind of light role-playing experience that should be familiar with anyone who played a mainline Pokémon title. While tests of percussive prowess are great fun, these campaigns add a sense of progression that goes beyond earning a succession of unlockable items. They're also wonderfully wacky.
Drumming up Fun without the Drum?
Unsurprisingly, "Rhythmic Adventure 1" and "Rhythmic Adventure 1" both offer the traditional 'taiko' modes for those times you just want to play without worry about following a plot. Each extends a selection of sixty+ songs to play through, with tunes put into the customary pop, anime, game, classical and Namco original classification. Yes, three songs ("Senbonzakura", "Karl no Uta: Autumn Pondside Version", "Katte Rock") are missing from the localized release, replaced with a trio of new tracks. The DLC from both titles also didn't make the transition. But many shouldn't be too upset considering the presence of some great Touhou remixes, and songs my artists like LiSA, Gesu no Kiwami Otome, and of course, X Japan.
When playing without a controller, there are four options for button mapping, each employing different variations of face buttons, directional pad and bumpers. When using Hori's optional taiko peripheral, the reddish notes require a tap to the drumhead while the blue notes involve striking the rim of the device. Naturally, there are a multitude of variations, like extended notes that compel a fast-paced roll, a Kozuchi where the object is to fill and pop a balloon as quickly as possible, as well as large icons that expect players to hit both sides of the drum head or rim at the same time.
Mercifully, Taiko mode adopts to a large number of skill levels. On the easiest setting, younger children should be able to keep up. On expert, even skilled drummers will face a consummate challenge as notes race past in a fury of color and sound. But is one of the those simulated taiko drums needed for enjoyment? While it adds greatly to the experience when just playing songs, I played long stretches of Rhythmic Adventure Pack without a peripheral on my Switch Lite from a recliner. And yes, with a USB-C connector you can hook up the drum peripheral to your handheld. It's not ideal but given the size of the game's don and ka prompt, it's certainly playable.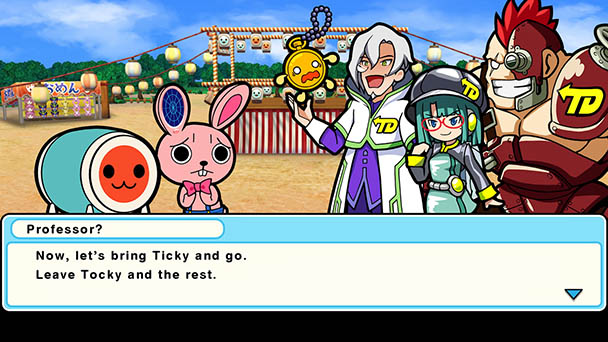 You'll be "Traveling" Even Without Any Utada on the Soundtrack
As enjoyable as taiko mode is, the bundles story modes are the showcase. Each tasks a player with journeying through a succession of regions, fighting groups of random enemies, and interacting with NPCs to push the plot along. While RPG connoisseurs might think that it lacks sophistication, developer DOKIDOKI GROOVEWORKS clearly was thinking about accessibility. As such, both casual and younger audiences can venture through the stories without the obstacles a more complex experience would bring.
Rhythmic Adventure 1's plot revolves around a time traveling adventure that begins with franchise mascots Don and Katsu attend a festival. Here, they encounter a robotic rabbit names Tacky, who asks the drum brothers for assistance in finding his pocket watch-like companion, Ticky. As first, the set-up seems simplistic, but soon the story's writing will probably win you over, with its slapstick manner and procession of sly references.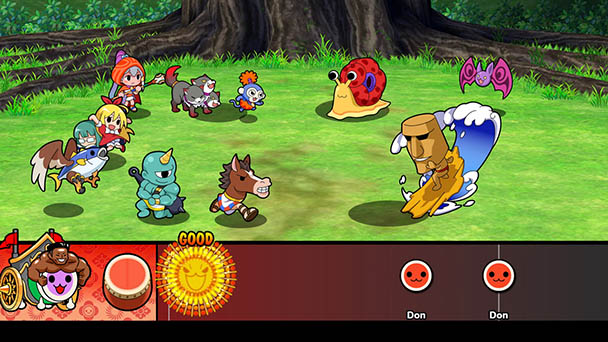 The Virtues of Party Planning
Rhythmic Adventure 2 offers another madcap trek, sending players all over the world in search of a stolen necklace. Expect the same kind of late 90's charm with another set of Team Rocket-style villains, and a few quality-of-life additions. But the basic play is consistently across both titles, with battled foes intermittently offers to join your team.
Customization comes in the form of party management, which each character's experience level contributing to party HP, as well as their individual offensive and defensive stats. Decisions arrive in the form of either adding tanky-types that dish out beating periodically or members that delivery a steady succession of weaker strikes.
Expectedly, battle plays put like taiko mode. Here, successfully timed beats smack enemies, while missed ones allow adversaries to get their attacks in. In combat, bombs occasionally float by as well, and a missed rhythm can induce damage. Similarly, boss battles bring their own variations, changing the speed of drumming or striking with visual hindrances.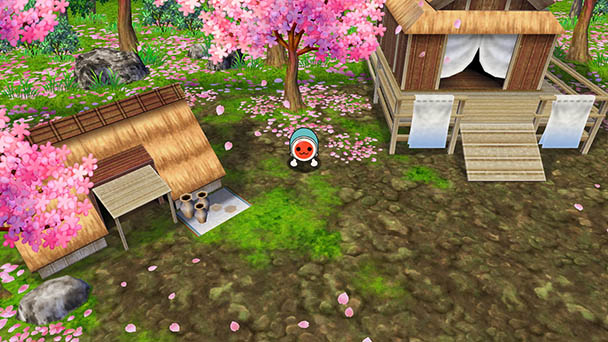 A Gamut of Guest Appearances
Rhythmic Adventure 2 permits players to propel the drum brother forward, and if you're aim is decent you can avoid a random battle. Party management is a bit more complex, with players able to position characters across three rows, ideally finding a balance between hitting power and susceptibility. Just like the first Adventure, much of the fun is witnessing the cameos. Luminaries that range from Kirby, Yo-kai Watch's Jibanyan, and Touhou's Reimu Hakurei are just a few of the guest characters.
Beyond the ability to cast tide-turning Taiko magic in the middle of a battle, Adventure 2 also integrates drum rolls that keep fighting from lasting too long. One blatant issue with Rhythmic Adventure Pack is the repetition of songs. Each zone has a specific set-list and lingering too long to level up characters can lead to tedium. Another problem occurs when voice-acting is employed. If you can read faster than the spoken dialog, you'll have to wait until the actor has finished their line before proceeding. Lastly, the game's ka taps aren't recognized in story mode. It's a odd bug, and one that will hopefully be patched quickly.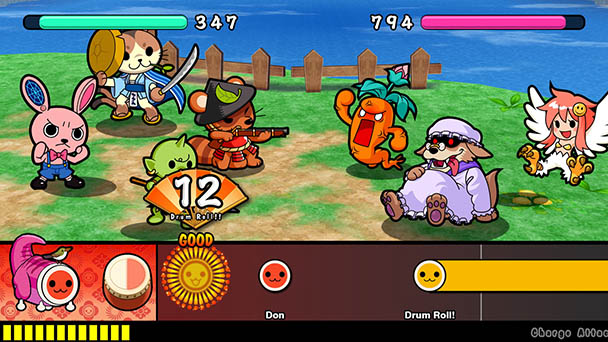 Conclusion
I've always appreciated Taiko no Tatsujin. There's something exhilarating about continuing to stay on beat, while the game rewards you by filled with screen with visual treats like prancing maneki-neko.  Rhythmic Adventure Pack uses these tests of timing to simulate combat, and you'll find damage counter fling off opponents as you hammer away with bachi or buttons. Sure, there's not too much depth, but doing things like dressing Don-chan in unlockable costumes in an effort to boost stats feels creative. Even if you're only mildly interested in the music rhythm genre, Don and Katsu's pair of outings are a lighthearted delight, and well worth the asking price.
1 If you purchase a drum controller, get a Hori. The cheaper ones made by lesser-known manufacturers use inferior parts and can be exasperatingly unresponsive.
Taiko no Tatsujin: Rhythmic Adventure Pack was played
on Switch with review code provided by the publisher. 
Review Overview
Summary : 1 If you purchase a drum controller, get a Hori. The cheaper ones made by lesser-known manufacturers use inferior parts and can be exasperatingly unresponsive.