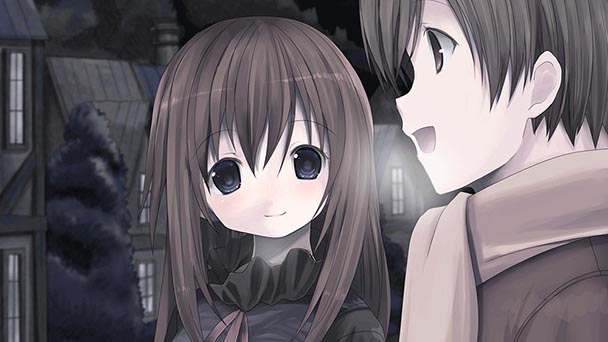 Popularized by works like Key's Kanon and Air, as well as Circus' Da Capo, nakige (meaning a "crying game") is a common sub-genre in the visual novel medium. But despite the melodramatic moniker, there are a number of worthwhile efforts, from Muv Luv to Steins;Gate, that are more than just mere tearjerkers. With plots which threaten humanity with extinction or revel in deep science, the intermittent entry transcends form, revealing a story truly worth experiencing. While the recent release of Symphonic Rain doesn't quite have the same scope, it is a intriguingly poignant tale that dexterously entwines music to its cathartic storyline.
Those who appreciate an atmospheric setting will savor the title's rich context. The novel's opening offers an admirable description of a quaint Italian town named Piova. While best known for their prestigious school of music, the city also has another well-known trait- persistent rain. But where incessant showers are often used to cultivate a sense of sadness or peril, with Symphonic Rain the precipitation is used to infer a mood that's closer to serenity- like the feeling of being in a toasty living room amidst a torrential downpour. The rain is so innocuous that even the Piova's citizens have largely stopped seeking precaution.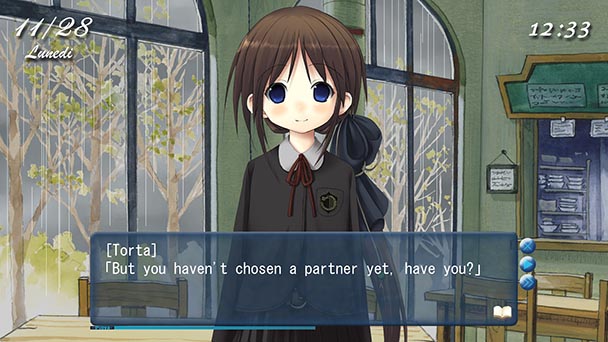 A sense of comfort is abundant in the novel's interiors, which depict antique desks built with sturdy wood and streets that exhibit classic European architecture. As someone who loves the urban futurism that are customary in contemporary VAs, Symphonic Rain's quint charms are refreshing, even if some of the CGs and backdrops can look amateurish. And while many characters exhibit the doe-eyed aesthetic ubiquitous in 2000's manga, the gentle watercolor-like hues, bits of animation, and character expressiveness help to make up for any shortcomings. Largely, the novel's upscaled resolution which brings the 640×480 output to a more modern 1280×720 fidelity is adept, even if Phorni's style doesn't quite match the rest of the cast.
Another positive is protagonist Chris Velding's personality, which save his tendency toward isolation is a wholly likable lead. When the game opens, we learn that Velding has left his hometown to study at the Piova Communal School of Music, while his girlfriend Arietta Fine stayed behind and worked as an apprentice baker. The duo seek solace by regularly writing letters, with the pair promising to reunite once a correspondence drawer becomes filled. But save for a friendly musical fairy named Phorni, Chris hasn't much time for friendship- which is an issue as he needs to vocalist to assist during his graduation recital.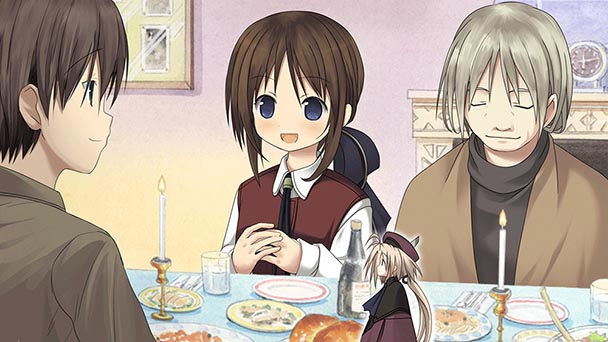 The novel has six central routes, with two additional conclusions that can stem from a weak performance in the musical mini-game. Three of these routes involve a partner choice. Once these have been played through, there's an option to begin again from the perspective of Torta, Arietta's twin sister. Pleasingly, the points where the plot branches are clear and the effect of your decisions are apparent, making replay enjoyable rather than a chore. Unsurprisingly, getting to know each partner better reveals plot twists. Nicely, Symphonic Rain does an admirable job of telegraphing these developments, ensuring that story arcs don't break the novel's sense of immersion.
Depending on your partner choice, readers will play two songs, with one used as your performance piece. Although there's an option opt to skip the segment, you'll probably won't want to. As one of singer/songwriter Ritsuko Okazaki's last works before her passing in 2004, Symphonic Rain's songs are one of the novel's most rewarding elements, extending qualities that correspond to each of Chris' potential partners. With options to select one of three difficulty settings, Symphonic Rain's rhythm game is able to accommodate a wide swath of abilities, as players use a row of right keys to duplicate notes scrolling across a music staff. For those who enjoy the diversion, any unlocked songs are available for practice in the novel's "free play" mode.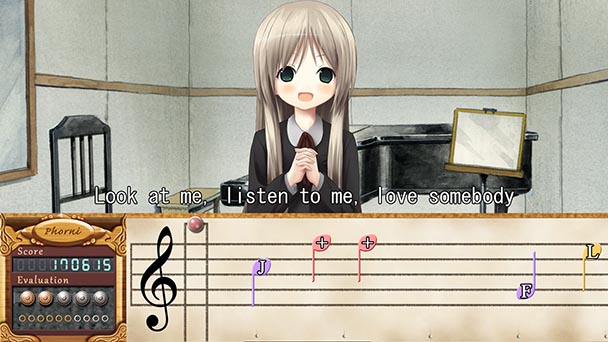 While Symphonic Rain's story arcs extend emotion, with a few story beats which are poised to produce a tear or three, the plot doesn't feel overly manipulative. Yes, there's poignancy but more importantly there's contentment and consolation across the storylines. As such, Symphonic Rain is a journey worth taking, especially for readers seeking an agreeable read accompanied by some magnificent musical pieces.
Symphonic Rain was played on the PC with review code provided by the publisher.
Symphonic Rain
Platform:
 PC
Developer:
 Kogado Studio
Publisher:
 Degica
Release date:
 June 14th, 2017
Price:
 $39.99 via
Steam
Review Overview
Summary : Symphonic Rain is elevated by emotion and Ritsuko Okazaki's musicianship, making it an requisite read for nakige fans.