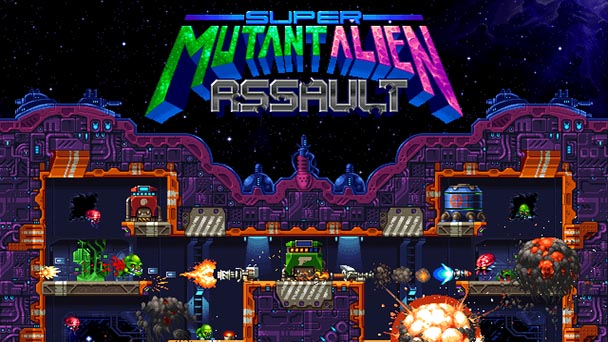 Game reviewers (present company included) often obsess over taxonomy. I'd like to think that expressing and conceptualizing new genres isn't lazy description, but rather a way to honor a game's lineage. After all, every time we hear the term "Metroidvania", we are compelled to think about the two titles that popularized platform-based action set against a sprawling backdrop.
But for Vlambeer's 2010 breakout hit, Super Crate Box, no easy descriptor exists. As its heart, the game built upon the wave-based, single-screen conflict of the original Mario Bros., replacing crabs with skulls and adding an engaging arsenal of weapons. Whereas deviation in the Shigeru Miyamoto and Gunpei Yokoi-designed title was found in the escalation of enemies, Crate Box contributed longevity through a steady drip-feed of new guns. Subsequently, variants like Muffin Knight to Poöf vs. the Cursed Kitty emerged, and de-makes brought the game's core mechanics onto ZX Spectrum and Commodore 64 screens, solidifying Super Crate Box's place in gaming history.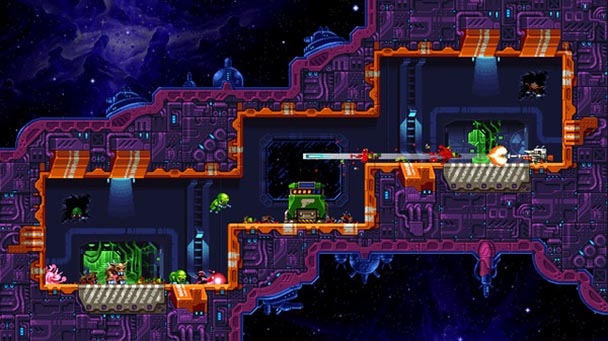 With the recent release of Super Mutant Alien Assault, the game's marketing team employs two references, with the Early Access Steam title billed as the "Citizen Kane of Super Crate Box Clones". In execution, that slogan is unadulterated fluff, as Welles' inaugural film is widely recognized as a cinematic pinnacle that blended pioneering cinematography, shirked traditional narrative structure, and innovative sound design. In execution, Super Mutant Alien Assault is much closer to James Cameron's Aliens, offering a visceral, heart-pumping elaboration rather than a groundbreaking or consummate work.
Currently, one or two local players select a unit from a group of four functionally-identical protagonists, before selecting from one of three starting galaxies. Once deployed, players teleport into a sequence of four rooms, with the concluding chamber housing a boss in addition to the regular enemies that afflict each area. Stages convey two main objectives: transport enough containers of fuel to trigger a launch as well as eradicating the level of all enemies.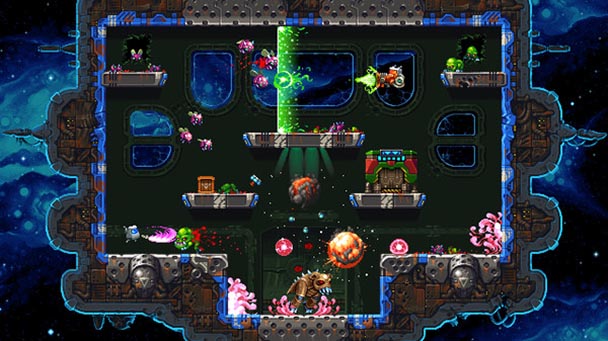 Naturally, there's a number of nuances that mischievously impede progress. Occasionally, reactors threaten to overheat, requiring players to tend to them before they release a damage-inducing shock wave. Limited ammunition is another hazard. Although players can defeat smaller foes with a default sidearm, they'll likely want to procure a better arms, like a machine gun, shotgun, or even an enemy-electrifying pogo stick. To gain these players have to make their way to the weapon station that's located on the level, ensuring the depository has bypassed a cool-down period since the last distribution. Likewise, explosive stores bestow goodies like timed grenade, remote-control packs, and even cluster bombs. Unlike its contemporaries, Super Mutant Alien Assault forces players to use their armory responsibly. Coming too close to an exposition is detrimental to the players' health.
Like Super Crate Box, longevity is encouraged by a regular schedule of unlockables. Executed opponents occasionally drop bright green cubes that when collected, which are used to release not only new weapons and explosives, but also defensive moves, special abilities, and perks. Some of these like the Chakram, a pink disc that cleaves through creatures before requiring retrieval, deliver some of Alien Assault's best moments. Generally, gamers will need every kind of advantage possible to defeat enlarged bosses, as they habitually soak up damage which trying to trample the player.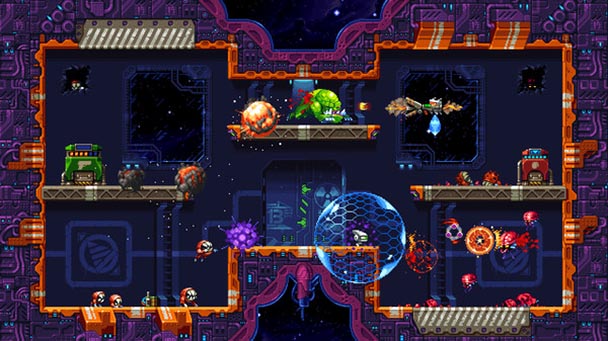 Pleasingly, the title belies its status as a pre-release title, offering enough polish and substance to make the game feel like a final build. For control, players can opt to use the keyboard or ideally- plug in a controller, allowing every double-jump and special strike to be implemented as fast as it's conceptualized. Visually, Super Mutant Alien Assault targets and customarily achieves a sixty frame-per-second delivery, only decelerating for moments of deliberate slowdown as the tension level it ratcheted up. The game's dub step-induced score complements the hectic pace of play, but some players might be put off by the disharmonic assertiveness of the tracks. I for one, would have enjoyed plucky chiptune melodies a bit more. The game's only other issues are that bosses don't display any kind of health bar, introducing uncertainty during these showdowns and the lack of any kind of online cooperative play.
In the incoming months, the two-man team at Cybernate promises more variety to the procedurally created levels, as well as additional enemies, bosses, weapons, and player skins. But as it stands, Super Mutant Alien Assault is easily worth its reasonable asking price, showing a significant progression from original Flash game hosted on Miniclip. While it's not the definitive 'Citizen Kate' the marketers would have you think, it's a captivating improvement on Super Crate Box and along with Poöf vs. the Cursed Kittty, ranks among this new sub-genres' best efforts.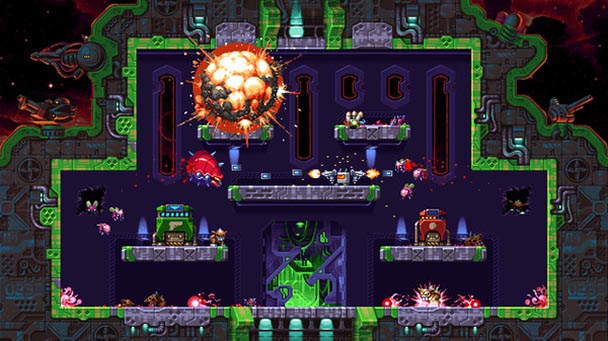 Super Mutant Alien Assault was played on the PC with review code provided by the publisher.
Super Mutant Alien Assault
Platform:
 PC
Developer:
 Cybernate
Publisher:
 Suprise Attack
Release date:
 August 20th, 2015
Price at release:
 $7.99 on 
Steam
 through August 27th, $9.99 thereafter
Review Overview
Summary : Eschewing narrative, Super Mutant Alien Assault delivers blissful arcade action for one or two local players. What's satisfying is how the game Incentivizes play, furnishing a continual stream of perks to keep fingers affixed to controller triggers.