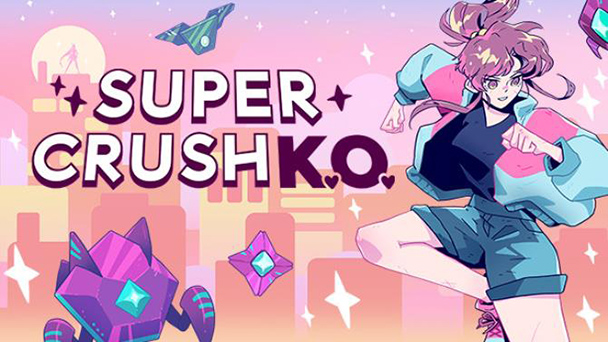 Building on Solid Foundations
Looks can be deceiving. With its stout player-controlled ship, low-poly enemies, and abstract backdrops, 2017's Graceful Explosion Machine gave an unassuming first impression. But players who took a chance on the indie title discovered an inventive modernization of Williams Electronics' classic coin-op, Defender. Controlling a ship that darted around a horizontally scrolling battlefield, you used four distinct weapons to obliterate waves of dogged foes.
But it was the inclusion of a combo system that truly elevated Graceful Explosion Machine. Every time players eliminated an enemy a multiplier increased. But dawdling and well as taking a hit reset the scoring bonus system. For perfectionists like me, that meant a succession of restarts when a combo was broken. But finally earning that coveted "S" grade on a stage felt like sweet satisfaction.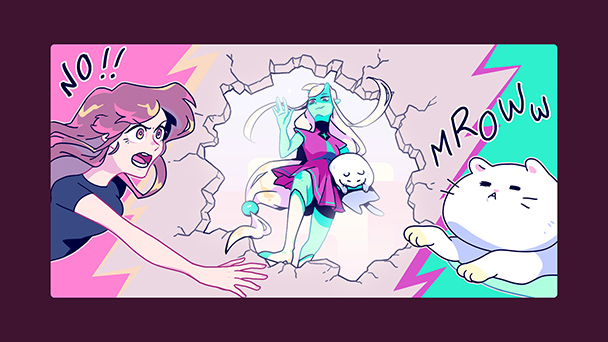 Aiming for Second KO
Oddly, I ended up enjoying Graceful Explosion Machine so much that I was hesitant about playing the Toronto-based developer's follow up, Super Crush KO. All too often, successive lack the special spark of their predecessors. But gratifyingly, their latest effort incorporates the same kind of combo multiplier that made its predecessor so engaging. Post completion, the main concern is how fleeting a playthrough can be. If you've a fan of intense action, Super Crush KO is poised to delight, but you'll likely wish the experience lasted just a bit longer.
Super Crush KO's skeletal storyline smartly doesn't interrupt the action for too long. It's a tale you've probably seen retold dozens of times, with a kidnapping prodding the protagonist into action. Told through comic book-style images, its core accomplishment is uniting a motley cast of that includes a plucky lead and rotund feline, along with geometric aliens and a robotic baddy. Sure, it never quite explains where protagonist Karen gets a machine gun, but it does establish a pastel-colored world for her to kick ass in.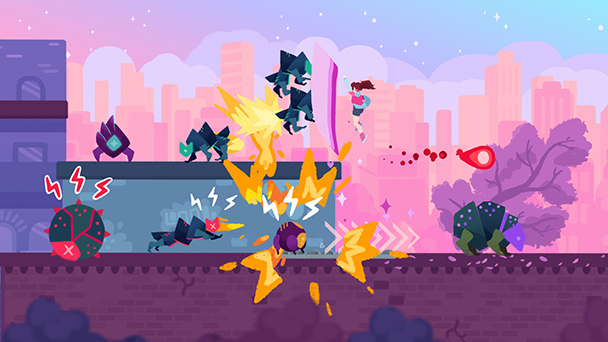 Fists of Fury and a Gun with Unlimited Ammo?
Initially, you'll be armed with a melee-based combo that demonstrates speed, power, and responsiveness. Much of the enjoyment of your physical arsenal stems from the ability to interrupt foes. Super Crush KO does an excellent job at foreshadowing the attacks of your adversaries, with tells like tiny lighting bolts or a color change before a strike. A punch or bullet from Karen typically causes a brief stun, giving your just enough time for you to batter them into nonexistence.
To keep your combo going, you'll want to intermittently make use of your machine gun. It's fairly decent at locking on to the nearest foe, peppering the threat with projectiles. While Karen has unlimited ammo, you'll have to wait for it to refill, prodding players into a taunt cycle of punching, and shooting. With spiked floors triggered when Karen walks on them, disappearing platforms, and sprays of bullets from enemies, she'll want to keep moving as well. While threats and bullets don't move too fast in Super Crush KO, they can fill the space around you if you're not careful.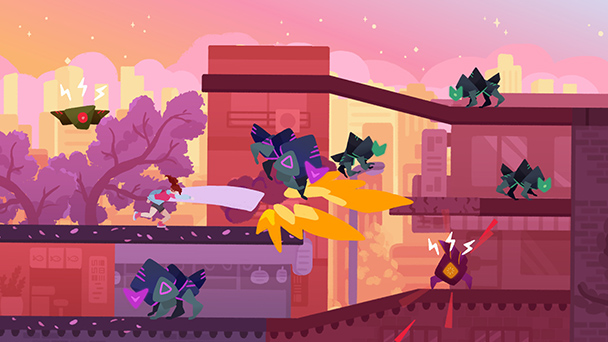 This Karen Doesn't Need to See a Manager
Gradually, Karen's repertoire grows larger with power moves that can push through a row of multiple enemies, uppercut them, or even pound the ground so hard they bounce into the air. To prevent players from exploiting these powerful capabilities, Karen's more robust moves are controlled by the number of pink diamonds collected from defeated opponents. Naturally, this feeds back into the combo system, goading you into releasing an unrelenting offensive output, that keeps your options open. As such, Super Crush KO delivers the kind on intense play where you're constantly surveying the screen for your next opening.
By favoriting spontaneity, the game's twenty levels encourage replay and rivalries for the online leaderboards, helping to compensate for a fleeting campaign. But brevity isn't the game's only issue. Boss battles lack intensity and often they're comprised of super-sized versions of standard foes. While almost every element of the game feels balanced and fair, it can be frustrating to have a combo broken just because you can't dash over to the next battlefield fast enough. Another small issue is that Super Crush KO doesn't probably signal which parts of the environment can be shot though. Finally, there's no in-game resource that shows the commands for Karen's special moves, so you might need to practice if you put the game down for a few days.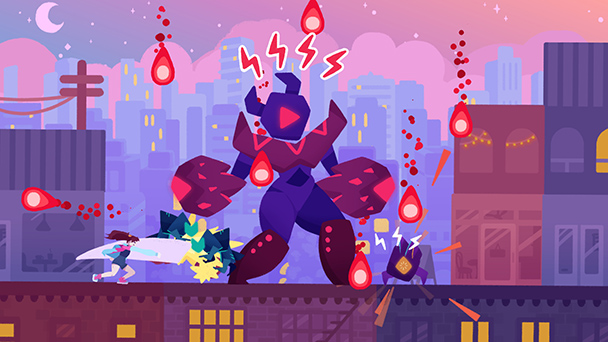 Conclusion
While Super Crush KO's campaign won't last long, it's an immensely enjoyable experience thanks to the inclusion of the combo system. Intensity increases thanks to new adversaries and a growing arsenal, with each stage testing your ability to juggle different types of attacks as your chase after a prestigious rating. While it might be too concise for its own good, it's the type of game I'll be returning to when I crave frantic action, just like Graceful Explosion Machine.
Super Crush KO was played on Switch with review code provided by the publisher
Review Overview
Summary : Super Crush KO retains the brilliant combo system of its predecessor, while shifting the action from side-scrolling shooter to platform-based pugilistic action.