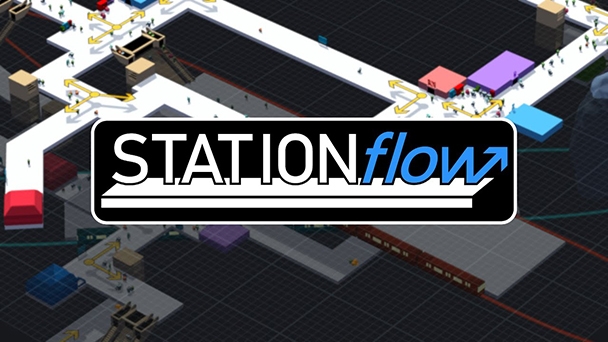 Shigeru Miyamoto envisaged Pikmin when he noticed a procession of ants marching across his patio. While STATIONflow isn't quite as abstract, it's a beguiling examination of transit station engineering.
STATIONflow 
Platform:
PC
Developer:
DMM Games
Publisher:
DMM Games
Release date:
April 15th, 2020
Price:
$17.99 via digital download, launch price of $15.29 through 4/22
Availability:
Steam
It's tough playing STATIONflow without deliberating on the game's inspirations. As a simulation of public foot traffic through transit hubs, its easy to imagine producer Tak Fujii walking through the sprawl of Tokyo Station. Surely the ex-Konami developer must have admired this extraordinary feat of engineering where over half a million people board 3,000 trains every day. Handling passage from Narita International Airport, the famed Tokaido Shinkansen, and connecting with a network of smaller, commuter rail lines, a judicious placement of signs makes transfers feasible, even for newcomers.
Smartly, the recent PC release of STATIONFlow doesn't throw you right into to rebuilding the 106-year-old landmark. Instead, DMM Games' title, gently familiarizes you with the fundamentals of construction within a smaller segment. It's here that Fujii and director Szabó Marcell show off their design prowess. Eventually, you'll build a network of walkways, create signage, and even position elements like restrooms and vending machines, across three-dimensional, multi-level spaces. And anyone who's ever fumbled with a CAD (Computer-aided design) program will know how complicated and often tedious this work can be.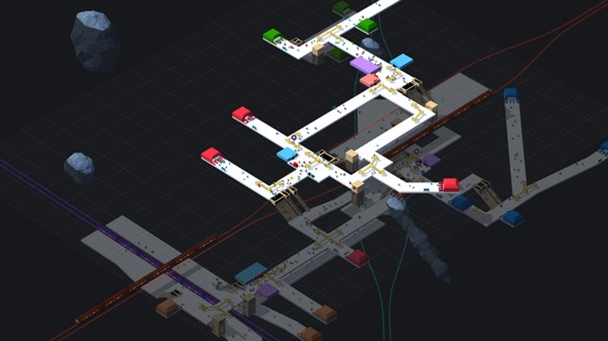 Walk This Way
Given the game's ambitions, you wouldn't expect this kind of architectural design to be completely intuitive. But if you're played city builders like SimCity, Anno, or even Tropico, the methods will be quickly acquired. At the bottom of the screen, a build menu classifies objects into station parts, connectors, buildings, and small items. Initially, you'll be asked to construct a walkway from a train platform to a main artery. In execution, it's little more than a drop-and-drop operation, with your corridor snapping to existing structures.
Outstandingly, it all feels responsive and expertly conceived, turning a routine into recreation. Whether you are rotating a piece of flooring or navigational signs, satisfying little details like an iPod-like click convey a sense of precision. Yes, there's guidelines to be learned with elements like clickable areas that allow you to move and change the size of pieces, with rotation rings spin components around. And yes, you'll encounter the occasional frustration when STATIONFlow colors a piece red, prohibiting you from moving ahead with construction. But the warning is because you've committed some kind of grave architectural blunder, like asking people to cross active tracks.
When the Rush (Hour) Comes
Like any respectable sim, there's a wealth of logistical complexity to be found.  At first, entry and exit points allow for straightforward pathing. But soon, new ingresses and egresses emerge, producing pockets of congestion and unhappy commuters across a multitude of subterranean floors. As such, reconstruction and additions are inevitable, spurring players into thinking about future-proofing your designs. You'll also face a changing demographic. As your station grow, the population diversifies, and you'll need to build elevators for senior citizens, vending machines for those on the go, and restrooms for those who have to go. That said, some might wish that STATIONFlow's long game had one of those ultimate tests of logistical efficiency. I would have liked to see if my depots could handle the surge of Comiket goers or at least the burden of exits closing during an emergency.
Another blemish is the brevity of the game's soundtrack. Although noisycroak's eight synth-driven melodies seamlessly complement the duties of subterranean design, it loops with distressing frequency. At launch, there's roughly twenty minutes of restrained grooves, which can feel like an EP put on endless replay. That said, don't criticize the game for its minimalistic appearance. Sure, stations and commuters are all represented with abstract shapes that resemble a board-game prototype. But the decision permits players to read the visual complexities associated with managing a bustling, multi-level transit station.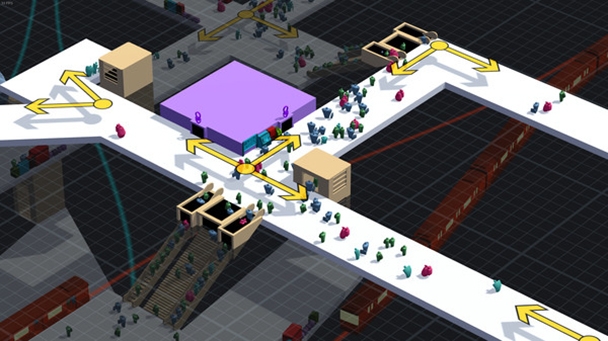 Take Your Time, But Watch Your Money
Unlike most city builders where fulfilment emerges mostly in the late game, STATIONFlow's relaxed proceedings deliver a milder, but more persistent sense of satisfaction. Sure, it sounds strange, but seemingly thankless tasks like placing navigational signs can be fun. Commuter pathfinder is driven by AI, which might sound like a detriment. However, in execution you can easily alleviate crowding by creating alternative, slightly more roundabout pathways. If STATIONflow modeled the eccentricity of human behavior, it just wouldn't be as fun. Another minor departure from reality is the ability to fast-forward or pause time. This helps sidestep protected construction speeds or give you a moment to fully assess a situation without the stress of an advancing clock.
When STATIONFlow was in Early Access, the game shipped with a single map. Fortunately, that's been remedied and the title now ships with six stages along with a quartet of sliders than can be readjusted to change variables like commuter satisfaction decay, station upkeep, as well as construction speed and cost. Pleasingly, you can even unlock all the building features at the start of the game, providing an affable amount of autonomy. That said, if you're more interested in the financial side of transit hub management, the game is no slouch. You'll receive daily fiscal assessments that provide all the necessary info to turn around a depot headed toward economic disaster. And potentially, Steam Workshop integration offers additional longevity. With the game's bundled toolset, players have recreated everything from the London Underground to Chūō's Tsukijishijō station.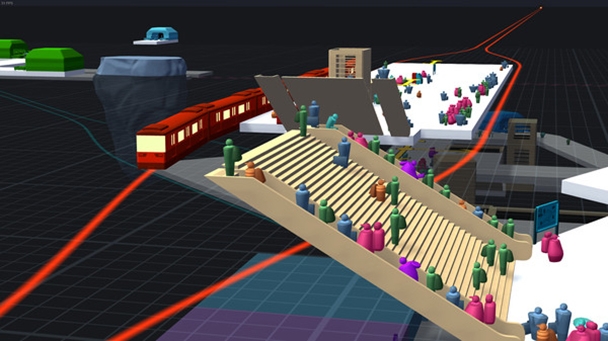 STATIONFlow was played on PC with review code provided by the publisher. 
Review Overview
Summary : Built around a user-friendly user interface, STATIONFlow delves into a detail most people overlook. While some play games for escapism, this is one of those intermittent title that will make you stop and appreciate the details that go into urban design. It's not for everyone, but if you've ever marveled at metropolitan architecture, STATIONflow can be in inspiring destination.