Groovy Baby!
Twenty years on, the Sega Dreamcast remains revered, in part because the publisher took numerous creative risks. One of their most memorable ventures was 1999's Space Channel 5. Boasting flamboyant colors, a swinging theme song ("Mexican Flyer") right out of London's mod culture, and a perpetually sauntering lead character, the game's aesthetics seized the senses. Clad in a vinyl mini-shirt and knee-high platforms, Ulala merged campy news reports with groovy dance moves, as players tapped buttons in time with music.
Space Channel 5 received a direct sequel three years later, and in the ensuing years both games were ported to other platforms. But despite Space Channel's status as a cult hit, the series failed to produce any follow-ups during an era when motion control become commonplace. With the release of Space Channel 5 VR Kinda Funky News Flash, Ulala's devotees finally get a sequel, but one that's lost some of the celebratory vibe.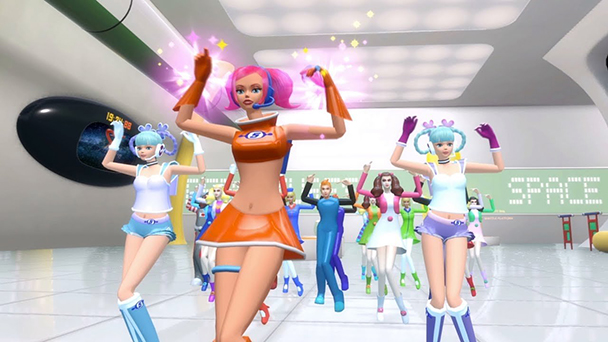 Three Hardware SKUs are Mandatory
Funky News Flash arrives with a laundry list of caveats, which isn't limited to a daunting hardware requirement. Before even considering a purchase of the game, you'll need a PlayStation 4, PlayStation VR, two Move controllers, and enough space to comfortable move around. These are all rigid requirements, and it's rather perplexing why the game couldn't scale things down for fans without a room full of Sony hardware.
Another issue is the responsiveness of the PS Move controllers and camera. The original game had players pushing controller buttons to make Ulala dance-battle aliens and attempt to boost here television station's ratings. Don the PlayStation VR visor and you'll be tasked with mimicking arm gestures with the Move Controllers and occasionally dodging alien attacks.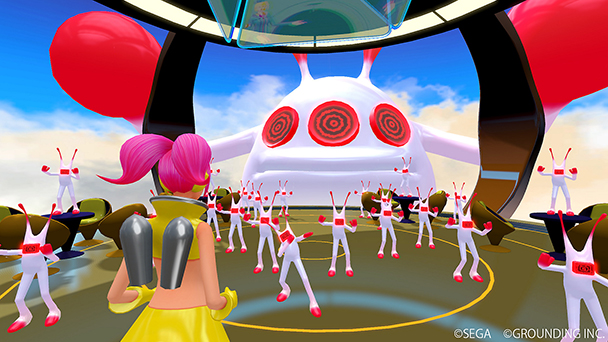 Most of the time the system works, but since a trio of failed gestures ends the game, Kinda Funky can get kinda frustrating. On the upside, the game is adept at warning you if you move too far from the center of the virtual dancefloor, preventing the possibility of injury. Another attribute is the storyline, with Ulala's serving as an interpreter through these rhythmic realms. She's lost little of her appeal, and while the game's closed environments might mean less sashaying, but she's still dispensing charm through an endless succession of kicks and cheers.
Faking the Funk?
Fortunately, there are ways to cut down on missed inputs, but they feel like you're cheating. Space Channel 5 VR is less concerned about rhythm than ensuring the glowing orbs on the end of the controllers are in the proper position for a pose. So, jerk around disjointedly, and pretend Ulala isn't secretly judging you.  The one thing she won't let you do is take a seat on the dancefloor; Space Channel 5 VR has to be played in a standing position.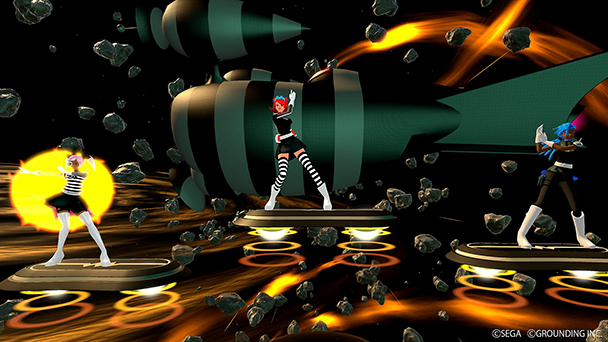 The shift to virtual reality means you've no longer playing as the pink-haired fashion icon. Instead, you control one of the game's two new junior reporters Lou and Kee (which should probably have been localized as "Rou" and "Kee").  This alteration means that you get to watch Ulala strut her stuff while your character's limbs twist around in front of you, easing the interpretation of poses.
Virtually Perplexing
Like the original Space Channel, Kinda Funky News Flash is a brief experience, with a quartet of stages and a bonus challenge level that brings new arm motions into the mix. Although some criticize the brevity, especially at the game's forty dollar asking price, you probably don't want to spend more than the game's 30-40 minute duration dancing with a VR helmet on.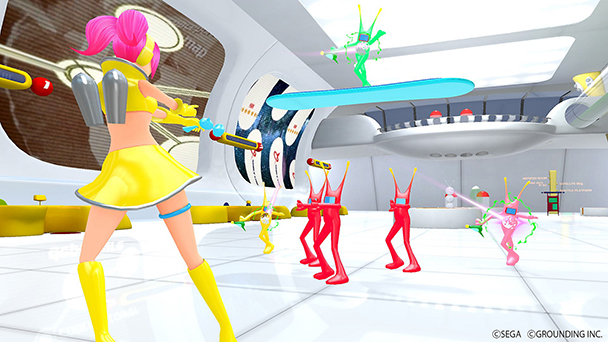 The decision for Kinda Funky News Flash to require VR proves to be a puzzling one. Physical activity isn't really suited for a VR helmet. Too much movement tends to disrupt eye positioning, potentially pushing the game out of focus. Strap the visor on too tightly and it's quite possible to get headaches. Sure, sidestepping the lasers that whizz past your head is cool, but dancing is fundamentally a social activity. Games like Just Dance and Dance Central come alive when played with a group of friends. With a helmet on, you're closed off from spirited feedback when playing Kinda Funky News Flash.
Conclusion
Had Space Channel 5 VR Kinda Funky News Flash been released at a more reasonable price, the game's brevity wouldn't be an issue. But forty dollars for a half hour of fun sullies the game's sense of cheerfulness. The title tries to augment its campaign with components like a 100-stage endurance mode and a dress room that lets you outfit Ulala in bonus costumes hidden in the levels. But mostly these things feel like supplemental padding. Even with the upcoming appearance of Hatsune Miku, it's hard to get too animated for Kinda Funky News Flash.
Space Channel 5 VR Kinda Funky News Flash was played on
PlayStation 4 with review code provided by the publisher. 
Space Channel 5 VR Kinda Funky News Flash

Platform: PlayStation 4


Developer:

Groundling Inc. 


Publishers:

Sega, Grounding Inc.


Release date:

February 25th, 2020

Price:

$39.99 via

PlayStation Store

Space Channel 5 VR Kinda Funky News Flash review
Review Overview
Gameplay - 70%
Controls - 65%
Aesthetics - 60%
Content - 50%
Accessibility - 75%
Performance - 70%
65
65%
DISAPPOINTING
Summary : Unlike Rez Infinite, which iterated on the Dreamcast original with an optional VR mode, Space Channel 5 VR Kinda Funky News Flash requires several peripherals. Even if you have the hardware, it's a short-lived that doesn't justify the purchase price.

User Rating:

2.91 ( 10 votes)