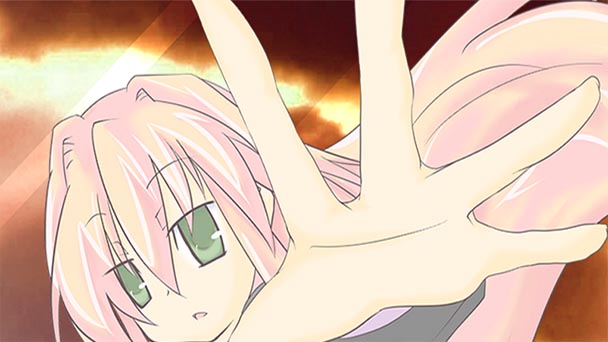 Saving a war-torn world from the brink of obliteration is hardly a new impetus for the industry. But when salvation means battling bulky robots and evading deadly missiles, the efforts have traditionally been led by muscle-bound male protagonists. That's not the case with developer Orange Juice's Suguri series, where unassuming, albeit cybernetically-enhanced teenage girls combat heavy machinery in their effort to safeguard humankind. But even more remarkable than the inversion of gender roles is the franchise's departure from STG tenets.
Shirking rudiments like power-up collection and intricate backdrops, Suguri, Acceleration of Suguri, and the latter's expanded X-Edition elevated the risk/reward propositions extended the genre. With the release of Sora on Steam, these delightfully precarious mechanics have been formed into near-faultlessness, crafting a shooter that's remarkably absorbing.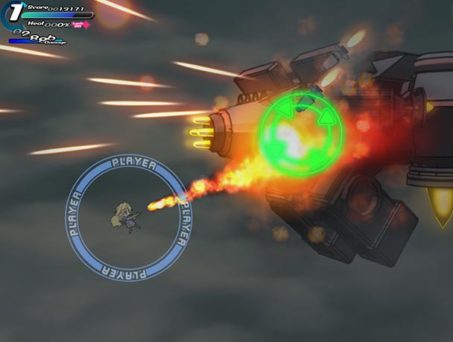 Using either a controller or a bindable keyset, players are able to freely move the game's eponymous character across the entirety of the screen. Unlike previous entries in the franchise, where environmental obstructions blocked movement while enemy lasers phased through the architecture, Sona's zones are largely unrestricted.  Anyone frustrated by the Suguri's stage-six tunnels will be happy to know that the title is missing a 'dread' level.
Although players can dodge projectiles in a traditional manner, they can also dash away from clusters of enemy bullets. While dashing, Sora is even immune to energy weapons, passing through clouds of fire untouched. When speeding across the screen, she leaves behind rainbow-colored rings in her wake, and if an energy weapons comes into contact with these hoops, Sora's devastating Hyper Attack meter gets charged. Whether used as a concluding strike against bosses or as a panic button when things get too hectic, the Hyper Attack proves to be an essential tool in your auto-locking arsenal.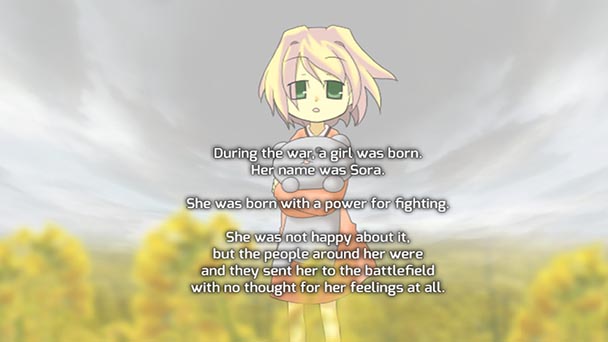 Expectedly, these tremendous abilities come with a few limitations. Dashing increases Sora's temperature gauge, and if she runs into a non-energy projectile while the meter is raised, heat acts as a damage multiplier. As such, running into a missile while at high temps can remove nearly twenty-percent of your health, making completion of a stage particularly precarious. So if you played Suguri zipping around like a hyper-caffeinated hummingbird, Sora will force you to rethink your strategy, as heat accumulates quicker and dissipates gradually.
Weapon use has another detrimental side-effect, with the lead momentarily secured into place as her firing animation plays out. Fortunately, Sora allows players to cancel out of these situations, with a dash or alternate weapon bringing the transitory pause to an end. As the title provides with three arms- a main weapon, a secondary, and a special, mastery revolves around learning to use the appropriate offensive implement at the right time. Later, play time, Story Mode progress, or earning a good grade on stages unlocks additional arms, extending a total of 23 different devices to players. Naturally, weapon selection can make a difference when confronting end of stages bosses, especially if players confront them on advanced difficulty levels.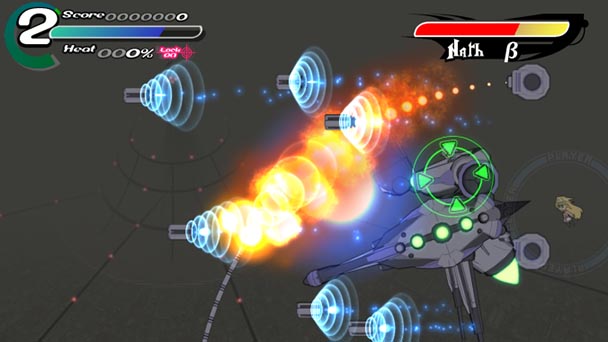 Elsewhere, small but constructive changes can be found to Suguri formula. Now, enemies tend to linger onscreen until they are destroyed, elevating the level of tension. Wisely, the game's damage counter pauses between enemy waves, ensuring player inaccuracy is the only reason chains are broken. Weapon balancing is also evident, helping to align both overpowered and enfeebled arms, and encouraging experimentation with different loadouts.
Visually, Sora improves on its predecessor, exhibiting sprites and restrained backdrops with a bit more detail. While the fidelity is improved, the game still runs on modest netbooks with only a hint of slowdown. On burlier rigs, players can opt for resolutions up to 1600 x 900 in a variety of display modes. Although Sora's conversations endow boss battles with gravitas, if you've already read the dialog, there's no quick way to skip it on subsequent play through. On the upside, Fruitbat Factory's localization is virtuous, allowing the melancholic tone to be undisturbed.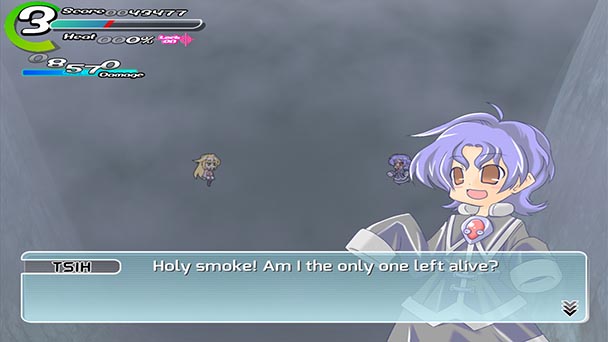 Female STG protagonists often journey through thoroughly kawaii milieus, peppering cuddly foes with pink projectiles. That's not the case with Sora, with our savior conquering a procession of malevolent machines with devices like bazookas, swords, and lasers. But that's not the main divergence in Orange Juice's shooter. Instead, players will find distinction with its trio of weapon systems and the risk/reward systems which stirs persistent strategy changes until you think you've found that ideal technique.
Sora was played on the PC with review code provided by the publisher.
Sora
Platform:
PC
Developer:
Orange Juice
Publisher:
 Fruitbat Factory
Release date:
January 5th, 2016
Price:
$8.99 via
Steam
Review Overview
Summary : Challenging is the best ways, Sora offers a pleasing deviation from STG convention. If you ever felt that the genre has grown stagnant, you might want to spend some time with this girl who's endowed with a gift for fighting.