What is the concept? From Raiden's snaking plasma-beam to Ikaruga's polarity switching mechanic, any respectable shmup has a distinctive hook. For Solar Shifter EX, a recent PC release from the one-man studio behind Meridian: New World, that lure is the ability to teleport across short distances. In concept, the ability is nothing short of brilliant, allowing players to harmlessly cross fields or persistent enemy fire or sneak into position for a killing blow.
Across eighteen stages, players are provided with a primary and secondary weapon- each upgradable by collecting cubes left my dispatched enemies. Periodically, they'll gain trade control of the eponymous Solar Shifter EX, switching control over to an alien craft. Pleasingly, this vessel feel formidable, thanks to its ability absorb energy from defeated foes.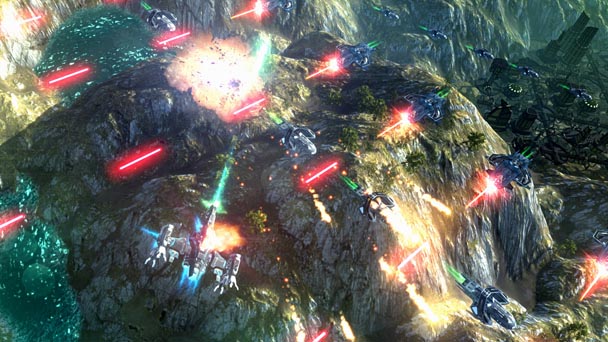 What are the game's strengths? Visually, Solar Shifter EX can be an alluring shooter, thanks to the detailed backdrops in each stage. From rendering your ship careening above craggy foothills, through alien cityscapes, and through star systems that recall the brilliant hues captures by the Hubble Space Telescope, the game is eye-grabbing. To intensify the impact, occasionally the title adjusts the viewing perspective. While this can inadvertently limit the amount of navigable space for the player, the effect can adds variation to traditional upward shooting. The downside is that Solar Shifter EX demands a robust rig if players want to their graphical grandeur to run at a smooth framerate. Even on an i7 with a GTX 770 GPU, we had to dial down the level of detail- and even then, sporadic slowdown was present.
Just as impressive as the game's graphical delivery is Solar Shifter's soundtrack. Upbeat EDM-inspired melodies create a sense of futurism, as rhythmic beats and cool synth washes accompany your journey through stream of bullet convoys. The only real audible failing is the sound effect of your main gun, which is closer to the clack of a machine gun that a futuristic armament.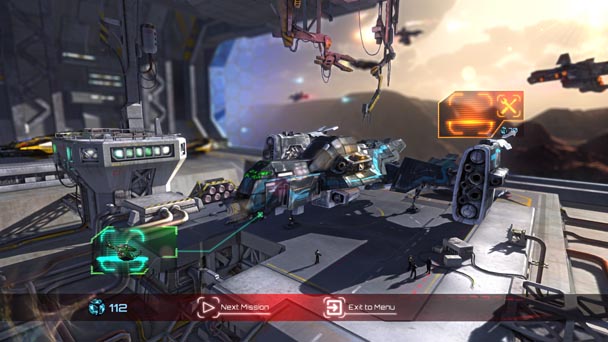 Certainly, Solar Shifter EX's core mechanic is inventive, with a press of the keyboard, controller button or right thumbstick revealing available morphing locations. While the release of the key or stick initiate the teleport, mistakes can happen, beaming the players into the middle of a laser fire, and with only a single life, toward the game over screen. Luckily, Solar Shifter's checkpoints are frequent enough to make irritation manageable.
What are the game's weaknesses? Try to play Solar Shifter EX like a typical bullet hell shmup and you'll be quickly humbled. Some of the issue comes from the ambiguous hit box of your craft. Intermittently, fire will graze your ship, causing damage; other times an obvious bullet collision isn't registered. But the bigger problem stems from Solar Shifter's color schemes and visual spectacle. Robust enemy explosions are too close to the color of bullets, an effect which is amplified when multiple opponents are taken down in an adjacent area. In execution, this can cause instant deaths, with players unable to easily discern safety zones. As such, the game is less about adapting to enemies and more concerned with memorizing the location of safe zones.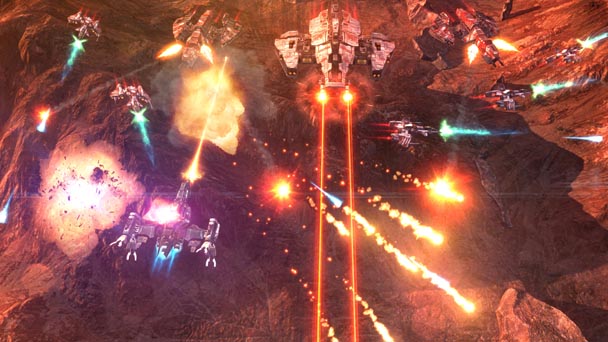 Another issue in the presence of allies. While the appearance of portraits and the existence of dialog help to convey the feeling you aren't the sole soldier fighting an antagonistic force, their existence is hollow. Mostly comrade conversation signals the passing of a checkpoint, rather than the forthcoming assistance from another friendly. Habitually they dart out of danger, leaving you to clean up the mess. Obviously, their existence is to convey a sense of narrative, but it's often hard following a plotline that's mainly told through radio chatter at the intermittent load screen text dump. Even worse, the sections where you pilot an enemy shit is never explained during Solar Shifter's EX-pedition.
Is the game worth the money? While there are blissful moments of bullet dodging joy in Solar Shifter EX, there's also frustrations found in the insta-deaths.  As such, the game's $8.99 USD purchase price is justifiable if players have already mastered Sine Mora, Jamestown, as well as the Gundemonium and eXceed Collections. Either that, or Solar Shifter EX offers an update that phases out some of the game's executional snags.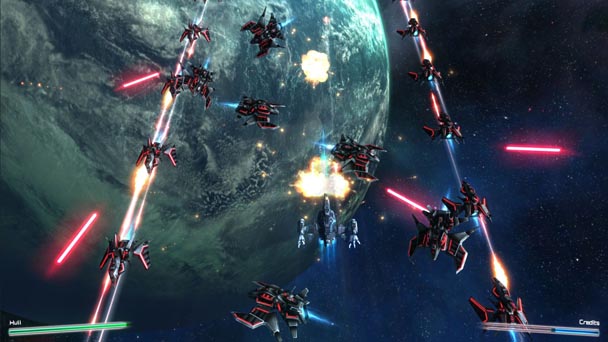 Solar Shifter EX was played on the PC with review code provided by the publisher.
Solar Shifter EX
Platform:
 PC
Developer:
Elder Games
Publisher:
 Headup Games
Release date:
 September 11th, 2015
Price:
 $8.99 via
Steam
Review Overview
Summary : Solar Shifter EX is aesthetically alluring and has an inventive phasing mechanic. But the game also lacks the playability of Steam's best shmups.