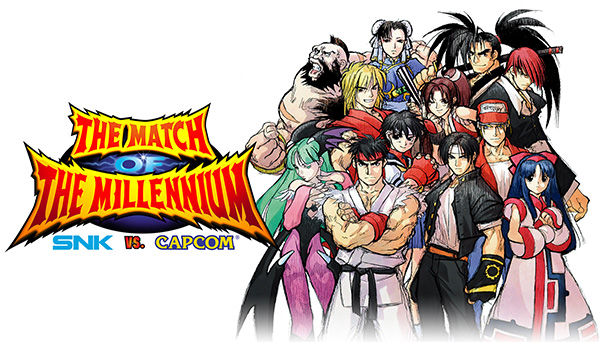 With the release of SNK Vs. Capcom: The Match of the Millennium, Nintendo Switch owners are privy to another victorious Neo Geo Pocket Color fighter. With a sizable roster and multiple play modes, this is the best NGPC title yet released. Unless you object to pint-sized versions of Guide and Felicia, there's still plenty of fun to be had with this twenty-two year old title.
SNK Vs. Capcom: The Match of the Millennium
Platform:
Switch
Developer:
DIMPS, SNK, Code Mystics
Publisher:
SNK
Release date:
February 17th, 2021
Price:
$7.99 via digital download
Availability:
Nintendo eShop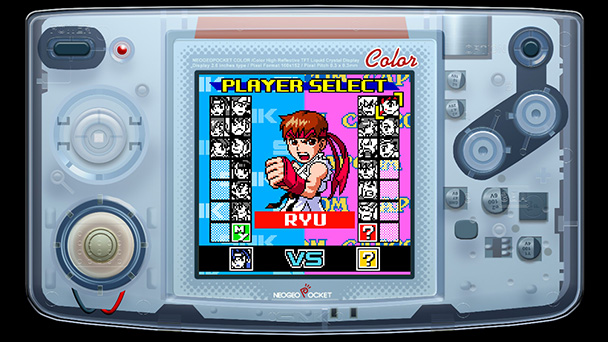 The Neo Geo Pocket Color (or NGPC) had a tragically short-lived run in the Americas. Released in August 1999, SNK's $69.99 portable system sold briskly at retailers like Wal-Mart and Toys "R" Us, earning meager profits. But SNK had been struggling financially for years and couldn't continue marketing the system, especially against stiff competition from the Game Boy Color. As such, parent company Universal Entertainment (creator of Lady Bug, Space Panic, and Mr. Do!) discontinued sales outside of Asia, asking stores to return all unsold stock ten months after launch.
Twenty years on, prices for the Neo Geo Pocket Color hardware have remained affordable. However, costs for the library of thirty-one released games have generally risen steeply. Averages for loose games hover around $40, while those accompanied by the original case can exceed a $100. Those comfortable with digital versions have it a bit easier, with SNK routinely putting out proficient ports for eight dollars apiece. SNK Vs. Capcom: The Match of the Millennium traditionally skews on the higher end of prices, with both domestic and important boxed copies routines fetching about $200. As such, emergence of a Switch port is welcome. Sure, it's not quite the same as holding a Neo Geo Pocket Color in your hands, but emulated play comes at a fraction of the price.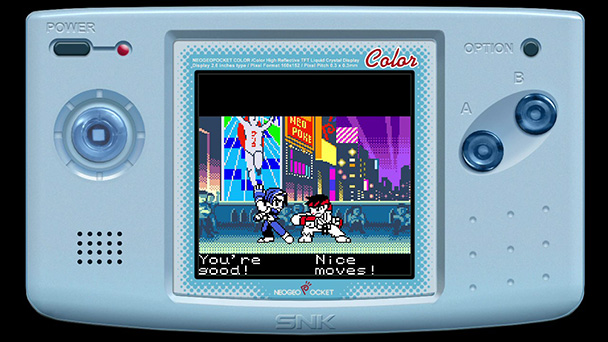 A Jam-packed NGPC Cart
Although 1999's Match of the Millennium isn't the first faceoff between these two game franchises (SNK vs. Capcom: Card Fighters Clash released nine days earlier), it does take the honor of being the first fighting game uniting the two powerhouse publishers. Two decades later, it's still enjoyable to witness Mai Shiranui square off against Chun Li as well as watch Terry Bogard and Guile unite for a tag-team match. Undoubtedly, the coalition must have energized players; the following year Capcom vs. SNK: Millennium Fight 2000 was released in arcades and on the SEGA Dreamcast.
Surprisingly, Match of the Millennium's combatant count measures favorably against the coin-op and console iterations. You'll find a roster of 26 characters drawn from franchises that range from The King of Fighters, Samurai Shodown, Art of Fighting, Darkstalkers, as well as Street Fighter and Street Fighter Alpha. This was the NGPC color game that occupied the most cartridge space, and it certainly shows. Sure, the fighters are chibi-fied and movesets were restrained for the NGPC's pair of face buttons. But small details like Sakura's excited hops and Felicia's coiled attacks come across splendidly.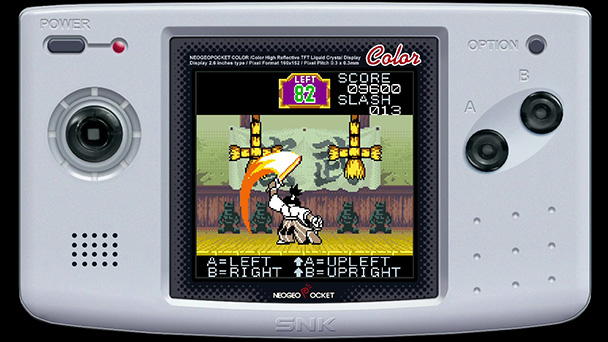 Smaller, But Not Less Formidable
Like SNK's other portable fighting games the decision to use super deformed depictions of fighters allows for evocative facial expressions. But more importantly, long limb length provides characters with reach. As such, matches don't feel like a flea circus with fighters able to dash toward their cross-screen rival in a fraction of a second. Pleasingly, characters remain many of their signature moves, so you'll be able to harness Nakoruru's Kamui Risse and Zangief's notorious Double Lariat.
Much like SNK previous released portable fighters, the title employs button holds to extend your arsenal of punches and kicks. While short taps offer normal strikes, longer presses will lead to heavy attacks. And just like before, there's still no way to remap these commands to the Switch unused buttons. But on the upside, Code Mystics' adaptation removes the requirement of linked two-player matches. Now, showdowns can be enjoyed without the burden of having a pair of portables. There's even an option to play on a mirrored split screen, allowing for a versus match on a single Switch screen.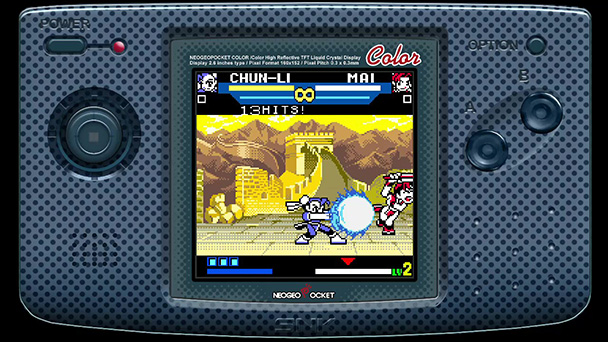 Pleasingly, the game's inventory of option matches the size of its character list. Beyond the standard one-on-one match, there's King of Fighters-style three-on-three showdowns, and even two-on-two tag-team battles. Dig deeper and you'll discover a quartet of mini-games, offering anything from a light-DDR diversion to a recreation with Sir Arthur that feels like one of the old Game & Watch games. Throughout The Match of the Millennium, you'll encounter all kinds of references to both publisher's efforts, which is always fun.
Top-Tier Emulation
By default, The Neo Geo Pocket Color's 160×152 resolution is rendered 1:1 on the Switch screen with surrounding screen space filled with a digital recreation of the hardware. Playing like this might be the most authentic experience the software offers, but you're not limited to fighting on a diminutive sub-screen. Fortunately, Millennium lets players scale the size of the playfield, change or remove NGPC skins, as well as apply a filter that imitates an LCD.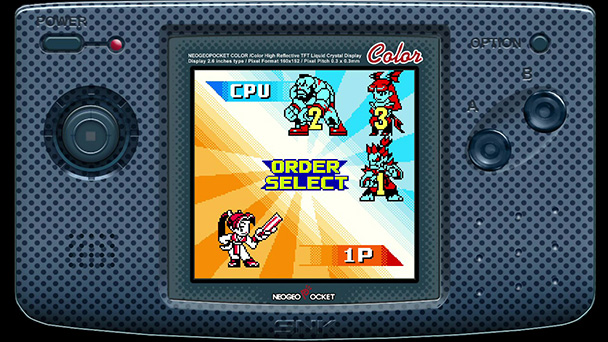 As with previous NGPC ports, Code Mystics' emulation is flawless. On Switch, the game's eight-bit recreations of SNK and Capcom songs resonate with chiptune glory and are indistinguishable from playing Millennium on original hardware. Whereas the previous SNK releases devoted cartridge space to character animations and play modes, it's agreeable to find a bit of exposition in The Match of the Millennium. Much like the rest of the game, it feels more substantial than you'd think.
SNK Vs. Capcom: The Match of the Millennium was played on
Switch Lite with review code provided by the publisher.
Review Overview
Summary : If you've been holding out on these Neo Geo Pocket Color ports, SNK Vs. Capcom: The Match of the Millennium is hands-down the best effort, offering some of the best tag-team showdowns found on early portable hardware.