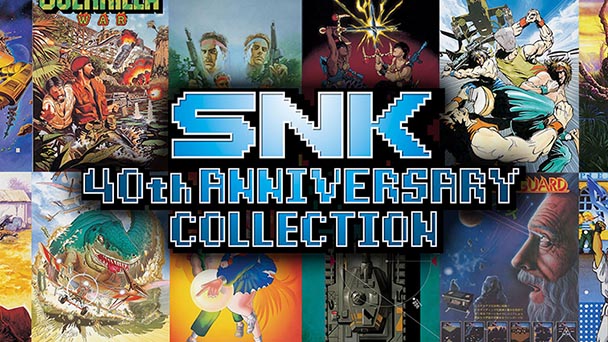 For many, SNK is probably best known for Neo Geo-based franchises like Metal Slug, Samurai Shodown, The King of Fighters, Art of Fighting, and Fatal Fury. But the company has a rich history that began long before their modular-based hardware was introduced in 1990. From 1979 to the late '80s, the Osaka-based firm focused on creating coin-operated arcade machines, creating over two dozen cabinets during this prolific period. Amidst this era, SNK helped define many of the mechanics that would become mainstays in gaming, with elements like life bars and boss fights incorporated into their efforts.
With the release of SNK 40th Anniversary Collection, players have an opportunity to visit the Shin Nihon Kikaku Corporation's (shortened to SNK in 1980) early years. Unlike most anthologies that feel like quick cash-ins built upon slipshod emulation and accompanied by a restrained number of trimmings, the Anniversary Collection is surprisingly generous. As such, the compilation is poised to please retro enthusiasts.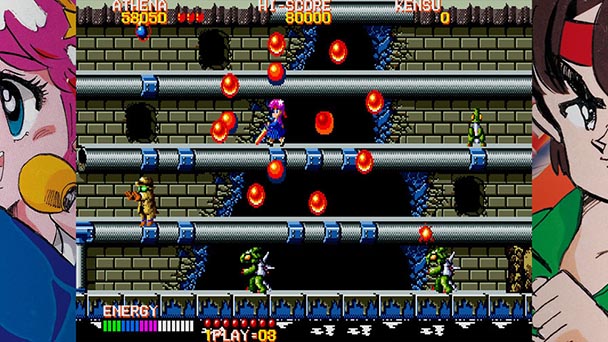 Versions from Two Territories, Console and Arcade Iterations
The collection bundles twenty-four titles, although the actual amount of content is more substantial. For many of the titles, co-developer Digital Eclipse includes both the Japanese and U.S version, as well as the arcade and console iterations. The Nintendo Entertainment System wasn't as powerful as arcade machines, so you'll witness a number of creative liberties taken by the home versions. But this was a period of unchecked ingenuity in Japan, and many of the adaptations prove to be just as enjoyable as their coin-gobbling counterparts.
As someone who had only experienced Athena on the NES, I was now able to appreciate the work that went into recreating the console version's weapon mechanics. The game might have looked different, with the princess reduced to a shorter, less detailed sprite. But a comparison between arcade and home versions revealed just how closely the latter recreated the manic swinging clubs, hammers, flails, and swords. Likewise, the home version of Guerilla War was forced to forsake the rotating second joystick that was used to aiming your shots. But it's quite amazing to see how the NES version reproduced the original version's level layouts.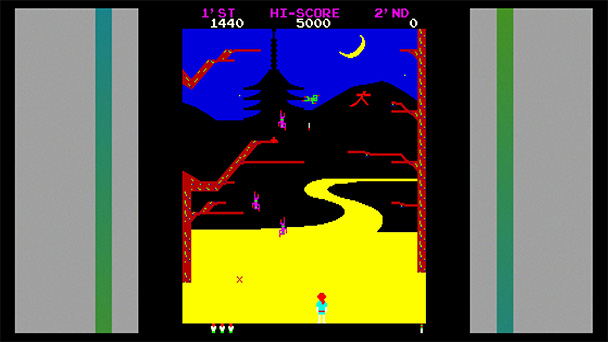 Proficient 'Loop Lever' Imitation
The arcade version of Guerilla War, as well as its predecessors, TNK III and The Ikari Warriors trilogy haven't always garnered the admiration of fans. Mostly, that's because of the game's unusual hardware set-up that has eluded emulation efforts. Pleasingly, these run-and-guns are all well represented here, with Digital Eclipse mapping the actions of SNK's "loop lever" onto the DualShock 4's second analog stick. When I first heard about the design decision, I was skeptical. But in execution, it makes each arcade game playable. For die-hard aficionados, this inclusion alone makes the collection worthy of consideration.
Elsewhere, titles like the power-up heavy Alpha Mission, Zelda-esque Crystalis, or horizontally-scrolling shooter, Prehistorical Isle, are absorbing, justifying multiple plays. Sure, the obligatory clunker is present, with P.O.W. demonstrating that difficulty designed to devour a steady stream of quarters is just as insidious as today's loot boxes and season passes. The previously released Switch version, shipped a partial physical version, adding additional titles a month later. Fortunately, that's the case here, so those who prefer the permanence of a physical copy won't have to worry about the inevitability of Sony shutting their servers down.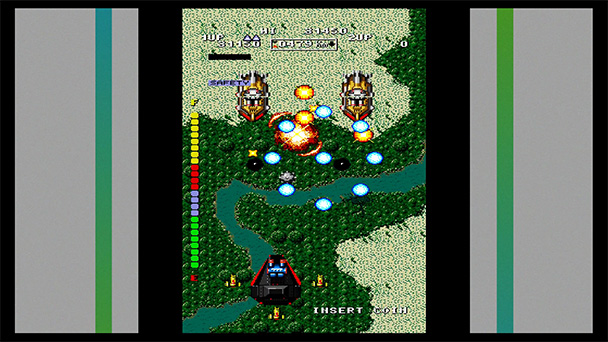 Professional Playthroughs without Annoyance
Largely, there's far more qualities than qualms with the 40th Anniversary Collection. The developers integrated professional playthroughs for each title. If you ever encounter a boss you can't beat, it's great to be able to fast forward to a section and glean a winning technique. Lacking the incessant advertisements and vapid monologues that are customary on YouTube, this is a gratifying addition that should be mandatory in all anthologies.
Retro enthusiasts will undoubtedly appreciate the addition of a trio of ancillary inclusions. SNK Complete Works 1978-1990 offers a chronologically-organized almanac of the companies works, with screenshots, sales sheets, and brief explanations of each. 'Bonus Features' extends advertisements, concept art, newsletters, and a handful of guidebooks for their arcade games. While the two supplements have a large amount of Japanese text, reading isn't a constraint when enjoying the art and basking in the details around each cabinet. Fortunately, no knowledge of kana is necessary to enjoy a collection of soundtracks for twelve of the collection's fourteen games. As with every part of the anthology, original arcade art is used within the menus. Not only is Anniversary Collection good looking, but its interface is snappy, and the load times are nearly nonexistent. There's also a healthy amount of options to be found, so you can tweak the size of display mode, output image size, as well as access some of the dip switches to change things like difficulty and number of starting lives.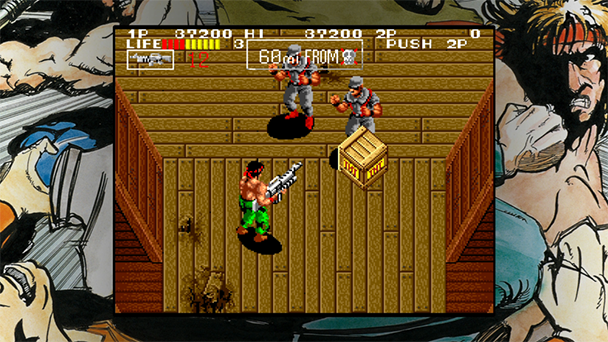 Emulation That's Exact
There are two criteria when evaluating anthologies like one. First, a collection should recreate the original arcade experience as closely as possible. Any new glitches, bugs, or oddities that weren't in the original game should be minimal. Second, a compilation should come with as much source material to express context. With spot-on emulation, SNK 40th Anniversary nails the former. But without interviews or any kind of conversation with the original programmers, the collection doesn't quite seize its complete potential. But save for that exception, it's a noble effort, and undoubtedly deserves a follow-up which catalog's SNK more recent efforts.
Review Overview
Summary : There are a handful of Japanese companies that laid down many of the foundations for gaming. SNK, along with Taito, Capcom, Sega, Namco, and Nintendo was one of those pioneers, and had a prolific run of quality coin-ops. This collection is a fitting commemoration of those efforts and will undoubtedly please retro enthusiasts. Although younger gamers might see these as antiquated curios, there's still fun to be had with these spirited, sprite-based titles.