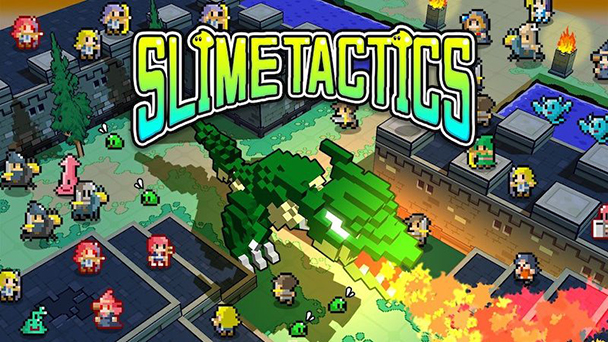 The running joke in 2016's Ambition of the Slimes was that people didn't take the gelatinous creatures seriously. As soon as someone dismissed the diminutive little creatures, they'd be attacked and subsequently turned into a zombie-like creature that would kill other humans. The studio behind the game, Altair Works, were subtly warning us not to judge on size or physical appearance. But the message also seemed to speak about a determined pint-size studio who delivered a captivating turn-based experience with modest, pixelated sprites.
For the game's sequel, Slime Tactics, Altair Works drops the menu-based battles, opting for a simplified take on the real-time strategy genre. The results are, like the slimes themselves, ambitious. But a lack of strategic freedom means the team's sophomore effort doesn't match up to the enjoyment found in their first title.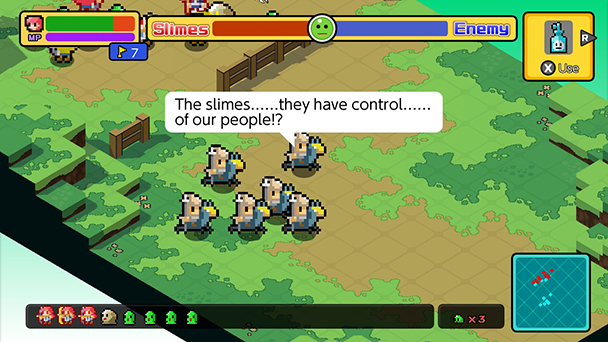 Like its predecessor, Slime Tactics offers a wide array of different types of slimes, some of whom challenging their classification within the jelly-like family. As the beginning of the game, you'll start with a team of low-level green slimes but over time, you'll be able to purchase additional creature classes. Unsurprisingly, each has their own distinct forte.
While low-level greens exhibit little offensive power, they'll grow angry when the number of allies dwindles. When the friendly population grows too small, they go berserk, attacking enemies with pent-up infuriation. Rock slimes are resistant to arrows, making them invaluable against archers who able decimate other kinds of slimes. Wall slimes function as barriers, soaking up damage with their elevated defensive stats; unfortunately, they can't convert humans. Every successful mission1 rewards experience to your classes, and periodically, each type of slime with level up, providing a stat boost.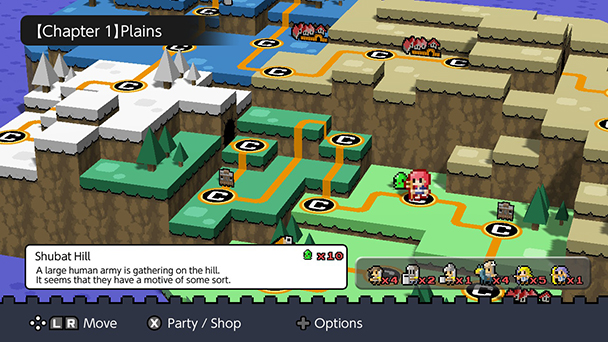 The on-screen protagonist is responsible for summoning slimes. Like any respectable RTS, deploying the right unit type at the proper time is vital. This becomes especially important in Slime Tactics, as there are a strict number of creatures you can bring into each level. Once they're destroyed, they are gone until the are resurrected for the next stage or a mission restart.
Besides releasing slimes on the grid-based battlefields, you'll also utilize items. With the ability to drain health away from humans or heal allies in small zones, proper use of these tools is also remarkably important to your success. Lastly, your protagonist can also produce a fireball. It takes off scant damage, but it's useful for drawing attention away from slimes that are being pummeled. It also increases the odds of a spawning a treasure chest from an eliminated enemy, which reward additional items.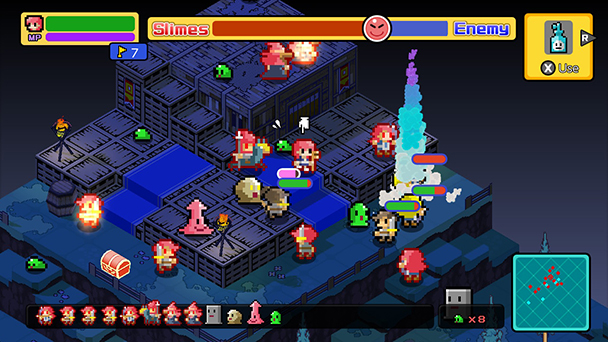 With different type of humans from archers who fling arrows from loft distances to damage-inducing but vulnerable wizards, there's a deliberate way each level should be approached. But too often, Slime Tactics resists equifinality, reducing level into puzzles with solitary solution sets. If you appreciate real-time strategy games that facilitate a multitude of play styles, get ready for a lot of frustrating failures. After gradually ramping up the difficulty across the first five stages, Tactics issues quite a challenge. On the upside, most boss encounters are the only highlight. Some stages will have you taking over an elevated fortress, which is every bit as fun and challenging as it sounds.
Visually, Slime Tactics reuses some of the pixelated characters from the first game but builds on the fidelity of the backdrops. Now, the background reveals a bit more detail, which helps to differentiate with the character sprites. Storytelling is still minimal, still riffing on humans underestimating the ability of the slimes. Luckily, it's limited to a few expositional sentences and be skipped in subsequent playthroughs. Woefully, Slime Tactics' stateside reveals a few flaws with the "B" button used to confirm menu choice, defiant the "A" button standard in the West. And there's at least once instance where an on-screen button prompt is incorrect. It's a minor issue but can contribute a bit of frustration.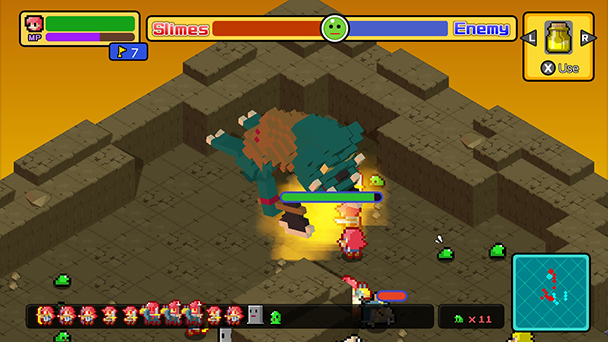 Another annoyance stems from Slime Tactics' movement system. Only one character can be on any single grid square. As such, it's a bit too easy to get surrounded by allies and enemies when trying to find the perfect place to use an item. They are ways to get friendlies to move, put more than a few times I got stuck and was assaulted by a nearby wizards' persistent barrage of spells, resulting in stage failure.
Slime Tactics should be given credit for taking the franchise is a new direction, instead of merely building on the strengths of its predecessors. And while there's enjoyment to be had, there's also a fair amount of irritation until you find the strategy that causes a chain of events resulting in a smile victory. Just know that the game's just as much of a puzzler as it is real-time strategy.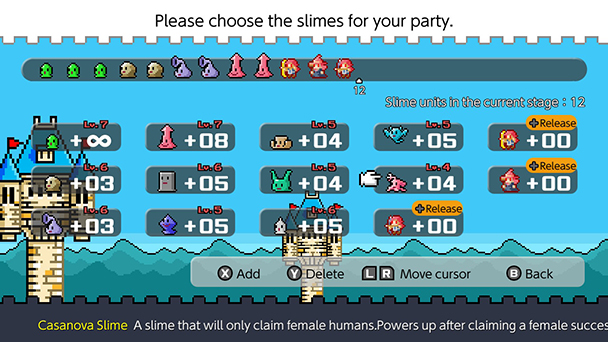 Slime Tactics was played on the Switch with review code provided by the publisher.
1 Essentially, this means you'll be replaying stages for both experience and currency used to purchase any slime classes.
Review Overview
Summary : Taking the slime invasion is a bold new direction, Slime Tactics blends real-time combat and puzzle-based tactics. You'll be forced to replay levels until you uncover a specific solution, which can lead to a cycle of fun and frustration.