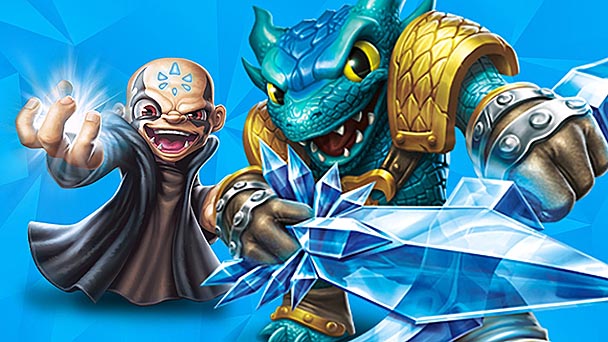 Many franchises feel the pangs of stagnancy by their fourth iteration. After a trio of titles that define, then gradually refine a series, the fourth game often exhibits a divisive tension between prudent evolution and risky revolution. It's a stage in which a once-prodigious property can falter, as demonstrated by disappoints like Red Faction Armageddon or Ratchet: Deadlocked- two games which abandoned some of the key design decisions of their popular predecessors.
For the release of Skylanders: Trap Team, developer Toys For Bob largely succeeds by instilling the fourth game which a dose of playful creativity, extending a roster of rascally villains which players can catch and control. While the addition might sound middling, their addition helps Skylanders to further exceed the limits of the television screen, where the baddies address players from a speaker buried inside the new Traptanium Portal, which replaces the series' existing Portals of Power. Additionally, the villains allow for more variety in combat, sporadically shunning the mutual arsenal of each heroic Skylander.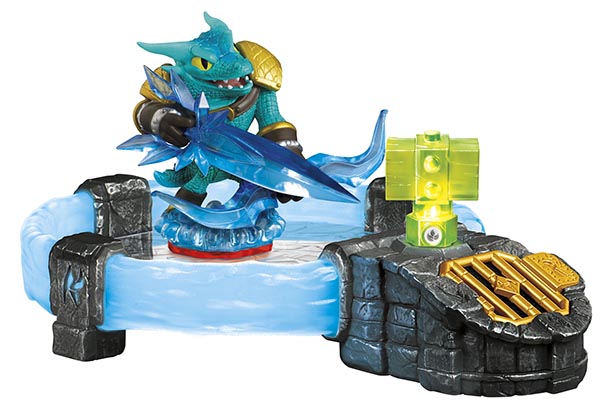 Once a villain has been defeated in combat, they can be ensnared by inserting a Trap crystal into a hexagonal slot that's at the base of the Portal. Then, by pressing the left trigger, players can instantly switch to the antagonist, which routinely offer authoritative abilities and a resilience that matches level-capped characters. Intriguingly, Trap Team's collection of rogues vary in proficiency, each regulated by a timer that's correlated to their offensive ability. While the villains don't receive a tech-tree like conventional Skylanders, they do have specific challenges which help to flesh out their persona, and provide opportunities for narrative-based redemption. Another interesting wrinkle is the increase in interactivity; not only will gamers have to get up to switch Skylanders of different environmental classes, but now they'll also be swapping crystals at the Portal to switch between villains. Unless players position the peripheral beside them or assign figure swapping duties to an underling, there's a large upturn in the number of time you'll have to leave the comfort of a sedentary position.
Unfortunately, the villains inclusion is undermined by a number of nagging factors which demonstrate the studio pushing their 'pay to play' model a bit too assertively. Players who purchase the Trap Team Starter Pack receive two elemental keys to enmesh water and life-based foes. Want to seize other Skylander villains of different classes? Prepare to purchase additional seven dollar keys. And while you can use the Villain Vault in the game's Skylander Academy hub to select which foe you'd like to store on each crystal, buying additional Traps removes the obligation and alters the level of challenge by expanding the size of the available roster.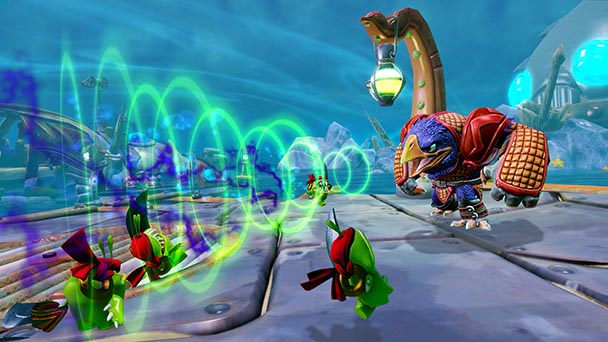 Regrettably, the cash grab doesn't end there. The game's new figures, called Trap Master Skylanders are the only way to get into some of Trap Team's gated areas- no longer will having an Skylander of the proper environmental class allow entry. While the sixteen dollar figurines are like the franchise's previous efforts, impressively detailed and mercifully sturdy, they are also the only way to see some of Trap Team's most engaging content. The inclusion of adorably cute, Skylanders Minis looks to pad corporate coffers as well- extending chibi-esque, functionally equivalent version of older figurines. And while Toys For Bob seemingly deserve approval for allowing all previous generations of Skylanders to be used with Trap Team, scrutinize the stats, and you'll find that a subtle push to purchase the newer, more formidable figurines- especially for the game's more challenging final stages.
Economic ensnarements aside, Skylanders: Trap Team is like its predecessors, an intensely enjoyable game. Navigation retains Swap Force's jumping ability, allowing traversal to free uninhibited as players trek through each plush, vibrantly-hued milieu. Leap pads still linger, creating an issue for both younger gamers and cooperative teams, but essentially Trap Team does a commendable job at making a largely linear level feel winding. Complementing the bounding and battling are the occasional puzzle elements, taking gamers to complete physics based challenges before moving forward.
Platform Comparison

On next-gen systems, Trap Team is an aesthetic performer, exhibiting richly detailed, elaborately detailed environments. Save for the irregular bit of draw-in noticed by a discerning eye, the game performance matches the superiority of its visuals, flaunting a fluid framerate that's free of screen-tear. Most endearing is the game's attention to detail, which bring characters and their accompanying weapons to life, like Food Fight's rifle- which reveals a feed chamber filled with tomatoes and a grenade launcher that sprays a burst of pureed zucchini.
Considering the scarcity of disk-based console games on tablets, players might assume that the Android and iOS versions of Trap Team would be a discouraging compromise. Amazingly, that's not the case. Purchasing the Tablet Starter Pack lets owners of specific Apple, Amazon, Samsung, and Google devices enjoy an unabridged and surprisingly adept port of the game.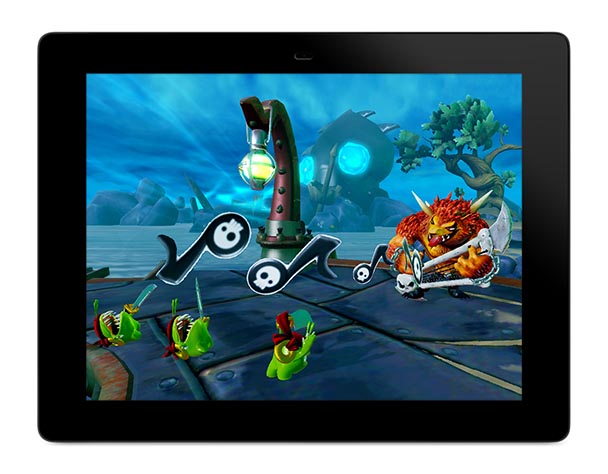 Once gamers have downloaded the free Trap Team app from one of the three marketplaces and secured the additional 1.2 GB of data, and installed the bundled quintet of AAA batteries into the accompanying Portal and controller, they discover a port that offers all the content, characters, and physics modeling of its console brethren. Save for the transition of villain voices to the tablet's speakers, an understandable reduction in resolution, and the sporadic sign of slowdown when the screen gets busy, Trap Team extends few shortcomings, while granting the advantage of portability.
Hardware wise, the bundled controller echoes the design of the original MOGA Bluetooth controller, and can even be used to play other games. Agreeably, the entire package is well engineered, with design decisions that allow the controller to be snugly stores in the portal and as notch on the side of the base which allows a tablet to be propped up. Battery life is reasonable, with the both controller and base providing at least twenty-five hours of playtime. Most gratifying is the ability for figures to be swapped between versions, making the Tablet Starter Pack a viable purchase for Skylanders fanatics who already have the game on another console.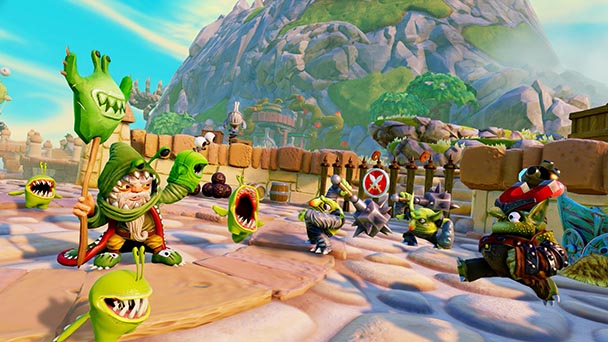 Beyond a campaign which provides a ten-hour play through and a large amount of residual entertainment as players comb through its assortment of alcoves and collectables, Trap Team offers a few additional supplements. Kaos Doom Challenge task characters with a protecting a locked treasure chest from waves of the antagonist's minions. In execution, the mini-game recall Dungeon Defenders, as players build and repair contraptions as they battle successions of foes determined to open the truck. Not only is the challenge entertaining, but experience and currency are conferred to each character, offering an easy and enjoyable way to level up.
One of the few disappoints with Skylanders: Swap Force was the elimination of Skystones, a card-based mini-game found in Giants. Trap Team remedied that oversight with Skystones Smash, which uses cards obtained from captured enemies to construct a player deck. While the diversion doesn't have the strategic depth of Magic: The Gathering or even Hearthstone: Heroes of Warcraft, its inclusion presents an agreeable retreat from the main game and a painless way to earn extra currency. Rounding out the extras are Arenas which give horde-mode like challenges across a series of six maps- and there's even a rhythm-based recreation called Skeletones.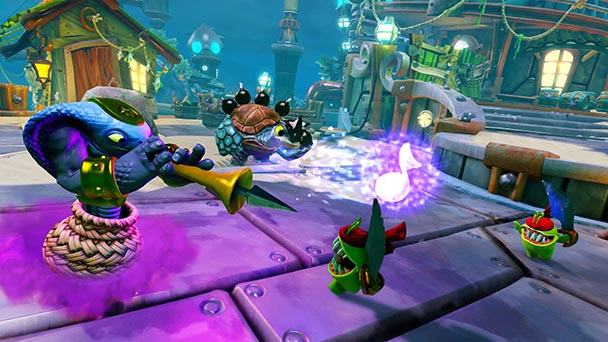 Sure, the Skylanders shilling reaches a new high with Trap Team, between the push to sell new Trap Masters, Traps, and Minis. But if players are comfortable with the business model, then they'll find the title can be a reliably rewarding experience that maintains the franchise reign as one of the best gaming experiences for audiences with diverse age groups. As such, Trap Team's success likely means that the supplemental content in the inevitable sequel that much more invasive.
Skylanders: Trap Team was played on the Xbox One and Nexus 7 (2013) with hardware and review code provided by the publisher.
Skylanders: Trap Team Review
Platform:
 PS3, PS4, Wii, Wii U, Xbox 360, Xbox One, 3DS, (select
Android and iOS devices
)
Developer:
Toys for Bob
Publisher:
 Activision
Release date:
 October 5th, 2014
Price:
 $74.99 for all versions, except 3DS version which is $64.99
ESRB: Everyone 10+
Review Overview
Summary : Get past the elevated entry cost and pitch for additional purchases and Skylanders: Trap Team offers the franchise's customary consummate level of fun. While the campaign can be completed in ten hours, Trap Team a plethora of alcoves to explore and antiheroes to capture.