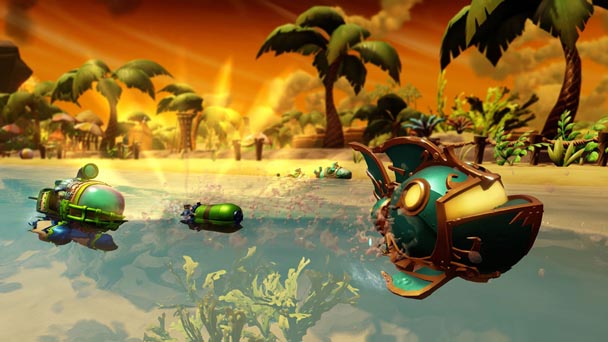 In 2011, when developer Toys for Bob released Skylanders: Spyro's Adventure, the concept of fusing physical toys with video game was innovative. For many, being able to place a figurine on the bundled "Power of Power", and having the play-piece come alive in-game felt magical- revealing a slender but stirring convergence of real and imagined worlds. But in the ensuing years, a steady succession of sequels, as well as rival franchises employing similar technologies have threatened to diminish Skylanders appeal.
Adeptly, Toys for Bob, along with Vicarious Visions, have strived to maintain success of the series, introducing new mechanics with each annual iteration. But with each passing year, these ambitions grow increasingly complicated. Between the burden of compatibility with all previously released figures, and well as crafting that elusive, but tactful, push to purchase more product, the IP is one of the most difficult balancing acts in contemporary gaming. Even a small misstep is capable of drawing the ire of a swarm of Skylanders aficionados, potentially swaying fans toward competing titles like Disney Infinity or LEGO Dimensions. While the series will almost inevitable flounder, this is not the year that will happen.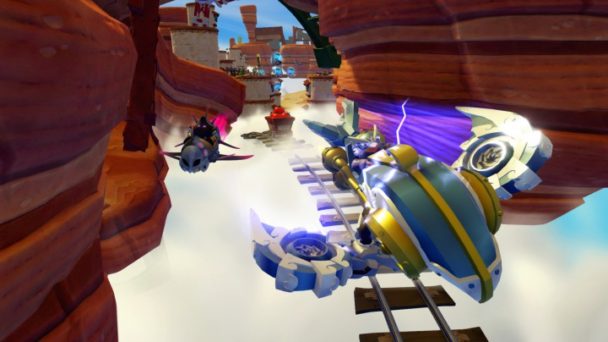 This year's hook is the inclusion of vehicles, which come in three different varieties. Beyond the land-based Hot Streak roadster that ships with the Skylanders Superchargers Starter Set, there also aerial and aquatic craft. Like the Skylanders figures of past, the cars, planes, and boats come in physical form, this time with articulated parts like rotating wheels and movable rudders. Like the franchise's polystyrene statues, the models are well crafted, colorful, and quite sturdy. Clearly, they're capable of taking a beating from the pre-Skylander set; I dropped one on a hardwood floor and the vehicle wasn't even marred.
During the course the game's main campaign, they'll come to areas partitioned off, requiring players to place one of the three corresponding vehicles on the portal. Pleasingly, this feel like much less of a money grab that Skylander Swap Force, which required specific elemental body type to access with areas. Now to enter all of the game's gated zones, they'll only need two additional $15 purchases.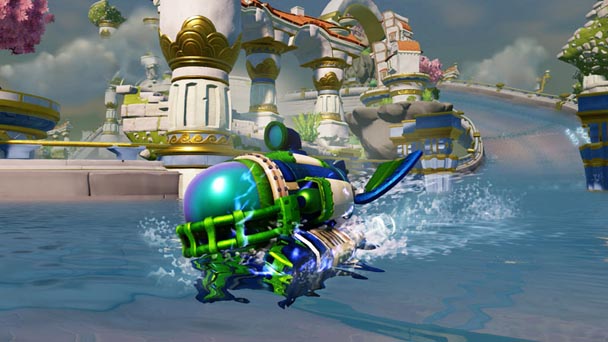 Vicarious Visions decision to ship with a car was no coincidence; four-wheeled machines offer the most fun from the trio of vehicles. Sporadically, levels with have car-based sections will send players careening over twisting tracks, or even better- allow a bit of stunting in open areas. While the control scheme might throw off younger players at first, with Superchargers giving little warning that the input system now feels like you're driving one of Halo's Warthogs, within minutes in will be second nature. What's especially gratifying is the duels with other cars, with the combination of the Spitfire character and his signature car emitting a lock-on plasma beam that's capable of scorching AI drivers and turrets. The combo feels so strong, that I had to temper the compulsion to buy additional character-vehicle pairs capable of delivering a Supercharged offensive boost.
Flight levels take place in spacious arenas, with an on-screen arrow indicating the direction to the next target. Unlike the driving levels, air combat felt a bit tedious. Sure, the controls are responsive, but too many zones became repetitive affairs where you'll shooting down dim-witted drones.  Should an enemy acquire a lock-on, a push of a button triggers a barrel roll, instantly eliminating one of flight's main threats. What's more, there's no worry of damage to you craft from collision, with jets harmlessly bouncing off architecture. Historically, Skylanders' elevated challenge levels haven't been afraid of throwing adversity at players, but here difficulty is all but absent.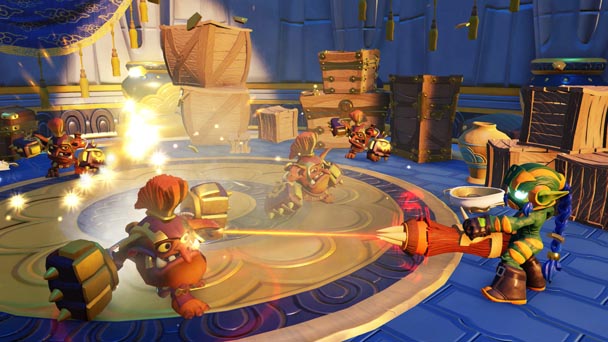 Thankfully, watercraft fare better, with players able to whizz across the surface or dive below to evade floating hazards. Given the graphical effects exhibiting during aquatic travel and boss encounters that make the most of the twin-depth mechanics, controlling these speed submarines in quite enjoyable. That said, younger fans might wish they they'd be able to take their Superchargers into a pool or bath. Sadly, they're not waterproof.
Aside from these vehicular sections, Skylanders Superchargers stages revisit the series' typical blend of hall crawling, platforming, and light puzzling. Cultivating the ever-growing skill trees of each character remains as enticing as ever, although the prices of augmentation might have increased slightly. Beyond items like hats and coins, collectables like wish stones and mods will have players scouring levels. The former can be tossed into a well at the academy to receive a gift, while the second allow you to tweak the performance of your fleet of cars, ship, and planes. Pleasingly, it adds nuance to vehicles without overcomplicating things, with players able to cycle through items easily.
What Works with Previous Versions?

Pleasingly, all your figures from
Spyro's Adventure, Giants, Swap Force
, and
Trap Team
are compatible and will appear on-screen game. While they won't offer the SuperCharger bonus that's exhibited by the latest title's collection of twenty new characters and twenty corresponding vehicles, they do retain their level and accessories, and can drive vehicles.
Owners of previous iterations will be happy to know that their older Portals of Power will work in Superchargers. In fact, if you still play Trap Team, you may want to keep your existing Portal plugged into its USB port. While Superchargers' new peripheral has a slot for your plastic traps and even gives an offensive perk during play, the new device lacks the speaker and lighting of the previous version. The sole benefit of the new Portal is real estate, which players able to fit a vehicle, two Skylanders and two Magic Items onto the base.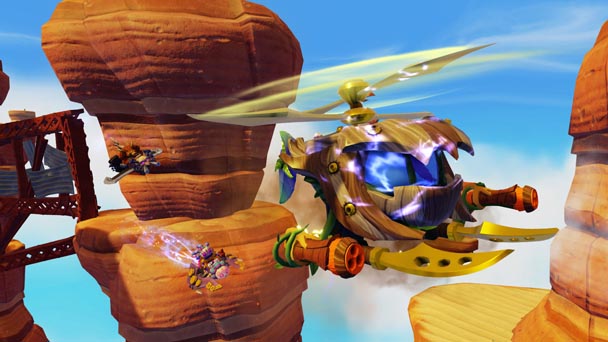 Beyond these elements, Superchargers has few notable changes, with players still swapping out characters who have depleted their health. But the design isn't in need of change- only variation in milieu, monster, and motivation. This time out, the impetus has returning antagonist Kaos crafting a weapon called the Doomstation of Ultimate Doomstruction, a huge floating machine that poses a threat to the future of Skylands. In response, the players assume the role of Portal Master, using their team of rift-engine powered Superchargers to bring an end to Kaos' plans. The best part is that Superchargers presents most of its exposition during loading, delivering story elements as gamers move to a new area. For some, the inclusion of online co-op will be a plus, with offering optional, friend-only voice chat. Since the game is designed around a single on-screen craft, vehicular sections split control between players,  allowing one to drive while the other handles weapons. Nicely, duties can be switched on the fly.
Beyond the main campaign, Superchargers' other emphasis is on kart racing, with a separate component dedicated to vehicular competition. In execution, matches are fast paced and frantic, with drivers not only collecting power-ups but simultaneously using weapon systems.  Pleasingly, mods acquired during the main campaign only add cosmetic flourishes, allowing rivalries to be based on skill rather than the amount of time invested in the game. With the option of a boost at the start of the races to thematic, brightly hued stage design, Superchargers' obvious inspiration is Mario Kart. But compete against up to four online participants or a pack of bots and the mode gradually reveals its own interpretation of the genre. The sole downside is that six tracks are unlocked at the start, and additional races require the purchase of an action pack- which bundles character, vehicle, and boss trophy. Fans of Skystone Smash will be pleased to know that Superchargers updated the game, with the Skystone Overdrive having a bit more strategy to use against AI or online opponents.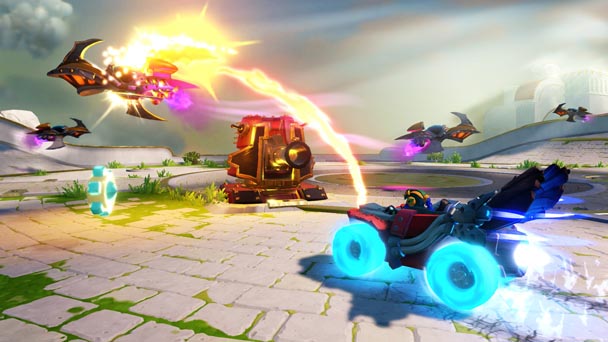 While the concept of vehicles into the Skylanders universe might seem forced, developer Vicarious Visions pulls off the feat by making these sections every bit as enjoyable as the traditional level crawls. When you factor in few ancillary purchases allowing players to see the bulk of Superchargers, the latest entry in Activision's cherished franchise strikes a skillful balance between enjoyment and expense. On both the PlayStation 4 and the Xbox One, the title meets and might exceed the expectations for next-gen visuals, with the game delivering stunning graphics while maintaining a near-seamless framerate. While a worrisome number of sequels offer modest updates, Skylanders Superchargers is the rare follow-up that exceeds expectations.
Skylanders Superchargers was played on the PlayStation 4 and Xbox One with review code provided by the publisher. Tech-Gaming spent an additional $30 to purchase two additional vehicles and used already owns figures during the review process.
Skylanders Superchargers
Platform: PlayStation 4, Xbox One, Wii U, PS3, Xbox 360, Coming soon to iOS
Developer: Vicarious Visions
Publisher: Activision
Release date: September 20th, 2015
Price: $74.99 Starter Pack, $99.99 Dark Edition Starter Pack
ESRB: Everyone 10+
Review Overview
Summary : As unlikely as it seems for a franchise in its fifth iteration, Skylanders is a series which continues to improve. While Superchargers vehicular addition seems unexceptional, the new feature amps up the energy level, ensuring that Stealth Elf and company elude stagnancy once again.