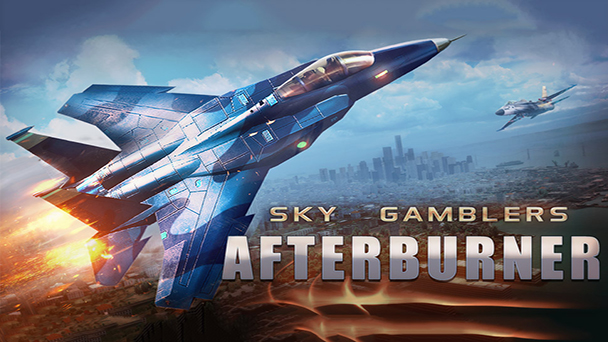 Recently, Ace Combat 7: Skies Unknown delivered dogfighting action to PlayStation 4, Xbox One, and PC owners. With an engaging single-player campaign and an enjoyable multiplayer mode, those who possess a Switch might have been a bit envious. Bandai Namco Studios Producer Kazutoki Kono has stated that while he finds Nintendo's hybrid an attractive platform, it's probably a bit too underpowered to support Ace Combat 7's technologies. As such, Switch owners might be lured into seeking a viable alternative for aerial action.
If Looks Could Kill
Certainly, screenshots and video of Sky Gamblers – Afterburner make the game seem like a potential contender. Developer Atypical Games has crafted mobile-based aircraft fighting games for a decade, and their visual expertise is evident. Take to the skies, and there's a level of detail that you might not expect from the Switch. Mountain ranges converge on the photorealistic when they're in the distance, and cityscapes are teeming with detail, permitting players to see blocks of urban real estate. Although the sense of immersion isn't as strong when you've flying close to the ground with your Switch in docked mode, Afterburner delivers enough fidelity to capture the beauty of flight.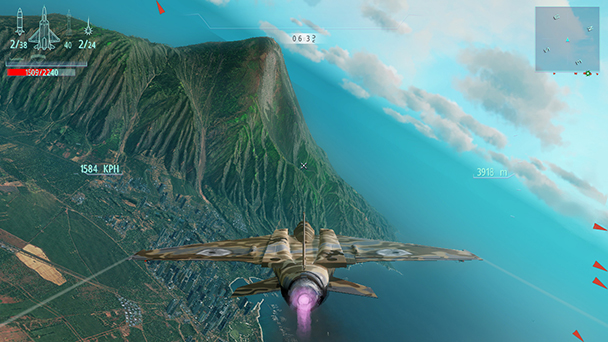 But peer past the elaborate environments and Sky Gamblers' starts to lose its sheen. Part of the issue is that the game feels rushed to market. Venturing into the game's pair of tutorial missions demonstrates how things can feel incomplete. One lesson goes over different elements of your heads up display while another imparts the fundamentals of flying. But you'll likely feel underprepared when tackling the first of Afterburner's fifteen missions.
Fire and Forget
Thrown into the fray against multiple bandits, you're not told how to switch between your main weapon types. On-screen button assignments show an assortment of tools and your disposal. But you'll have to experiment to learn how and when to deploy enemy missile misleading flares. Worse, you'll never see your aircraft go up in flames when your jet's damage gauge is completely depleted. Instead, you'll instantly sent into a crimson colored 'game over' screen wondering what killed you. Likewise, don't expect much comradery with your wingmen after a successful sortie. Here, Afterburner jumps right into the payoff screen doling out currency you can use to purchase new planes and weapons. Largely, plot takes a backseat to play.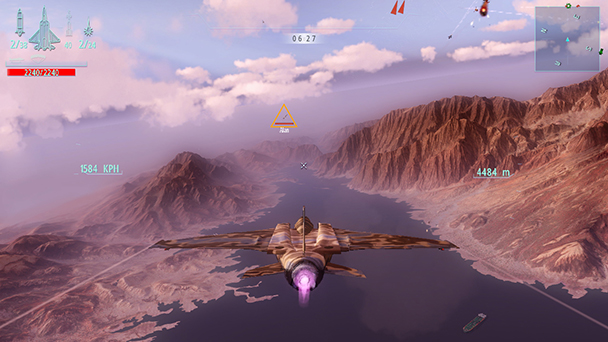 These transgressions would be forgivable if Afterburner offered an intense exhibition of aerial antagonism. But largely, it's rather lackluster. Your inexhaustible supply of missiles and other arms are constrained by a cool-down timers. As such, play hinges on a cycle of obtaining enemy lock-ons, dumping your entire payload, then taking evasive action until your weapons reload. Sure, there also evasive maneuvers built in to the game's control scheme. But you're able to get through the game on an elevated difficulty level without them.
Visual Turbulence
Certainty, elements of Sky Gamblers' presentation keeps the game from reaching atmospheric levels. When you lock onto foes, there's a cool visual effect of a cursor beading down on the enemy. But when there are multiple targets on-screen, this slows the game down. Other times, when the action heats up, the game sputters to a brief halt, spoiling the sense of immersion. Another issue is rooted in the sound mix. While getting verbal prompts that your flares have reloaded will help you keep your eyes on the action, the game's dialog isn't voiced, further undermining the limp attempt at storytelling. Another issue is that an enemy missile lock isn't as attention-grabbing as it should be, a fainthearted klaxon weakening the sense of urgency in battle.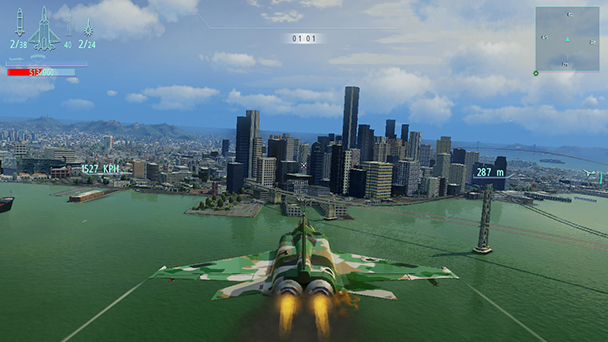 But there are fleeting flashes of inspiration. Ally AI isn't completely useless. Flying with a formation of friendlies and releasing a barrage of missiles concurrently can be invigorating. Hold down the launch button and you'll even follow your missile's trajectory. Afterburner's multiplayer components suffers from the same fate as many third-party titles, so there's no bustling community. But if you're able to find a match, competitive and cooperative play in Deathmatch, Defend the Base, Capture the Flag, Land Man Standing, and Survival modes has the potential to maintain your interest for a few hours.
More Afterburner than Ace Combat
With delightfully garish warbirds tearing through picturesque environments, Sky Gamblers' screenshots might tempt you with the potential of Ace Combat-like action on the Switch. But here, beauty is mostly skin deep. Skirmishes across the games' lens-flare filled skies are simplistic, with a basic strategy able to guide players through the game's fifteen-stage campaign. Our advice: wait for a more challenging target unless you're really yearning for life in the not quite danger zone.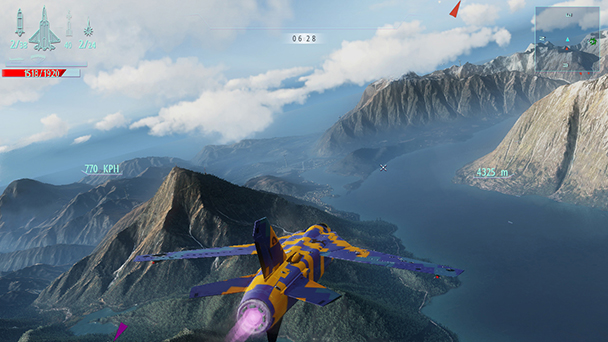 Sky Gamblers – Afterburner was played on the Switch
with review code provided by the publisher
Review Overview
Summary : Sky Gamblers – Afterburner looks beautiful when you've soaring across bandit-free skies. Put once enemies appear, play is simple, requiring only a fraction of our abilities, while polish is lacking.