Video games have a multitude of positive attributes, but one of the medium's best traits is the simulation of ability. In real life, I didn't have the training, talent, or dedication to be anything more than a middling athlete. But games allow me to bypass those burdens and replicate the tension of a professional quarterback stepping out of the pocket or the rally driver snaking across Corsica's notoriously curved Tour de Corse. Particularly, I enjoy Olympic sporting games, which let me circumvent lifetimes of preparation and vie for gold across a wide assortment of events.
As such, I was excited to try the recent PlayStation 4 and PC release of Ski Jumping Pro VR. The title repeatedly perches players atop a man-made mountain, ready to reproduce the core elements of an Olympic -style ski jump. From your take off, in-run, take-off (jump), and landing, Manchester-based Yippee Entertainment undoubtedly understands the essentials. But like a contender who doesn't earn a place on the podium, Ski Jumping Pro VR doesn't demonstrate enough finesse, potentially relegating it to obscurity.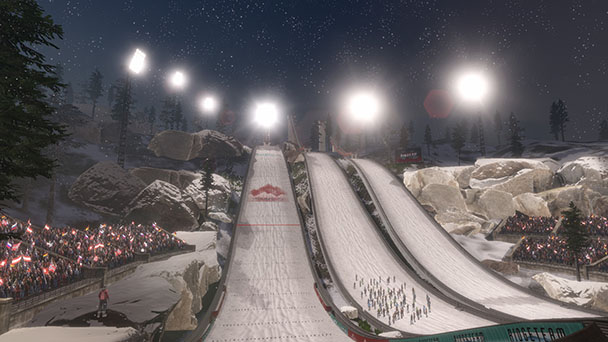 Built for Vive, Works on Rift
The PC iteration of Ski Jumping Pro VR is built for the HTC Vive hardware. Although the game's Steam store page makes no mention of Rift support, it functions on Oculus. Sure, you'll have to contend with flickering load screens and control that aren't quite as responsive as they should be, but the game is largely operational. Regretfully, you're forced to use motion controllers. It would have nice to have been able to use traditional controllers, especially for players with disabilities.
Head into Ski Jumping Pro VR's Single Jump option and you'll be able to head right into the action. Without delay, the game puts you on the top of the jump, with the option for an interactive tutorial or to careen down the ramp. You'll probably want to select the former at least a few times, as some of motions designed to imitate a skier's actions involve somewhat abstract arm and leg movements.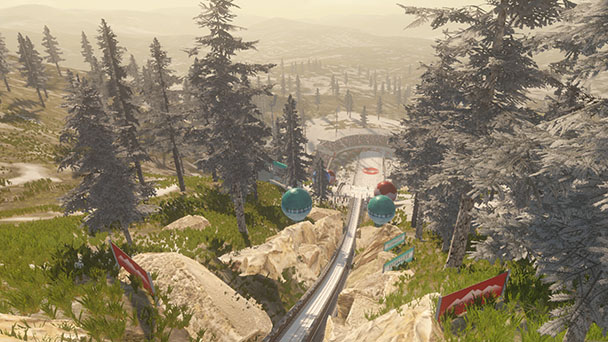 Down the Ramp
When the countdown timer hits zero, you'll pull your motion controllers down while pulling the trigger, simulating a push-off from the start bar. Ski Jumping Pro provides feedback on your timing, but the coaching wasn't quite specific enough. Typically, I have no problems with responsiveness with my Oculus Touch controllers. But the game repeatedly declared by start was too slow- even when I pushed off early. Next, you'll have to ensure your skies stay in the ice grooves, causing the least amount of fraction as possible. This is accomplished by moving your controller in the air, which the on-screen representation of your skies providing instant feedback.
The take off is accomplished by lifting your controller skyward in a "V" shape, mirroring the position of an actual athlete's skies. Finally, as you approach the K-point, you'll want to prepare for a telemark landing, a customary touchdown where one ski is in front of the other. Here, again feedback is an issue, with Ski Jumping Pro VR seeming offering little advice when your athlete collapses into the snow. Oddly, the out-run, where skiers bring themselves to a stop is handled automatically.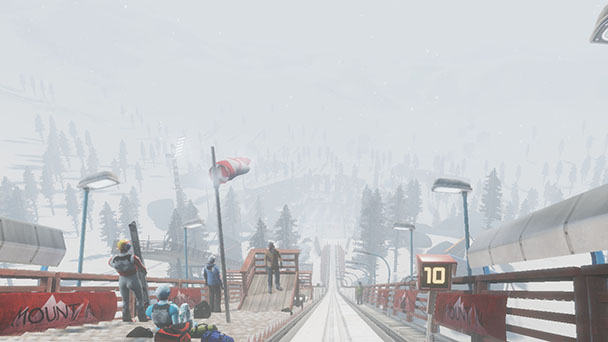 Play Ski Jumping Pro VR for several hours and you'll gradually learn to stick the landing. But the nuances required to outscore competitors are harder to distinguish. Again, it might be an Oculus issue, but moving from an average jumper to rising to the top of the leaderboards never happened. Undoubtedly, I would have appreciated if Ski Jumping Pro could coach me into improving.
Going Pro
Optionally, you can tackle Ski Jumping Pro VR's career mode, which injects all of the light role-playing system that sports titles habitually offer. Undoubtedly, the best part of this component is the game's inventory of courses, offering nineteen different jumps in a variety of European settings. Generally, the visuals are rather spartan, looking like an early PlayStation 3 title. But periodically, there's the occasional visual perk like a sun shining over Lahti, Finland.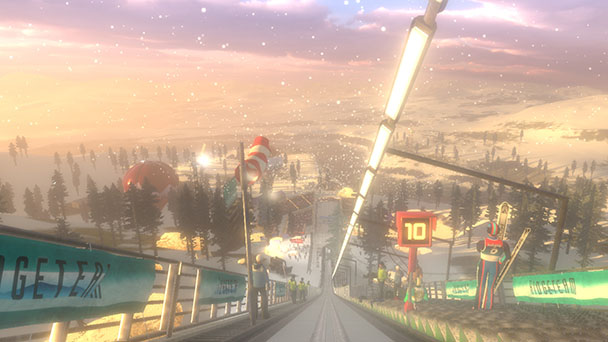 Although elements like skies, helmets, glove, and suits that offer slight stat boosts can be purchased with in-game winnings. But some of Ski Jumping Pro's variables like Flow and Focus aren't explained well, and there's no visual breakdown of your abilities, so its difficult to know how much help these items provide. Moreover, the career feels quite barebones and doesn't add much over the single jump component. If you're hoping to compete in the Olympics or do some stunting, Ski Jumping Pro VR will leave you in the cold.
Conclusion
Sure, the incorporation of VR's three-dimensional visuals increases Ski Jumping Pro's sense of immersion. Racing down a ramp is breakneck speeds offer a satisfactory simulation of what a professional ski jumper sees. But the game's slipshod input method and emaciated play modes means that the game lacks long-term value, making for a tough recommendation at anything other than a deeply discounted price.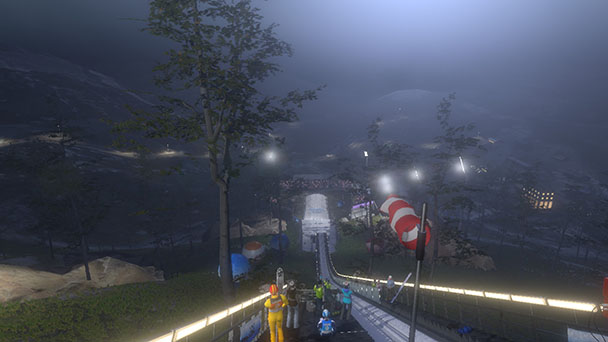 Ski Jumping Pro VR was played on PC with a Oculus Rift VR
setup using review code provided by the publisher. 
Review Overview
Summary : Ski Jumping Pro VR would have worked better within a larger winter sporting compilation. As it stands, there's just not enough depth or nuance in the game. Ideally this would make you appreciate the dedication and risk faced by actual athletes. But in execution, Ski Jumping Pro never truly soars.