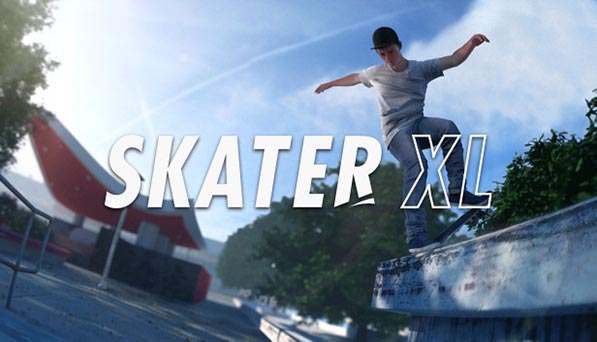 Skater XL shows a lot of potential in its current Early Access state. As the title races toward a full release, developer Easy Day Studios hopes to maintain momentum with several crucial additions
The history of skateboarding videogames is a chase after realism. Early titles like 720° (1986) and Town & Country Surf Designs: Wood & Water Rage (1986) depicted rudimentary interpretations of the sport in two-dimensions. So, when Tony Hawk's Pro Skater (1999) appeared, the game felt revolutionary. It wasn't the first 3D skating games (SEGA's arcade title Top Skater arrived two years earlier), but the Neversoft-developed title was one of the earliest games to let players freely grab, flip, grind, and ollie across locations, reflecting the experience of ripping through a skate park or urban environmental filled with trick opportunities.
Although Tony Hawk reigned for years, the franchise's weakening saw the stunting becoming increasingly unrealistic. Ironically, when Robomodotook took over the property, a push toward actual physicality sank the series. Tony Hawk: Ride (2009) and Shred (2010) arrived with full-sized plastic skateboard peripherals that required players to balance as they ripped through virtual spaces. Both games were released in fall and filled the shelves of clearance retailers in the new year.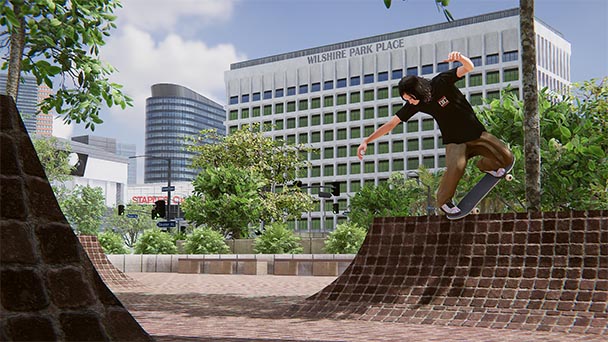 The Post-Hawk, Race for Realism
With over-the-top skating suffering a string of embarrassing injuries (Activision's final effort, 2015's Tony Hawk's Pro Skater 5 was an abomination), the industry pursued verisimilitude once more. The result was a trio of titles from Electronic Arts, with each entry of Skate almost constraining itself to stunts that pros could do in real-life. There were no "720 Shove It into Kickflip McTwist into a 50-meter Backside Boardslide" stunts, instead the flick-it control system had players performing Street Fighter II-like stick moments to execute moves like a Varial Heelflip. But developer EA Black Box was disbanded in 2013, seemingly putting the series on an extended hiatus.
Much like skating where veterans are gradually overtaken by plucky newcomers, Skater XL is here to claim the genre's crown, alongside Crea-ture Studios's Session. Both upstarts are taking a careful approach, entering the competition through Steam's Early Access program. Presumably, this permits titles to listen to the desires of fans, and hopefully deliver on those concepts.
Fundamentals First, Breadth Can Wait
When Skater XL was first released on Steam, its approach was remarkable. Instead of the abundance of content that often accompanies skating games, it focused on the fundamentals. Yes, having two venues and a single rider might seem like a risky venture, even for a pre-release game, but Skater landed to show off it's control scheme.
Here, each analog stick controls the corresponding foot of your skater. Move the stick, and your onscreen character instantly reacts to each command. Yes, it might be awkward for the first ten minutes, but then slowly it all clicks into place. Likely, you'll spend the next hour trying to nail a perfect grind on the side of a planter, mimicking the repetition done by skaters at the local movie theatre. In print, that last sentence probably sounds like a total bore. But when you sit down with controller in hand (one is required), something rather indescribable happens.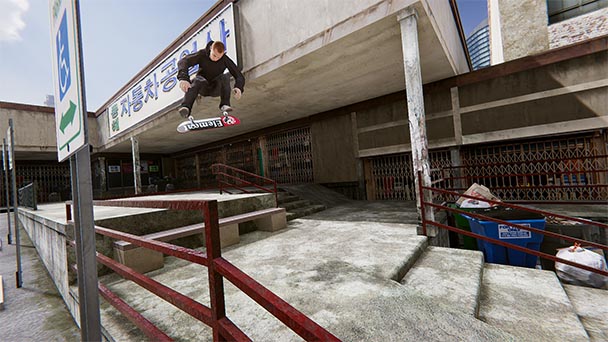 Rethinking How Skating in Handled
If you listen to development leads Dain Hedgpeth and Jon West describe it, it's because Skater XL abandons the kind of pre-canned trick system that's been present since the Tony Hawk era. Instead of reacting to stick presses and playing a predetermined animation, Skater inverts the method. In this game, you can move board and body freely and the title interprets these movements as tricks. Hedgpeth and West explain there's a lot of calculations going on behind the scenes. But save for the sporadic awkward bail, it works, adding an abundance of variability to tricking. Like reality, there are a lot of small nuances all working at once, and each run convey a bit of unpredictability.
But sooner or later, you'll face fatigue from the game's two locales, a West Los Angeles Courthouse and California Skatepark. To combat that, Easy Day recently revealed their plans leading up to the title's official July 2020 release. The next location is a sprawling Downtown Los Angeles map. A playthrough revealed an uncanny recreation of the region surrounding the Los Angeles Convention Center and Staples Center, venues beloved by real skaters for their steep railings and lofty staircases. But even more interesting was the mention of skating in Koreatown, an allusion supported by Skater XL's promotional images.
Blue Skies and Street Plazas
Roughly five miles west of Downtown Los Angeles, the incorporation of K-Town demonstrates Easy Day taking a few creative liberties. When asked, the developers confessed to tweaking a number of things, moving bike racks to create line, adjusting elevations to improve runs with a lot of data coming from the game's play testers. Living in Los Angeles for the past twenty years, they're nearly imperceptible, but it's pleasing to know that the team is committed to listening to a variety of groups, from real-life skaters to more casual players.
As such, Easy Day is trying to ensure that the final build remains mod-able as possible. Hedgpeth and West understand that communities are imperative to success and have witnesses the contributions of fans. While the pair was deliberately ambiguous, they divulged that some of the game's more popular mods would become part of the final build. They were also rather furtive about the game's goal system. While most saying games using scoring systems for evaluation, Skater XL seems like it will reject this kind of system for a 'challenge-based' structure.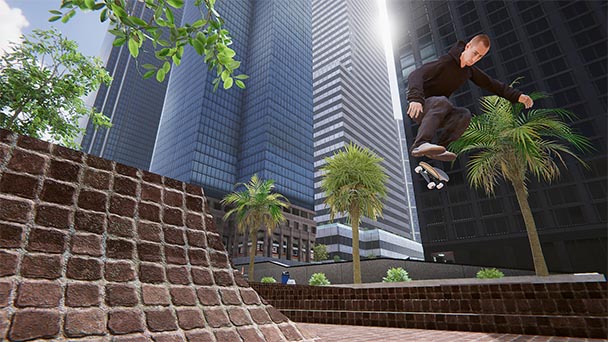 Another thing the game refuses Is any kind of activity. You won't see pedestrians, moving cars, or any other signs of life, making the venues feel a bit otherworldly. But on the upside, you will seem some notables in the official release with Tom Asta, Tiago Lemos, Evan Smith, and Brendan Westgate appearing as playables. They won't have any statistical or mechanical differences, but at least they'll provide a bit of visual variability when trying to nail that perfect railslide.