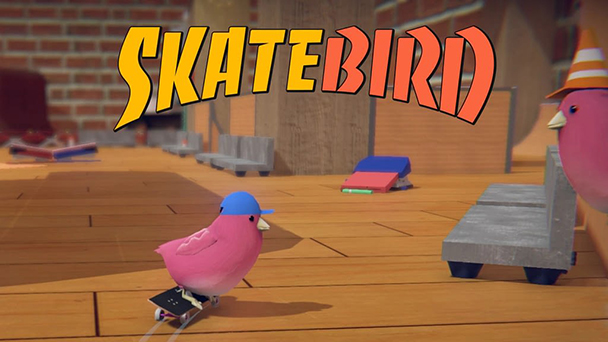 Imagine Tony Hawk as an actual hawk, but much smaller. That's the premise behind SkateBIRD, which aims to bring back the joys of arcade-style skateboarding. Unfortunately, you're often wrestling with the controls as well as game's camera, leaving SkateBIRD feeling like it suffers from a broken wing.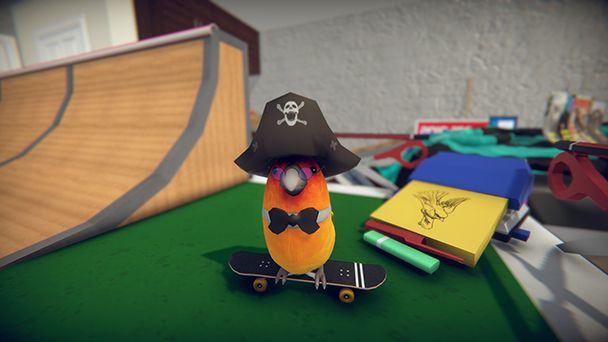 Ever since 2007's Skate, skateboarding games have favored simulation. Titles like Skater XL and Session were undoubtedly entertaining. But they weren't nearly as enjoyable as the over-the-top antics found in the early Tony Hawk franchise. Ironically, Neversoft's titles truly captured the essence of the sport by forsaking realism. While each stage had a set of goals to complete, the ability to build preposterous combos by skating, stunting, and grinding truly captured the spirit and freedom of street skating.
This reality-snubbing approach is evident in SkateBIRD, which sees a flock of feather riders atop of Tech Decks. Developer Glass Bottom Games indisputably harnesses the adorability of the concept. Sporting different species, from woodsy Kookaburras to tropical Sun Conures and even a Burrowing Owl, there's a nice variety of plumages found within the character creation component.
Accessories like headphones, scarves, capes, and fanny packs provide a bit of additional personality. Seeing your beaked buddy ride through environments made from real-world objects, where bowed magazines become quarter-pipes and straws function as grind rails, sells the game's sense of diminutive scale. It's hard not to smile at seeing little creatures adapt flights of fancy into spirited ollies and twists.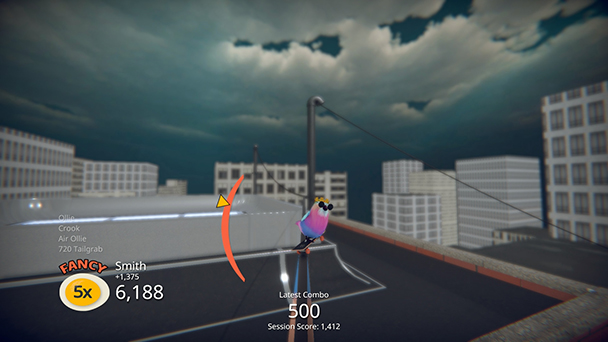 A Plotline Worth Tweeting About
Much like Pro Skater 4, SkateBIRD abandons the taut two-minute play sessions of the first three Tony Hawk games. Here, you can skate around freely or move the game's plot long by stopping for a quick chirp with the NPCs that dot the playfield. They'll offer challenges which provide a bit of structure as well as a storyline. But occasionally, the linger after the completion of an event, which can cause a bit of confusion.
Filled with plenty of puns, internet slang like "birbs" and "screm", the dialog is playful. But what's especially charming is a plotline which centers on the relation between the skating bird and their Big Friend. The feathered companion recognizes that work is increasingly determinantal to its human's mental health and sets out on a succession of small-scale sabotage missions. While opinions may vary, I found the lesson about heeding nature's warnings quite poignant.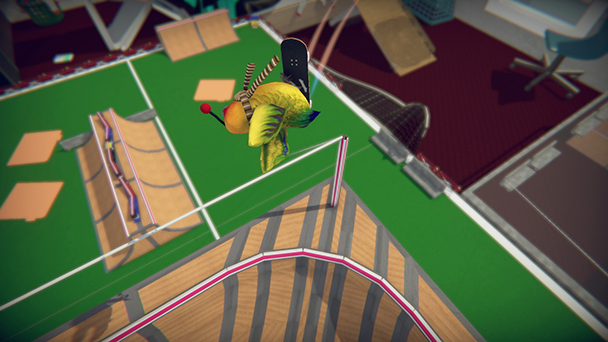 More Like Tony Ostrich
But this where many of SkateBIRD's enjoyments end. The game employs a familiar control scheme, with face buttons and triggers corresponding to different skating commands. But attempt to perform a basic stunt, and occasionally, your bird will put themselves in an awkward angle. All too often, this results in a disheartening wipeout. At first, this is amusing with your field feathered friend rolling helplessly on the ground, before you hit a button to reset them.
But sporadically you'll encounter an environmental object that brings the action to a literal halt, ruining the momentum of a combo.  That can also happen when grinding. Sporadically, your little bird will be cautiously balancing on the lip of an object, when an invisible object forces a bail. Sadly, the game's camera is just as bad. Steer your tiny tweeter into a corner, and it will move erratically as it franticly tries to frame the action.
All these work against SkateBIRD's "FANCY" meter, which gradually fills as you successfully execute tricks and maneuver around each map. When it's maxed, your bird can skate faster, permitting longer jumps and grinds, which in turn allow access to different parts of the maps. But a single bail resets your progress, which is frustrating when late-game challenges send you climbing through the stage.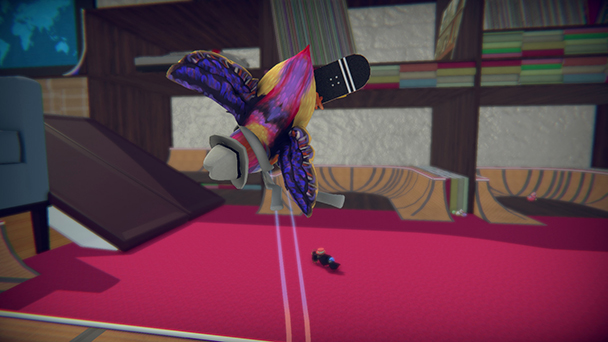 A Turning Radius That's for the Birds
As a bird, you have special abilities that separate you from most human skaters. A rapid wing flapping allows your character to double jump and descend gracefully. But neither of these abilities will save you from peril. I would have liked to have seen these unique abilities used like manuals in the Tony Hawk series, bridging sections of protracted combos together. Although a double jump provides the opportunity for a mid-air ollie, it never quite gels because the environment doesn't have Hawk's fluid skating lines. At the very least, flapping your wings should help avoid one of those intermittent, unavailable bails.
If the game can mend its skating model, there's potential. Hidden in each stage are mixtapes and additional accessories. The former adds licensed ska and punk to Nathan Madsen's wonderful "lo-fi bird-hop" beats. The latter contributes even more ways to customize your thrashing birb. Progress is also rooted in the gradual unlocking of new skateparks. While SkateBIRD isn't loaded with rewards, the dividends of success come at a respectable rate.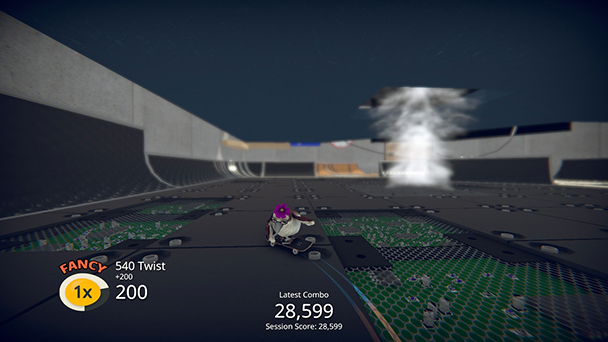 Conclusion
SkateBIRD's most essential constituent, its skating model, feels flawed. Instead of the sense of flow built on responsive controls and shrewd stage design, the game often feels underdeveloped. That's a shame because almost everything else is adept, from the Thrasher magazine parody, the easygoing vibe, to the head-nodding soundtrack. While I was hoping the game would soar like an eagle, it floundered like a penguin. An adorably cute one, though.
SkateBIRD was played on Switch with review code provided by the publisher. 
Review Overview
Summary : SkateBIRD's fundaments underdeveloped, like a nestling hatched too soon. Hopefully, the skating can be remedied because the rest of the game is promising.