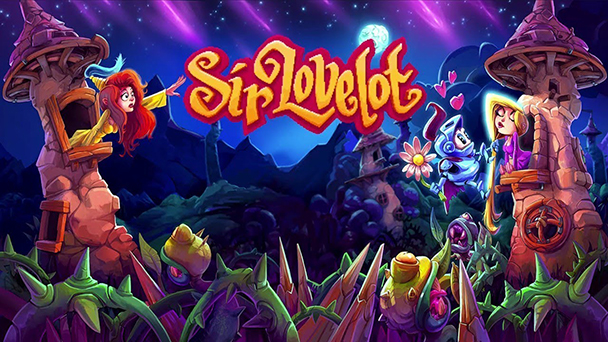 The pursuit of romance sends Sir Lovelot bounding over stages filled with adversity. While you might not love the lack of environmental variety across the game's forty stage jaunt, it's hard not to crush on the scaling difficulty. This knight isn't out to break hearts.
Sir Lovelot
Platform:
PC, also available on PlayStation 4, Switch, Xbox One
Developer:
pixel.lu

Publisher:
pixel.lu
Release date:
March 3rd, 2021
Price:
$9.99 via
Steam
and other digital marketplaces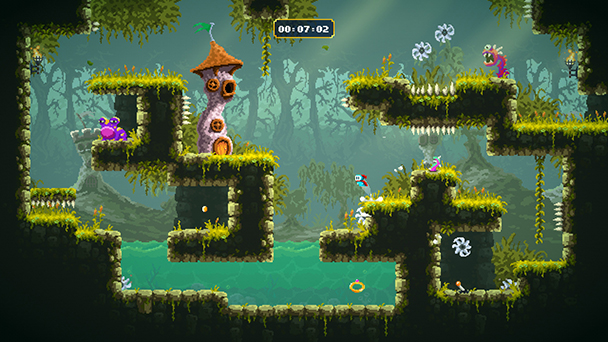 Don't get me wrong, I love the kind of challenge that titles like Super Meat Boy or Celeste provides. But some of my first platforming experiences were developed by Nintendo, who made sure that Donkey Kong Jr. and Super Mario Bros. would be enjoyed by more than just masochists.
The recent release of Sir Lovelot strives to tone down the unremitting difficulty offered up by Team Meat and Matt Makes Games. Yes, you'll still be expected to perform fantastic feats of near-pixel perfect platforming. Across forty stages, you'll navigate through a quartet of environments. Not only are you tasked with double jumping across hazards like whirling buzzsaw blades and lava that periodically sends a goblet skyward, but you'll also shirk settling down.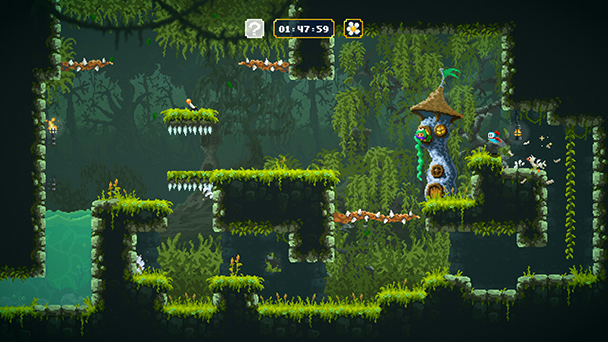 Lovelot, You Sly Dog
The game's eponymous star, a lothario in a plate-mail suit, needs to complete two tasks in each multi-screen stage. First, he'll need to acquire a token of affection for his paramour such as a flower or a ring before navigating to a tower where a Rapunzel-like princess' is dangling her elongated mane out of a window. In keeping with his name, Lovelot isn't looking to 'live happily ever after' and finds a new maiden every night.
But before bringing gifts to a multitude of maidens, Sir Lovelot will encounter a fair amount of adversity. Beyond the aforementioned environmental hazards, he'll also have to content with roaming monsters. Fortunately, he's well equipped for any kind of enemy encounter, with a rapid-fire ability that can eliminate threats with a few shots. Occasionally, the game ratchets up the intensity by requiring you to be uncomfortably close to your target. Move a single pixel and the adversary will strike down the delicate Lovelot.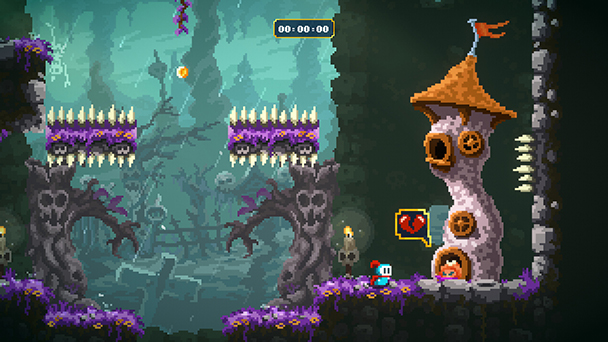 Lenient-lot
Pleasingly, the game's controls offer the kind of precision you'll need to make your maiden-loving run. Platforming is quite responsive, allowing for the kind of accurate maneuvering needed where hazards surround you. If you're a speed runner, evading the succession of each dangers on each stage can be immensely challenging and there's an on-screen timer to set the pace. But take your time with it, and there's a method you'll learn to get past enough hazard. Lovelot's agility is assistive as well. From slow-dropping down vertical wall, climbing up vines, to grabbing hold of precipices, his armor doesn't seem to impede his nimbleness. The sole exception arrives in the second world, where our hero's underwater prowess recalls Mario's early attempt at swimming.
Pleasingly, dexterity isn't the only benefit you'll find. Perish and you'll be instantly returned to the last checkpoint, which is typically the on the current screen. What's more, any defeated opponents stay dead, diminishing Sir Lovelot's difficulty. This is especially helpful for end of area bosses, such as the giant rolling boulder that pursues you at the end of the first zone. This showdown can be conquered in a simple instance. But more likely, you'll ebb away ay enemies, carving a clean path through the level.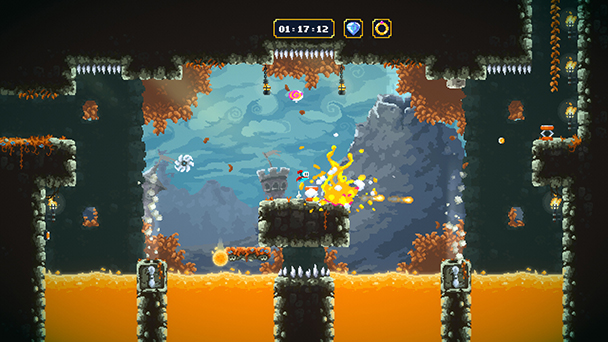 Bath Toys as Collectables?
But there is a penalty for squandering Sir Lovelot's lives. At the end of each stages, you'll be rated for finding gold pieces and hidden rubber ducks. You'll also be expected to clear the level with a pre-set number of lives. Before long, I was happy just to clear the game's stages. But completionists probably won't be able to relax knowing that there are unmet challenges.
Sir Lovelot charms the retinas with vibrant, pixel-art playfields, and delightful characters. But each new area doesn't look radically different from the previous one, dividing a number of recycled assets. As such, the hero's journey seems more like a short ramble than an amorous adventure across an entire region. Ideally, developer pixel.lu could offer an option to turn off the screen shake that accompanies the death of an enemy, but that's a minor qualm.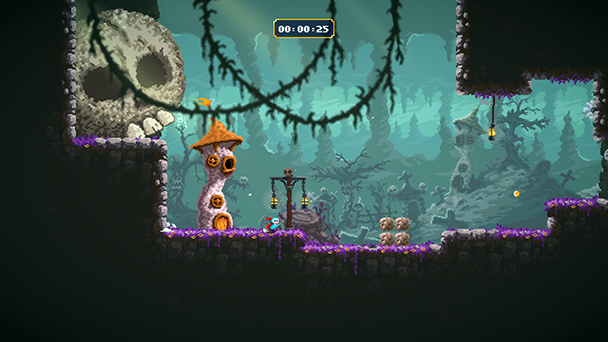 Conclusion
Will you fall head over heels for Sir Lovelot? Only, if you're thirsting for a challenging platformer that exhibits a bit of leniency. More likely, you'll enjoy a weekend tryst with the passionate knight before moving onto the next potential suitor. What's here is enjoyable, and shirks the frustration of many peers, but doesn't seem to court long-term commitment.
Sir Lovelot was played on PC with review code provided by the publisher.
Review Overview
Summary : In Sir Lovelot's fairy tale-inspired world, death is only a minor obstacle in the pursuit of love.