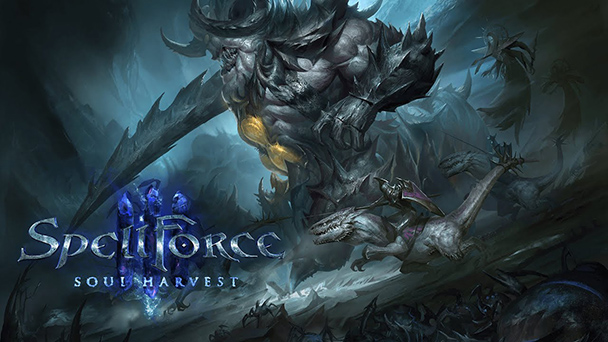 With a trio of main iterations and multitude of expansions across a sixteen-year history, the SpellForce franchise has a robust legacy. But despite a bountiful number of outings, the real-time strategy/role-playing hybrid hasn't truly garnered the attention it deserves. With the release of a standalone expansion entitled SpellForce 3: Soul Harvest, the series seem poised to enlarge its fanbase by delivering a distinctive and thoroughly engaging experience that manages to improve on its predecessors.
Protagonist and Characters Worth Caring About
Units can often feel like fodder in most real-time strategy games. Exposition is all too often confined to a skeletal backstory and a handful of sound samples emitted when selected by the player. Fortunately, that's not the case with Soul Harvest, which opens with a moderately robust player creation suite. You'll not only piece the appearance of your character from a variety of presets, but you'll choose from ten different classes and select two ability trees. While the game's campaign follows a fairly linear path (albeit with a wealth of side missions), the number of character options provides the potential for replayability.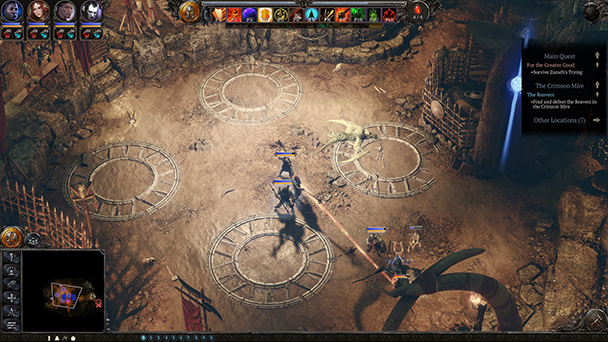 Subsequently, Soul Harvest offers a prologue framed as a dream sequence. It also functions as a tutorial, imparting the fundamentals of play, often with picture-in-picture guidance. During this vision, your protagonist is a humbled Empyrian commander, who suffers amnesia after the defeat of his entire unit. It's a succinct seminar, but that that hints at the shifting allegiances to come.
Once awoken, you link up with a team of mercenaries to track down the dwarves responsible for killing an innocent soldier. Pleasingly, there's complexity to the plotline, with talented voice acting bringing characters to life and motivation presented for the games' factions. Another satisfying element is that you're not bound to fixed dialog. Periodically, interactions will provide up to six different responses for your character, providing a bit of conversational autonomy. While SpellForce is built around high-fantasy archetypes, the writing is better than most thematically similar titles. Provocations, personalities, and relationships are all well-crafted, making for a plotline that's absorbing.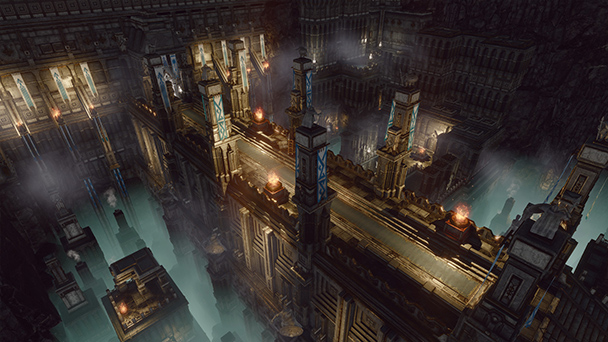 Diminutive Parties and Large Legions
Blending elements of the RTS and RPG strategies, SpellForce is surprisingly versatile in battle. Periodically, you'll be tasked with administrating a patch of terrain, ensuring the supply of resources for the creation of new building and units. Pleasingly, Soul Harvest adopts a global approach to economies, removing the need for transport goods between your growing outposts that burdened SpellForce 3. Another advantageous trait is the autonomy of your underlings. After construction a certain type of structure, laborers start working without intervention. However, when you see a loafing worker, a click can easy assign them to a task.
When Soul Harvest scales things down to a small party, the title fares almost as well. During these moments, you'll guide your squad, tackling bands of enemies, procuring loot dropped by the defeated. Like SpellForce 3, you'll be able to pick and choose units freely, triggering spells and item use with either function keys or by clicking on the on-screen interface. But character positioning is still a crapshoot, and occasionally you'll find ranged units positioned in the middle of outraged, melee-based mobs. For better or worse, you can often throw a throng of units at enemies and with a bit of supervision, come out with the upper hand.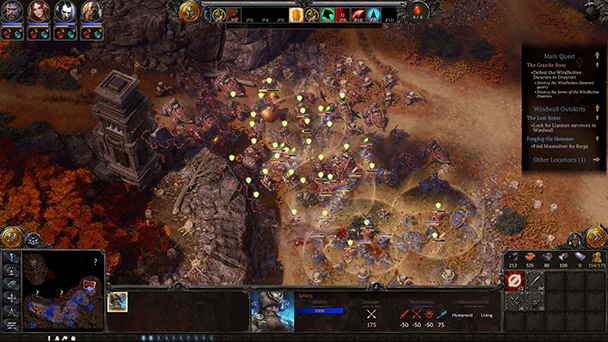 Another small sticking point is the game's loot system. Early on, you'll be inconvenienced with items that have a high-level requirement. But there's little benefit in conserving these items over the long haul. Between stat upgrades and other drops, you'll inevitable be outfitted with a loadout that just as robust, undermining the long-term approach. Although the loot system is downright defective, a few small tweaks could make the acquisition of items much more interesting.
Solid Campaign Bolstered by Multiplayer Components
Beyond Soul Harvest's twenty-hour campaign, the game offers additional gratification across its multiplayer components. Whereas SpellForce 3's co-operative mode put additional players in supporting roles, Soul Harvest lends much more over the sharing of responsibilities. Although you can freely assign duties to players, you can also opt to completely share every single aspect of management, ensuring involvement by all participants.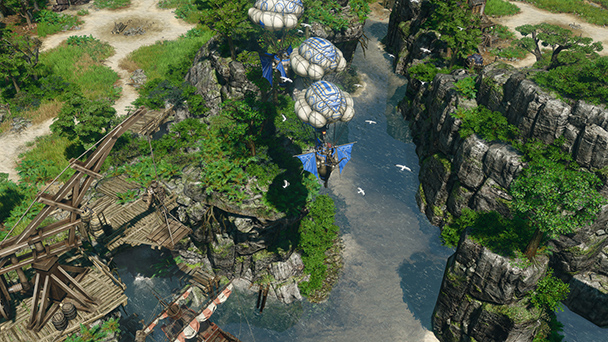 While skirmish mode can be played with AI-driven teams, you can also confront online rivals. There's still some faction balancing to be done but guiding the new Dark Elves or Dwarves toward victory can be a lot of fun. The former revers their soldiers, and to safeguard them, bolsters it's reserves with units like the Specter, a resurrected combatant, or giant tarantulas. The latter covet some of the beat gear in Eo, and are outftted stoutly, providing benefit from the start. There tunnel building ability is another fascinating trait, allowing armies to move across map with haste. Beyond these two groups, developer Grimlore Games made each faction more idiosyncratic, adding tactical diversity to combat.
An Aesthetically Opulent Harvest
Playing Soul Harvest on a GTX 1060-powered laptop revealed a remarkably polished experience. Save for the rare instance of graphical glitching which often remedied itself in a second or two, and how buildings and foliage can still obstruct units, the game is a visual delight. Flaunting water that obscures the surface beneath it, an abundance of flora, and detailed structures, Eo's environments are attractively rendered. Even more impressive is the game's soundtrack which employs elegiac melodies and ethereal vocal chants to convey beauty. As the game's menu screens divulge, SpellForce 3's campaign is being remade with all the enhancements found here. Hopefully, the wait won't be too long.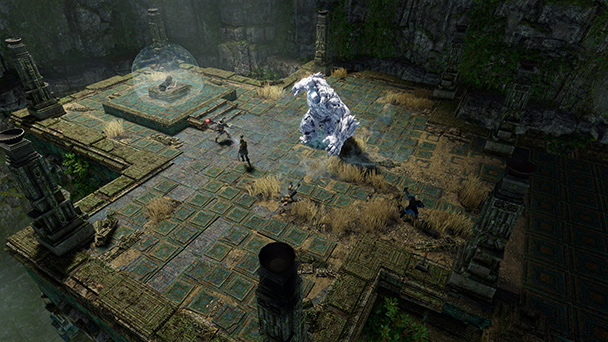 Improving on an already exceptional blend of RTS and RPG, SpellForce 3: Soul Harvest is a standalone expansion worthy of your time. It's clear a lot of time and thoughts went into the fundamentals, Grimlore Games creating a synergistic fusion of the two genres. While there's still a bit of high-level tuning to be done with elements like factions, Soul Harvest is already immensely enjoyable and on track to improve even more.
SpellForce 3: Soul Harvest was played on PC
with review code provided by the publisher. 
Review Overview
Summary : Blending an affinity for characters with the gratification of leading immense armies into real-time, variable battles, SpellForce 3: Soul Harvest has the potential to bring greater awareness to this impressive franchise.