Don't Try to Pigeonhole This Plot
Often, visual novels divulge their approach in the first few minutes. But that's not the case with Seven Days aka Seven Days with You: The Most Precious Memory in Our Lives. Here, developer Life0 shifts genres sinuously, like a master martial artist demonstrating a repertoire of different forms. One moment you're engrossed by a premise that builds on the basic framework of Hideo Nakata's 1998 film, Ringu (which is based on Koji Suzuki's series of books). Minutes later, the novel goads you into letting your guard down, as you revel in its depiction of quint, slice-of-life charms and the elation of an apathetic student's last day of the school year. Ultimately, it settles into a collection of stories that are surprisingly heart-felt.
In the hands of lesser talents, the tactic could make Seven Days seem disjointed. But instead, the technique sustains interest, producing speculation where the story will go next. With a deliberately blank face and mild disinterest in academics, players are tasked with identifying with protagonist Kanzaki Shuuichi. For many it won't be too difficult, with the lead demonstrating skepticism when a schoolmate tells of a Blu-ray disk that kills the viewer within seven days unless the video is watched by someone else.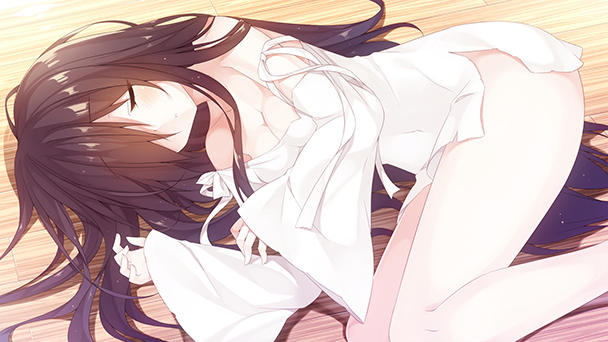 But the Organization is Straightforward
While Seven Days is largely linear, periodic choices emerge. While it's possible to branch off toward a game ending scenario, there's often subtle warnings to guide Shuuichi. Expectedly, witnessing the game's 'true ending' is going to require some prudent decisions, mindful save-game management, or the use of a FAQ. Unlike most romantic novels that branch off in different paths that focus on different girls, Seven Days adopts an uncomplicated approach that offers a sequential trek through its chapters.
Seven Days excels at expressing details. After watching the video, Shuuichi experiences a multitude of moods by the seven deadly sins. Privy to his innermost thoughts, each temperament is expertly communicated, bringing the distress of losing control to the backdrop. Sure, there's the occasionally laugh, like when Shuuichi's mom finds the cursed disk and assumes it to be porn, but there's also some delicately constructed dread that lingers over moments.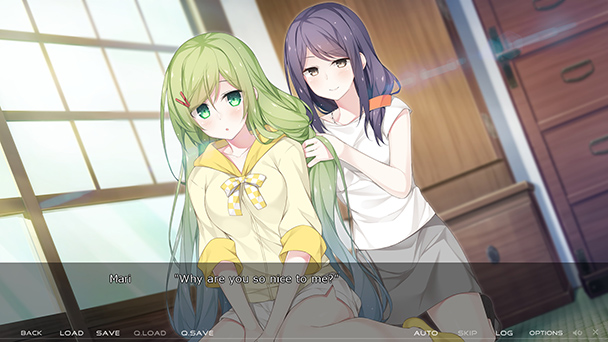 Fiction Made Real Through a Wealth of Details
Paranormal-based narrative often expect acceptance from their audiences. Occasionally, they don't work hard enough on explaining lore. Seven Days succeeds by offering a comprehensive explanation of elements rooted in real-world spirituality, most often through Sairenji Murasaki, the protagonist's childhood friend and next-door neighbor. Here, ghosts return to our physical world only when there's a lack of closure, with a limit of 49 days in this realm. This is significant when an apparition named Chiyako enters the plotline, serving as a host for six other spirits. As the title infers, Shuuichi spends an emotional week with each one, as the seven evenly divide their time.
These 'ghost stories' fill the bulk of Seven Day's read-time, extending a sextet of pleasing sub-plots. Since you know that time spend with each spirit is fleeting, there's a poignancy to the proceedings. Shuuichi feels an obligation in assisting each ghost find peace, leading to quite a few tender moments as attachment is often an inevitability. Just know this isn't a paranormal harem; while feelings will undoubtedly emerge, the focus isn't on starting a romantic relationship.
A Restrained Number of Locations
Aesthetically, Miko's character designs are poised to draw readers in, with their delightful attire, distinctive looks, and a fondness for gradient hair coloring. Sure, the spirits are rooted in trope, from the persistently genki Mari to obligatory 'bad girl with a big heart' Ichiru. But elusive details like facial expressions and postures help each ghost-girl rise above architype. As Life0's inaugural commercial offering, the novels limited number of locations can seem confining. Seven Days aims for small-town appeal but a bit too much time is spent in Shuuichi's home. On the upside, the game's localization and voice acting are top-notch, allowing for immersion in the game's narrative.
Seven Day's interface extends all the expected accompaniments like automatic advancement and a conversation log to review any missed moments. Visually, the novel's 1080p output scales to multiple resolutions and offers full-screen and windowed viewing options as well as a viewer for its 34 CGs. The only unexpected element is the practice of dropping readers off at the main menu after the completion of chapters. Unlocking the final chapter requires a certain number of good endings to be acquired first, which is represented by a heart symbol on the selection screen.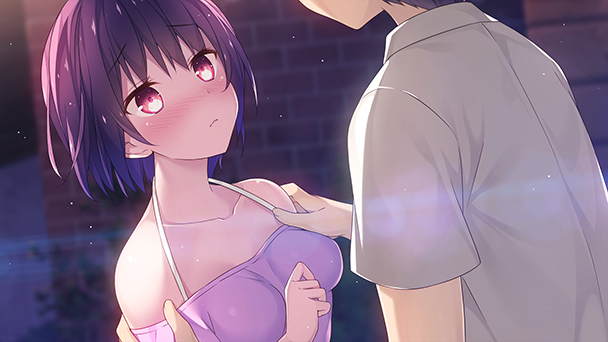 Conclusion
Seven Day's early hours are a bit duplicitous, with little foreshadowing on the affecting plotlines that follow. While not every reader will be enamored with the approach, it demonstrates developer Life0's willingness to tweak tradition and adds some essential novelty into the medium. The 25-30 hour trek that follows is a bit more conventional, but no less enjoyable.
Seven Days
Platform:
PC

Developer:
Life0

Publisher:
Fruitbat Factory

Release date:
December 13th, 2019

Price: 
$39.99 via
Steam
Language(s):
Japanese voice, English Text
Review Overview
Summary : With a broad emotional range that delivers laughs as well as few tears, Seven Days encapsulates both the beauty and sorrow of the human experience. While our time in this realm might be short, fans of emotionally affecting stories will want to set aside a few hours for this novel.