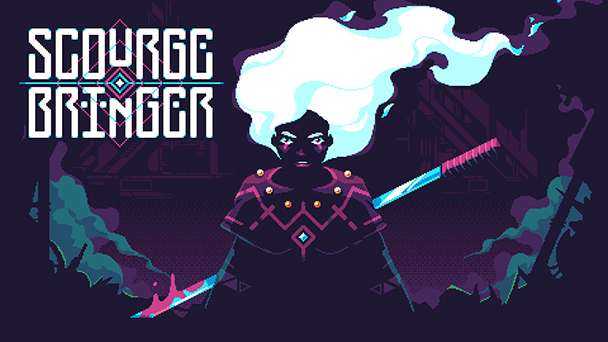 Flying Oak's (NeuroVoider) latest pits players against the eponymous, world-obliterating menace. Combating the elevated evil sends you zipping across the screen like a combat-ready hummingbird, making for an engaging experience.
ScourgeBringer
Platform:
PC, also on Switch, coming to Xbox One
Developer:
Flying Oak Games, E-Studio
Publisher:
Dear Villagers, Yooreka Studio
Release date:
October 21st, 2020
Price:
$16.99 via digital download
Availability:
Steam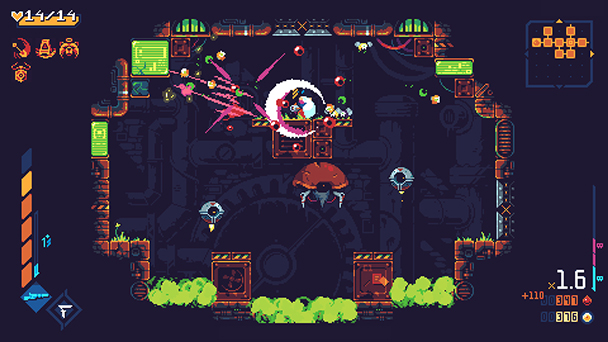 For action junkies, few sensations are more exhilarating than having your senses pushed to the brinks. While casual onlooks might see little more that a screen awash with flash and fury, ScourgeBringer permits players to harness a whirlwind of destructive power. Although each two-dimensional room might resemble the kind of procedurally-generated charmer build for explorational platforming, you'll spend little time on the ground.
Instead, you'll be whizzing through the air. A double-jump lets white-haired Kyhra, the deadliest warrior of her clan, clear a wide distance. With little effort, you can launch yourself up halfway up the screen before using her ninja-like ability to scamper up walls or leap over hair-triggered spike traps. But the real shake-up is the ability to dash. Add a couple of these on the end of a leap and Kyhra becomes a darting grim reaper. Dash, hit with a volley of strikes, before homing in on the next opponent and repeating, until multiple waves of foes have all been eliminated.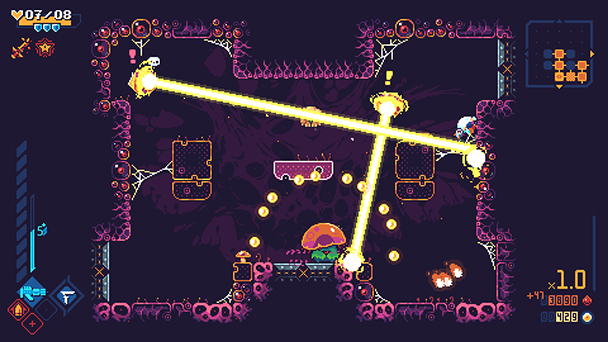 Pleasingly, you have additional options in your offensive arsenal. A heavy slash can stun an opponent, but you'll experience a slight delay before being able to use it again. Or you can fire a few ranged shots at adversaries. Ammo regenerates but it's always scant, so you can't gun your way through ScourgeBringer. No, you'll have to slowly chip away at it, with the possibility of a single mistake snowballing into a devasting depletion of your health gauge.
Gradually, Kyhra will gain mastery. Early on, you'll take refuge from enemies that launch a succession of projectiles behind an environmental object. But before long, you'll adopt the demeanor of hellbent destroyer, careening across each chamber with unchecked ferocity. You'll learn to prioritize targets too. Whether taking out the larger foes that can fill the air with deadly fire or the sentries that take potshots from the sides of the screen, there will be a method to your madness.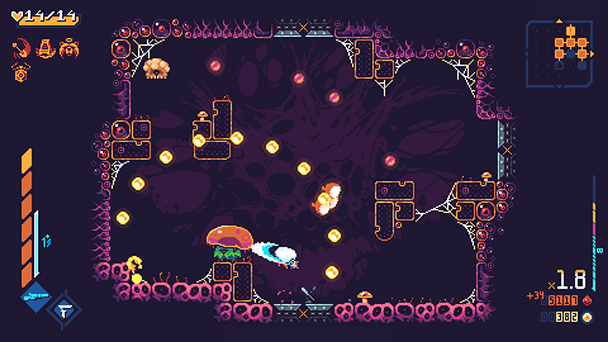 In keeping with rogue-like tradition, ScourgeBringer extends assistance for perseverant players. Sure, the helps a little too gradual at first, but eventually the game's literal tech tree augments health, adds moves, and offers other perks that temper the game's difficulty. The developer should be commended for adding additional flexibility with the challenge level. Players are able to tweak elements like the likelihood that enemies will drop a health-replenishing item.
Periodically, you'll may encounter other assistive items. Defeating any of the mini- and standard bosses often rewards your efforts with a stat boosting item. Stick with it, and Kyhra's attacks become even more kinetic, repelling enemy fire, or even kicking adversaries into each other, triggering additional damage. Pleasingly, the game's soundtrack increases in intensity when the action heats up and calms when you are hit, ratcheting up ScourgeBringer's frantic fighting.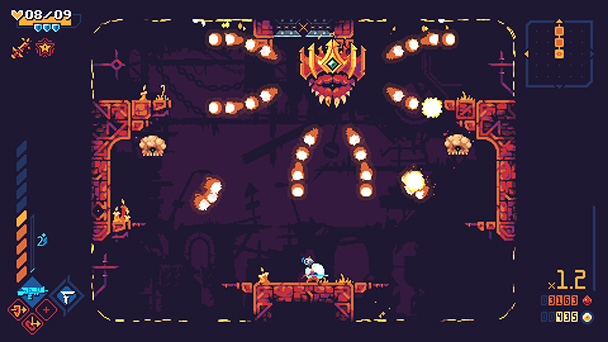 But as good as the game is, I found the action a bit too intense for long-term play sessions. Your tolerance might differ, but two hour sit-downs with ScourgeBringer left me feeling fatigued. My eyes were tired and my hands numb from clenching the controller with life-or-death intensity. The title is also available on Switch, but I'd be afraid of damaging the joy-cons on my Lite.
ScourgeBringer was played on PC with review code provided by the publisher. 
Review Overview
Summary : Once you adjust to ScourgeBringer's agitated action and begin powering up the protagonist, enjoyment intensifies in this engaging rogue-like.