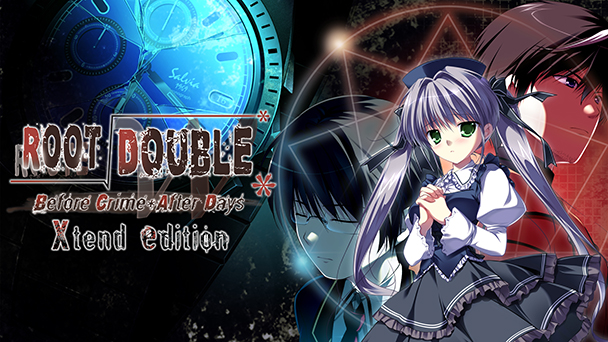 Seeking a sophisticated visual novel filled with intrigue and unexpected disclosures? Root Double: Before Crime * After Days- Xtend Edition offers that as well as an intriguing system where story branches are based on trust levels.
Root Double: Before Crime * After Days- Xtend Edition
Platform:
Switch, previously on PC, Xbox 360 (JP)
Developer:
Yeti and Regista
Publisher:
Sekai Games
Release date:
November 26th, 2020
Availability:
$45.99 via
Nintendo eShop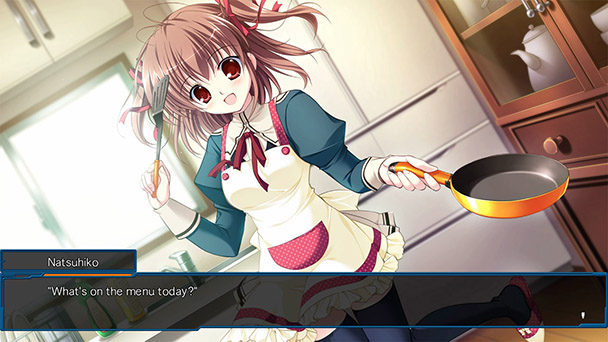 Root Double: Before Crime * After Days' setting is entrenched in plausibility. While fictional, Rokumei City is the type of massive company town taken to the next conceivable progression. It's a discrete municipality established as a research center, with its own dedicated agencies, from schools to rescue workers. One of the largest facilities in Rokumei is the Laboratory of Atomic and Biological Organization ("LABO"). As the name implies, it conducts nuclear research.
On September 16, 2030, a series of explosions catch LABO's workforce off-guard. Soon after, a reactor meltdown occurs, trapping both workers and workers inside the facility. The catastrophe produces lethal levels of radiation which leak into the facility. While there's medication to offset the effects, there's not enough of it to treat everyone.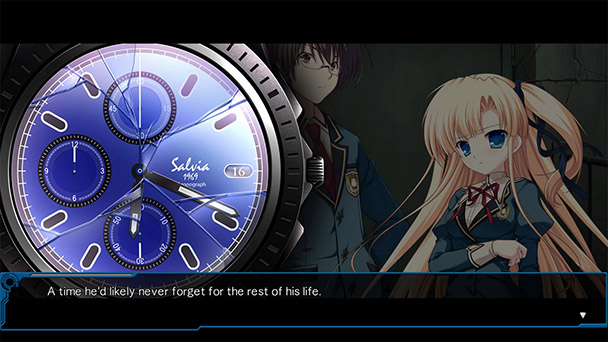 A Haunting Situation?
Undoubtedly, Root Double's context will bring to mind the tragedy of the Fukushima Daiichi reactor. But co-developers Regista and Yeti eschew exploitation. The visual novel was well into production when the disaster occurred. While there was discussion of cancellation, a decision was made to delay the game release, while promotion plans were shelved.
Eight years on, it's evident the publishers made the right decision to press forward. While the catastrophe serves as a catalyst for the events in Root Double, the novel's narrative span stretches far past the incident. Escaping the facility and the scarcity of medicine are merely a pair of tensions in a narrative that's exceedingly dense with conflict. Gratifyingly, the novel's message of trust is the kind of restorative message that seems essential right now.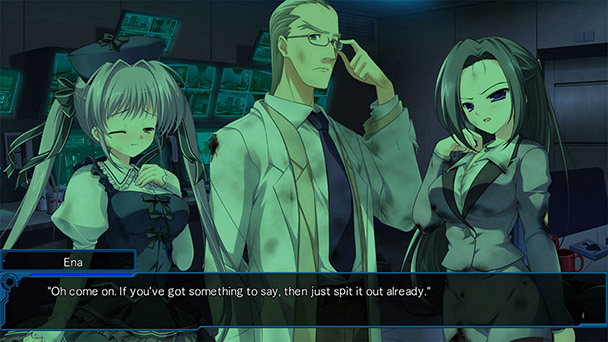 Divided by ESP
Additional discord in found in the game's single science fiction indulgence. In Rokumei City, extrasensory perception has become common. But there's friction between those who have the ability, referred to as "Beyond Communication" and those who lack the quality. Contentiously, the government sought to protect those with capability, barring any kind of interaction with the outside world.
Wisely, Root Double: Before Crime * After Days lays these convincing foundations before venturing into a tale that might seem incredulous otherwise. Like an image of a Mandelbrot set fractal, the novel exhibits nested layers of intrigue across two main story scenarios ("Root After" and "Root Before") and well as two additional ones ("Root Current" and "Root Double"). The latter are unlocked upon completion of the former, resulting in a read that last upwards of fifty hours.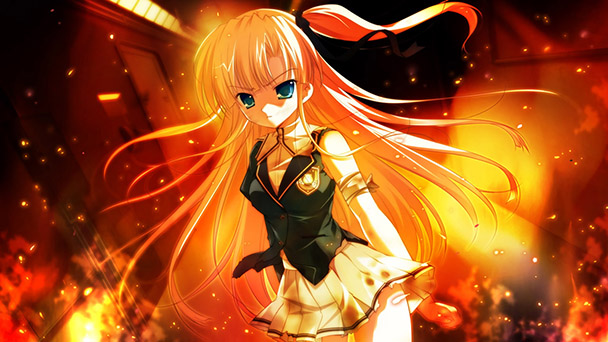 Two Places to Start
Route After's protagonist is Watase Kasasagi, the captain of the rescue squad for Rokumei City. While attempt to save civilians trapped in the reactor, he's seemingly attacked. When he awakes, he's afflicted with amnesia and assisted by two caring squadmates, Kazami and Jun. Route Before is seen through the perspective of high school student Natsuhiko Tenkawa. Bookish and rather reserved, his mother works long hours at research facility. As such, he derives emotional support from several close friends.
While waiting at a bus stop with one of these acquaintances, Natsuhiko witnesses a car accident. When investigating the crash, the protagonist discovers he knows the driver and imparts a cryptic by worrisome message. Revealing any more would venture into spoiler territory, but soon the significance of what he heard grows exponentially in importance. Remarkably, the novel lets readers decide where they want to enter Root Double intricate sequence of events. It's an ingenious method of storytelling, engineered to mesh together only after you read the bulk of the novel.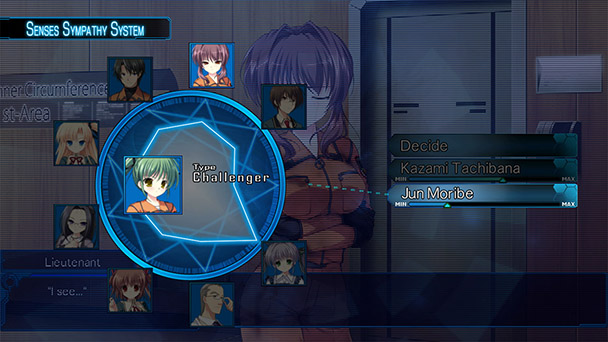 For Fans of Pulpy Fiction   
While Root Double's attempts to safeguard the suspension of disbelief in a convincing context, those not accustomed to a continual succession of reveals and dramatic shocks might not make it all the way through. You'll have to surrender to the novel's methods- and if you do, a procession of stirring divulgences is in store. The trickle of exposition follows a steady pace, and if you are a fan of these type of tales, it's exceedingly easy to become immersed in Root Double: Before Crime.
Instead of the dialog choice found in most branching novels, the title employs a unique system. Senses Sympathy System (or "SSS"), readers periodically bring up an Enneagram. Here, you'll be able to adjust trust levels for characters involved in the scene, with decisions having a direct affect on the storyline as well as the game's ending.
In execution, it's more involved that selecting responses in conversation. When you're first introduced to the system, you'll have to lower the trust of the main character while elevating confidence in another, or else face an early game over. Largely, the Senses Sympathy System is a success due to the novel's writing. Each of the other players you'll encounter have fairly complex personalities forcing your allegiances to fluctuate. More remarkably, is the novel's exploration of trust. As far as I know, few interactive titles have tackled the subject beyond the reliability of the narrator.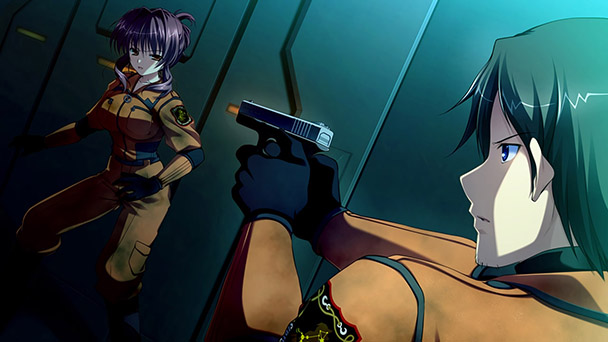 Conclusion
Visually, Root Double: Before Crime impresses.  Character portraits habitually fill the screen, have animated lips, and a wide range of expressions. Subtle effects such as the distortion from intense heat or the opacity of smoke are used frequently and contribute to the game's evocative imagery. Likewise, the novel's complete voice work is one of its best lines, with performances that contribute to the tensions. You'll definitely want to use a headset for Root Double's frequent sound effects.
Sure, Root Double: Before Crime * After Days succession of reveals might be a bit outrageous for those expected small scale storytelling. But across a fifty+ hour span, the novel weaves a rich tapestry of tensions and intrigue, that should keep visual novels engaging across four different scenarios. Along with the Adventure Series titles, this is a requisite read for Switch-owning visual novel fans.
Review Overview
Summary : With a multitude of different endings and events seen through multiple perspectives, Root Double: Before Crime * After Days- Xtend Edition offers an extended exploration of trust and the underpinnings of conflict. Or you can just overlook the themes and enjoy a delightfully pulpy epic.