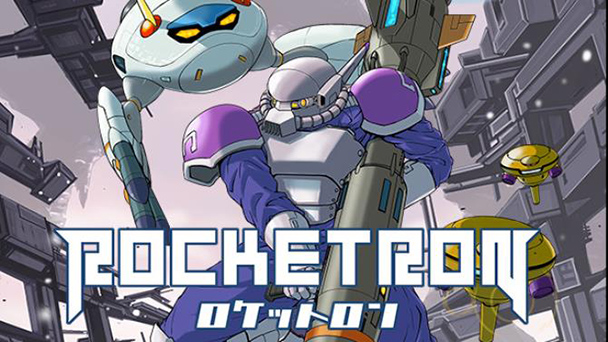 A Break from AAA Average
Triple-A titles habitually exhibit technical prowess, flaunting the capabilities of cutting-edge hardware. But sporadically, they can feel a bit empty, seemingly conceptualized by a battalion of marketing folk rather than from the imaginations of a tight knit team of impassioned developers. Continuing the mechanized action brandished by Gigantic Army and Steel Strider, doujin developer Astro Port revisits side-scrolling action with the PC release of Rocketron.
Whereas the developer's previous releases depicted mecha moving their way through largely linear environments, Rocketron offers a few deviations from formula. Unmistakably, the game draws inspiration from SNES title Super Metroid, tasking players with navigating through branching routes. Disorientation is offset by a mini-map on the bottom of the screen, while a more comprehensive atlas is available from the menu screen. While another homage of Assault Suits Valken (aka Cybernator) would have been welcome, the enjoyment of exploration reverberates through Rocketron.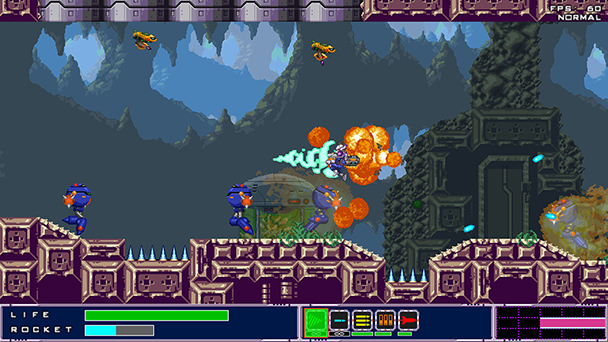 B.L.A.M. is the Name
Situated in the same universe as Astro Port's previous titles, Rocketron puts players in the role of B.L.A.M., a cybernetic warrior with a proficiency for powerful weapons. His quest to demolish a nefarious faction known as The Congregation of Gogoh begins with his dropship making a turbulent landing. As the vessel skims along the surface of planet Metnal 28, it mows down a succession of foes, establishing an energetic pace for the carnage ahead.
Initially, B.L.A.M. is armed with a basic musket. It's not very powerful, but like the subsequent firearms he picks up, has unlimited ammunition. But gathering crystals scattered around the labyrinthine locale allows each gun to be upgraded. With firearms like a shotgun and rocket launcher there's a nice variety of tools. Conveniently, Rocketron offers directional aiming, which is incredibly advantageous against enemies that tend to home in on your position. Rocketron's frequent boss battles will have you cycling through your armory, looking for the best tool to defeat each baddie.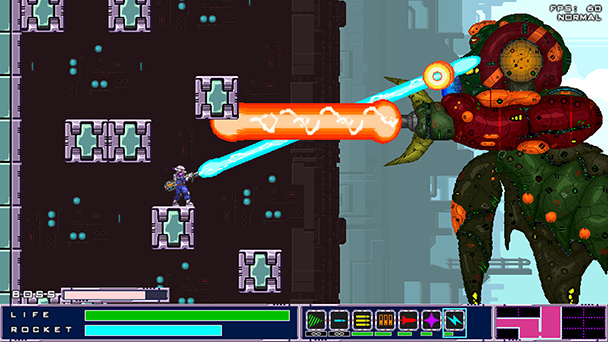 Guard Your Arms (or Lose Them)
Soon, you'll discover the title's distinctive take on weapon depreciation. Take damage, and B.L.A.M.'s life-bar will incur a deduction, but so will the active weapon. Take too many hits, and the gun becomes inoperable- at least until you gather enough restorative orbs dropped by defeated foes. As such, you'll be frequently goaded into changing your approach by the threat of temporarily losing a favorite gun.
B.L.A.M.'s other indispensable tool is his jetpack, which can be used to boost up to high platforms or glide though areas with hazards on the floor or ceilings. Conveniently, you can change your trajectory in-flight, and with a bit of practice, the protagonist becomes highly maneuverable.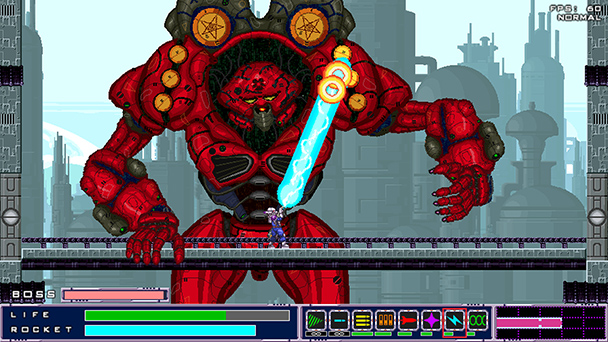 Clashing Senses of Progression
Like any respectable Metroidvania, you'll sporadically spot areas that are inaccessible- at least until you're augmented. Power-up crystals habitually dangle just out of reach, keycards are required to open doors, and block walls halt progress, but crumble once you've found the drill attachment. Naturally, there's a wealth of hidden caches as well with become perceptible once you've acquired the proper lenses.
Regrettably, fighting subordinates doesn't convey the same sense of advancement. Recalling the eight-bit era, zones are filled with swells of respawning adversaries. Although this makes it possible to grind for health- and weapon-healing pickups, when gauges are filled to capacity, you'll be motivated to push through as quickly as possible. Intermittently, this is intensified by area hazards like volcanos that erupt if you linger in a zone too long. Ideally, Rocketron would have woven an experience system in the game to ensure combat feels rewarding.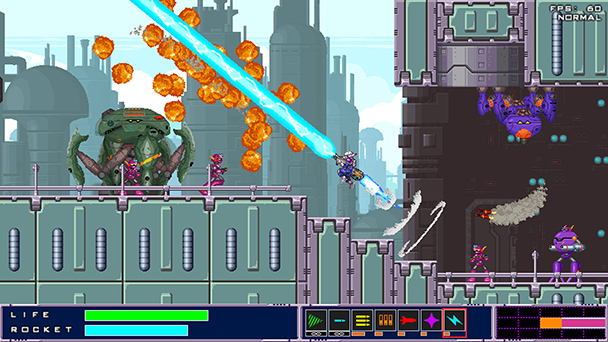 Rocketron was played on PC with review code provided by the publisher. 
Rocketron

Platform:
PC

Developer:
Astro Port
Publisher:
Henteko Doujin
Release date:
February 7th, 2020
Price:
$5.99

Availability:
Digitally via
Steam
Review Overview
Summary : Rocketron's back-to-basics approaches approach is appreciated. Visuals and gameplay are deliberately modest, putting the title's retro-rooted charms in the spotlight.