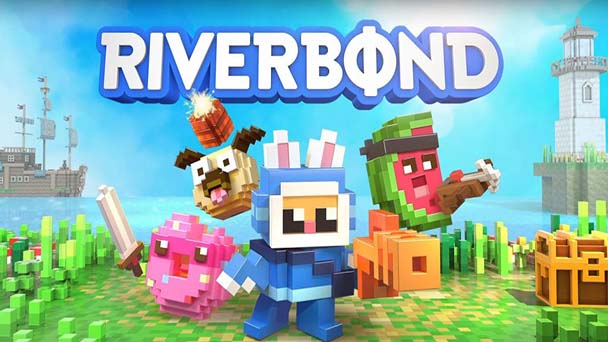 Not Just a Chip Off the Old Block
With vibrant visuals built with voxel technology, Riverbond could be mistaken for yet another Minecraft clone. But developer Cococucumber isn't interested in subjecting players to another derivative craft-a-thon. Instead, their latest effort hews closer to the type of accessible, optionally cooperative action found in Traveller's Tales prolific LEGO series. While a reprieve from resource collection is welcome, and the game's structure makes things approachable, a dearth of depth and difficulty ultimately make for a rather dispensable experience.
Interestingly, Riverbond shirks the kind of narrative-driven, protracted adventure that many contemporary titles deliver. Instead, you'll find a collection of eight unconnected stages, each taking  from thirty to forty minutes to complete. Quests are issued by curious characters like a mystical kappa or villagers under attack by a group of belligerent pigs. Each dispenses a few text boxes of exposition that supply an impetus, like the procurement of a giant key or the destruction of swine stations.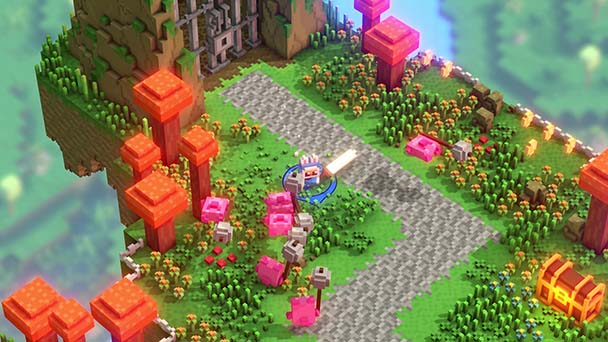 No Time to Talk, There's Fighting to Be Done
Riverbond favors conflict over conversation, which isn't a harmful choice. The strategy permits players to jump right into the action, instead of pushing them through a series of hollow tasks that exist solely to pad the playtime. Sure, you can increase your score by stopping to chat with the NPCs scattered across each colorful landscape. But largely, point totals exist only to stimulate stage replays or introduce a bit of friendly competition during the game's collaborative runs.
Typically, these kinds of titles interject play with a procession of small tutorials. Riverbond keeps conflict simple. Characters have access to melee and ranged weapons, as well as a ground pound attack regulated by a cooldown timer. Swingable arms like swords, giant lollipops, and even Aztec macuahuitls ("the obsidian chainsaw") differ in appearance, adding a bit of quirk to the proceedings. While there are some slight statistical differences, functionally there are similar, with each offering an underpowered charge attack or a succession of speedy strikes. Characters can carry up to five of these weapons at a time, with each stage concealing new arms in treasure chests strewn across each level.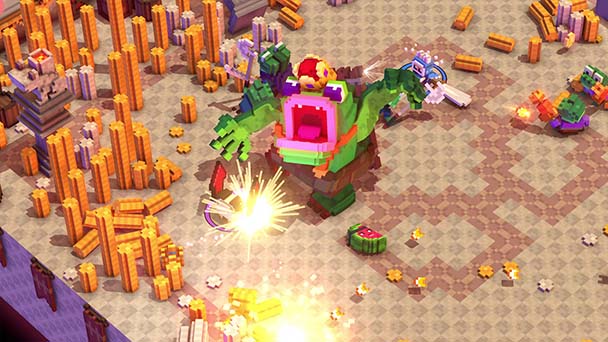 Say Hello to My Little Friends
Guns draw from unlimited ammo pools but regularly need to be reloaded. Curiously, Riverbond lacks any kind of strafing ability, making hitting all but adjacent adversaries a bit vexing. Fortunately, any kind of contact, even tossing the multitude of environmental objects, will stun foes. As such, fights are rather breezy affairs, rarely providing much of a challenge. Although groups of enemies occasionally will get a smack in, the game offers a generous supply of health-replenishing potions. And even if you're completely ambushed, unlimited lives and generous checkpointing means little time is squandered. That said, watch those falling drawbridges, they're nearly as deadly as the end-of-stage bosses.
While combat is simplistic and too easy, Cococucumber exhibits solid level design skills. Nearly everything on each level can be broken into tiny pieces, which makes slashing your way through a dense forest or smashing girders and watching a flooring fall feels enjoyable. While some might want a bit of direction to drive the destruction, I could imagine kids appreciating Riverbond's breakable biospheres. Largely, levels are built around discernable trails, so there's no need for any kind of map. But that said, there are plenty of dividends hidden just off the beaten path, with perks like skins that will make your character look like The Kid from Bastion, Shovel Knight, or even a piece of sushi.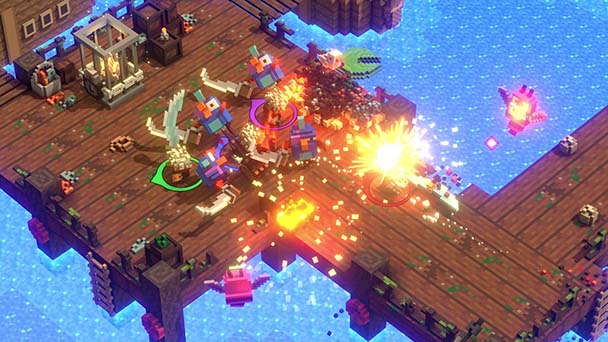 Detailed, Fluid Visuals
In first-person perspectives, voxel-based games can look a bit primitive. Riverbond permanently positions the camera above the action, shrinking down the blocks used to create characters and environments. When coupled with some attractive lighting and shadowing effects, the results are impressive, with the game displaying a mass of on-screen details while maintaining a rock-solid frame rate. The isometric perspective sporadically means you might miss the occasional entity hidden behind an object, but it's a small sacrifice on a game with few visual shortcomings.
Like other action games, with intensity escalates as the number of participants increases. Pleasingly, Riverbond handles up to four players, extending drop-in, drop-out convenience. Here, the game's low difficulty persists, with little scaling to prohibit quartets or trios from quickly cleaving through subordinates and even bosses. Challenge aside, venturing with parties is a spirited affair, and if you're seeking action that's stress-free, Riverbond might be worth a look.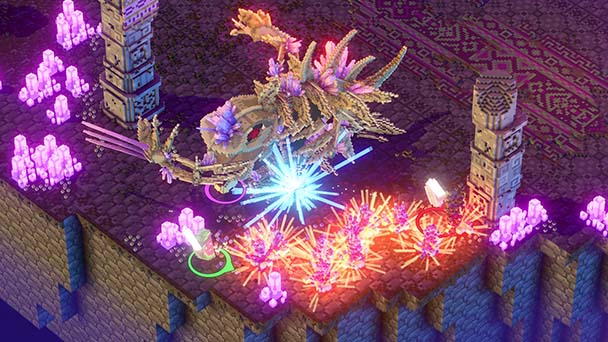 Riverbond was played on Switch with review code provided by the publisher. 
Review Overview
Summary : Riverbond's engine is a pure delight, filled the screen with vibrant voxels. Play isn't quite as polished, with anemic slashing and shooting across eight protracted stages.