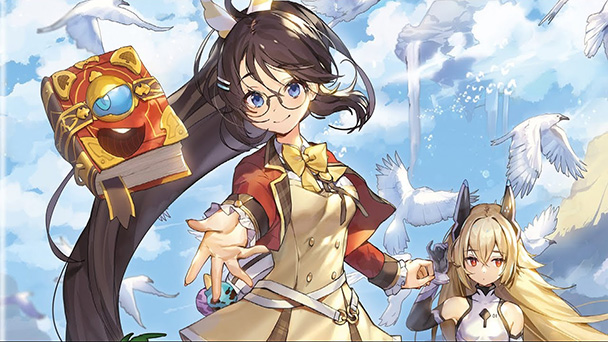 In concept, taking an action-driven loot crawl like Diablo and adding anime-inspired visuals certainly has the potential for success. Essentially, that's the approach adopted by the recent Switch release of RemiLore: Lost Girl in the Lands of Lore, a collaboration between developers Pixellore (Subterrain) and the eponymous RemiLore (Color Symphony 1 and 2, 222 Hearts). Battling legions of enemies, discovering new weapons, and upgrading your gear all offer simple enjoyment. But before long, you might be desiring a bit more depth as you battle your way through the title's labyrinthine halls.
Remi In Wonderland
Lost Girl in the Lands of Lore opens with the game's lead preparing to atone for her lackluster academic performance by cleaning a library warehouse. After a bit of tidying up, she accidently jostles a tome resting on a table. This startles the self-described Grand Grimoire, causing the large eye on the cover to abruptly open. In a drowsy haze, the book casts a spell, instantly teleporting the duo to a mysterious and hostile realm named Ragnoah.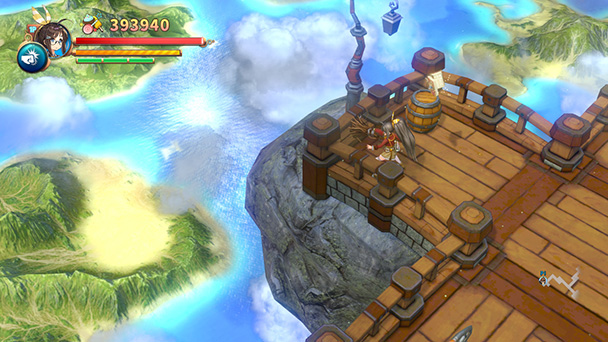 Remi soon gives the book the nickname of Lore, and with the tome in tow, she sets out to find a way back to the library. But in order to return, she'll have a reach a magical portal, since your bookly companion has already exhausted most of its magical power. Wisely, the developers keep the set-up brief, permitting players to jump right into the hack and slash-style action. Additional bits of plotline are conveyed via playful banter between the two characters. But since the dialog in spoken in Japanese, reading subtitles while battling mecha-monsters isn't an ideal form of exposition for those who aren't fluent. However, overlooking these conversational bits is hardly detrimental. Lands of Lore tries to provide character development through random bits of banter between the two characters. While there are some endearing interchanges, there's also a fair amount of filler.
Combat Errs on the side of Simplicity
Generally, the game's mechanics aren't all that much deeper that the conversations. Sure, the foundations of combat are solid, with Remi issuing two types of melee attacks and producing combos by mixing the two. Learning these combos is easy thanks to context-based button prompts that appear on-screen. Lands of Lore boasts over 200 different weapons which come is seven basic types. And while you'll likely learn to appreciate some of them, you can kill most subordinate monsters though button-mashing, the occasional use of magic, and the liberal use of a triple-dash that regulated by a cool-down timer.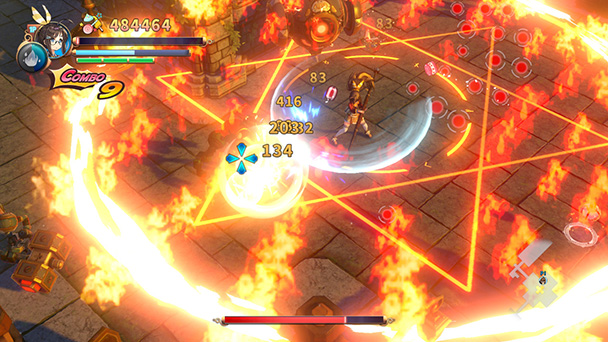 While the presence of procedurally-generated dungeon might seem like a boon, you'll quickly perceive a repetition across the four-act journey to the portal. Maps have long hallways with collectables located in the alcoves, with each passage connecting the battle rooms. The latter seal the doors when you enter, pitting players against a specific number of mechanized forces. But issues can occur when your sent to scrap in a diminutive room. Here, your dash maneuver often causes you to get stuck on enemies. All too often, you'll either end up surrounded or stuck in a corner, often requiring a restart from the entire four-stage run.
The Pursuit of Loot
Post dungeon rewards are based on three factors: how quickly you complete the trio of stages, how much damage you bore, and the size of your best combo. Do well and you'll earn up to an "S" grade and access to up to four treasure chests which grant Remi the use of new weapons. All too often, this can be a bit of a let-down, since RemiLore has the tendency to hand out duplicates, especially during early levels. But by picking up a new weapon, you'll register it with the in-game database (which you can check on the menu screen). While the process is a bit of an irritation, especially if the pop-up stat box tells you it's inferior, swapping is the best way to get the game to start dropping better weapons.
Both the monsters and destructible features that litter the environment will provide sweets for Lore to collect and exchange for upgrades. Venturing into the menu screen permits you to improve weapon drops, augment passive skills like the efficiency of health and magic potions, or upgrade your magic skills. Should you falter in battle, RemiLore adopt a rogue-like approach, confiscating some of your desserts. But larger, you've likely to make progress with each additional game.
Proficient Performance and Charming Visuals
Even in handheld mode, RemiLore is a faultless performer, extending a steady framerate even when the screen is teeming with enemies. Just as important, the game's visuals are poised to delight. Although Lore is just a diminutive sprite, he obediently follows Remi and captures sweets in workmanlike fashion much like Spyro's companion, Sparx the Dragonfly. While the protagonist doesn't convey much personality across the five-hour journey, attractive character portrait artwork helps define the character. Lands of Lore's unlockable rewards include a secondary protagonist, which contributes to the overall playtime.
Players who favor nuance in their loot hunts might grow bored by the RemiLore's repetitive play mechanics. The game's combat is fundamentally competent, but before long the cycle of issuing combos before dashing away might become tedious. But that's not to say that Lost Girl in the Lands of Lore doesn't have an audience. Younger players who want engaging action without having to worry about a complicated plot might enjoy Remi's quest.
RemiLore: Lost Girl in the Lands of Lore was played on
Switch with review code provided by the publisher. 
Review Overview
Summary : Undoubtedly, aping Diablo's loot-driven incentives has proved difficult for developers. While RemiLore's drip feed of new weapons isn't as adept, the game's anime-inspired artwork certainly helps to mask the deficiency.