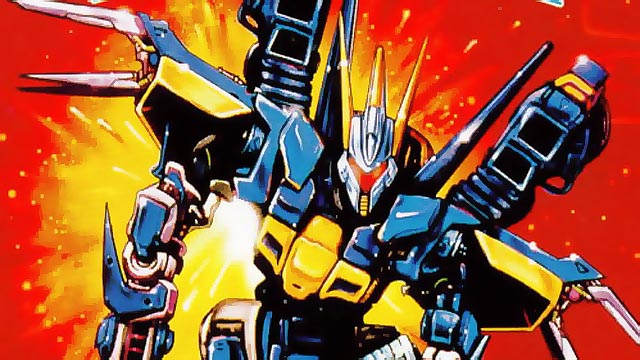 Before I came across a cartridge-only copy of Ranger X for the Sega Genesis while out shopping one day, I was completed unaware of the game's existence. This, I had no idea what the game was like or if it was even any good to begin with. All I knew about it was that there was a neat-looking anime robot on the label of the cartridge and that the game was only $1.45. My purchase of Ranger X was the very definition of a "blind-buy". I took a leap of faith, trusting only in my retro gaming instincts. The result of this choice was a game that was better than I could have hoped for, especially at that price.
Ranger X is a side-scrolling shooter with an unusual twist; a controllable unicycle robot called EX-UP, that's armed to the teeth. Combining Ranger X with EX-UP (by pressing down while standing on it) grants three great benefits; the ability to change your secondary weapon, the unification of both vehicles' pulse guns, and that the pulse guns automatically aim at the nearest enemy or enemies. If you're playing Ranger X with the six-button controller, you'll be able to move EX-UP independently by using the upper row's X and Z buttons. With the Genesis' standard three-button controller, you lose the ability to send EX-UP up ahead to clear the way. In stages three through five, the unicycle is substituted with a flying gunship sporting automated lasers.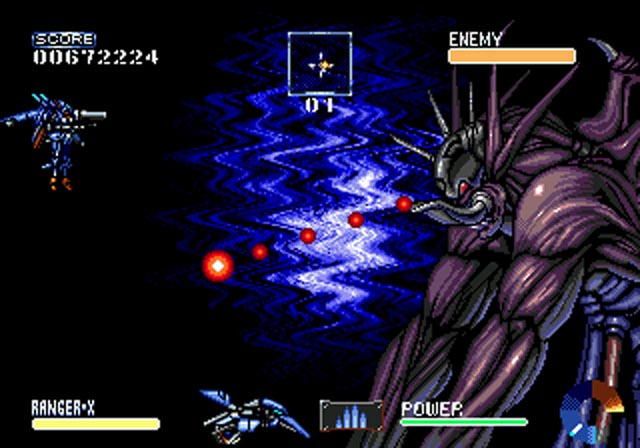 EX-UP aside, you'll find that the star bot has everything you could want from an Anime-inspired mech; a pulse laser gun with unlimited ammo, a secondary super weapon that comes in multiple flavors, and high-flying booster jets. The main weapons operate better than you'd expect because of
Ranger X
's ingenious control scheme. Pressing the A button fires your gun to the left, while pressing the C button fires it to the right. By assigning the gun's firing directions to the buttons, the Directional Pad is free to control Ranger X's movement. This means that you are able to shoot at enemies coming at you from either side while you fall back to put some distance between you and your foes.
The goal of each stage is to find and destroy several specific enemies or structures scattered throughout the level. These targets are displayed during 3-D wire-frame cutscenes that play before each stage. Once all of these objective enemies are destroyed, you have to take out a boss. Like all boss battles, your success depends on your pattern-recognition skills. Standard enemy forces will commonly rely on bullying quantities to overwhelm you. Some enemies, however, do require a special tactic to destroy them. For example, in the game's underground level, you'll come across these unusual-looking rocks that need to be cleared away. When you shoot these rocks, you discover that they are actually eggs that spawn these small, floating, wiggling creatures that your weapons can't eliminate. The way you take these pests down is by shooting a hole in the cave ceiling to allow light to shine down. When the creatures pass under the light to try to get you, it inflicts damage. One too many times trying to get to the other side of the light and they die. Another neat sunlight-related gameplay mechanic is that it recharges the power used by your secondary weapons and shield regeneration stations.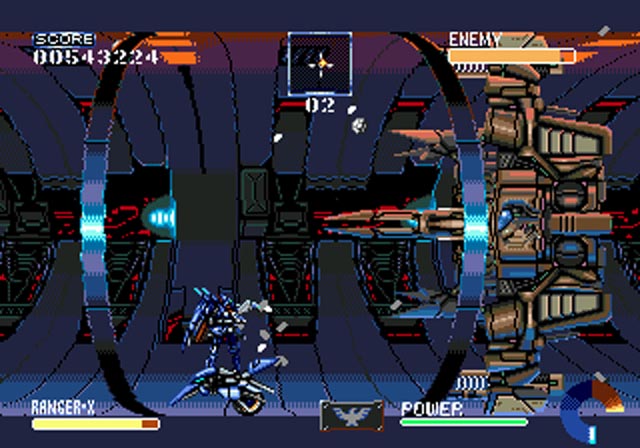 From a technical standpoint,
Ranger X
is one of the more impressive Genesis games I've played. The sprite of Ranger X itself has a plentiful amount of animation frames to it. When standing on an uneven surface, you'll notice that the knees are bent in a way that keeps the main body level. Unfortunately, I did find it jarring at times to see Ranger X's complex sprite moving on the same screen as some enemies that had as many frames of animation as most of us have fingers on either hand. The game more than makes up for this by offering richly-detailed scrolling backgrounds. Energy balls fired from turrets in the foreground rapidly descend on their targets in the background way off in the distance. The only time I ever noticed slow-down was during the first half of the boss fight from stage five. Considering how graphically intense the game can get at times, that speaks volumes about the effort that developer, Gau Entertainment, put into the game. Backing up the stellar visuals is an equally solid soundtrack. The Genesis' sound processor manages to churn out a memorable track list filled with a mix of synth horns, rock guitars, thumping basses and heavy metal drum beats. Thumbs-up for the presentation on all fronts.
I am one-hundred-percent confident in saying that my $1.45 blind-buy experiment was a complete success. This game far exceeded my expectations in practically every way possible. Anyone who still has their Genesis hooked up or close at hand owes it to themselves to eBay this game as soon as possible. Just be forewarned that playing on easy won't net you the game's proper ending. Ranger X is only available in its original cartridge form, leaving those who lack a Genesis no legitimate way of purchasing it. Although, considering Sega Genesis systems will only set you back around $20 or so, picking up both the game and the system shouldn't break the bank. Ranger X is a certifiable gem and I highly recommend it.