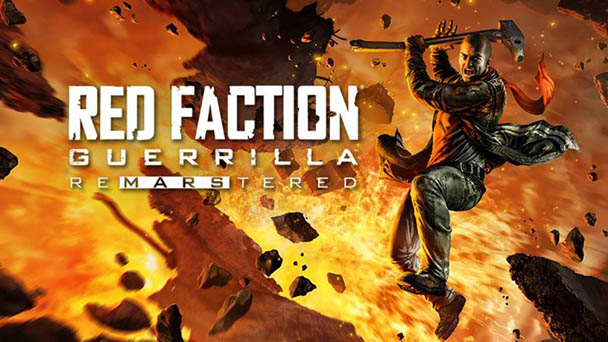 With a multitude of must-play, first party efforts, the Nintendo Switch is an unmitigated success. Likely, the platform's capability which allows Xbox 360 and PlayStation 3 games to be ported and played in portable form, has also been a contributing factor. Whether you're yearning to replay games like The Elder Scrolls V: Skyrim or Saint's Row: The Third or simply missed these seventh-generation hits, the hardware can accommodate. Although typically, there are a few endurable sacrifices.
That's certainly the case with Red Faction: Guerrilla Re-Mars-tered, which transports 2009's open-world destruction-fest onto the Switch. Upon its original release, Guerrilla was thoroughly astounding. Console games like The Incredible Hulk: Ultimate Destruction and Fracture permitted players to wreck parts of the environment. But Guerrilla took it a step further with the Geo-Mod 2.0 engine. In execution, almost any structure could be toppled if its structural support was compromised, opening up the potential for wild obliteration. Remarkably, this signature mechanic is retained in a respectable port of last year's remaster.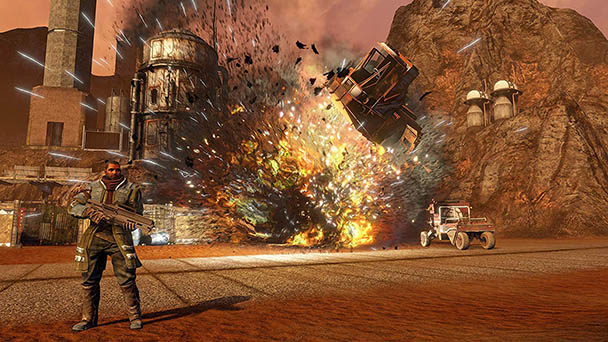 Destruction is Your Function
Much of Red Faction: Guerrilla's enjoyment stems from the drip-feed of devastating tools. You'll start the game with a sledgehammer and sticky remote charges, which are powerful enough to upend almost any building. Naturally, your default loadout isn't especially efficient. You'll discover that swinging away at scaffolding and planting a pair of explosives can be challenging, especially since your rebellious actions draws the attention of the local military, the Earth Defense Force. But gradually, you'll be given access to weapons like a rocket launcher that simultaneous fires a trio of rockets and can lock-onto vehicles or an arc wielder than can electrocute multiple foes. Much of the enjoyment stems from the game's push toward improvisation. Discovering how to rig up a car bomb that permits you to plow through a fortified gate is exhilarating.
While razing large-scale structures remains enjoyable, Guerrilla's storytelling is entrenched in last decade's tropes. With tightly-cropped hair and voice acting performed by Troy Baker, the game's protagonist embodies the everyman trope which dominated action games across the last decade. In Guerrilla, lead character Alec Mason in flung into the fray when his brother is killed by an Earth Defense Force airship and he's subsequently rescued by the game's eponymous insurgents. Taking up arms with the Red Faction across a myriad of missions, Mason's modus operandi is causing as much mayhem as possible.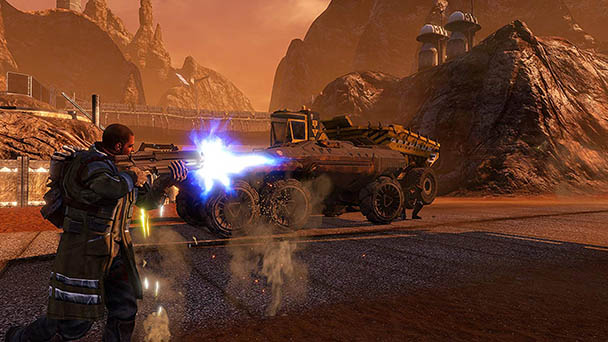 A Proficient Port Despite a Few Issues
Largely, the Switch is capable of rendering Red Faction's nondescript interpretation of Mars. Relying on a palette of ruddy browns and deep reds, there are instances of visual diversity, but they're largely confined to areas you'll visit during the game's waning hours. Occasionally, Mason's limiting leaping ability remains an issue, and you'll habitually get stuck among a pile of scrap or at the base of a hill. But the larger issue is the game's framerate drops.
Re-Mars-tered provides players with the option of playing in Quality or Performance Mode. The former favors image quality, making the vehicular treks to your next mission just a bit more attractive. The latter favors framerate, but it's hardly the panacea its moniker might infer. Get into a shootout against a throng of enemies and Guerrilla will sputter, putting you at a serious disadvantage. You'll also be at a poised for defeat if you opt for the game's default control scheme. Not only is aim sensitivity dialed up way too high, but click on the left thumbstick for first-person zooming, habitually causes you to look toward the game's skies. Although it's commendable to see Guerrilla's destruction on the Switch, sporadically you'll see debris cartoonishly bouncing around. On the upside, there's Splatoon-like gyroscopic aiming, if you're into motion controls.
Supplemental Modes and Content Add Value
Much like the recent release of Saint's Row: The Third – The Full Package, THQ Nordic bundles both the physical and digital iteration of Re-Mars-tered with all of the original DLC. Demons of the Badlands is undoubtedly the high point, appending the game with a single-player prequel that adds new locations, weapons, and vehicles. It doesn't manage to outshine the main campaign, but it's an engaging diversion that contributes a few hours of fun.
For many, Guerrilla's Wrecking Crew mode will be a delight. Here, single players or competitors go on a rampage, trying to destroy as much property as possible across three short runs. You're given unlimited ammo and preselected weaponry, which is a catalyst for controller-clenching intensity. Pleasingly, there's online multiplayer support for possessors of Nintendo's Switch Online pass.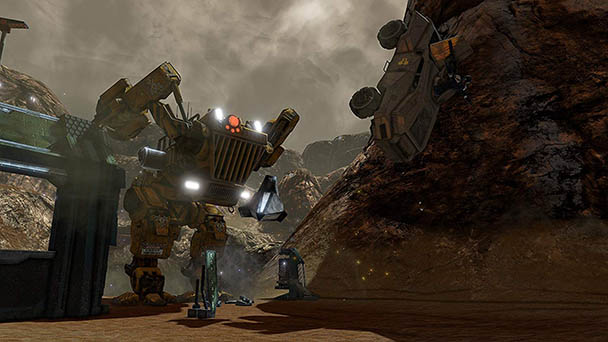 Conclusion
A decade on, Red Faction: Guerrilla shows a few signs of aging, with storytelling and characterization that feel a bit dated. But at the game's core, the reckless destruction of enemy property remains gratifying. Being able to play the game on the go is a nice perk. If that's something you want, then pick up this Switch version. Otherwise, the console and PC versions are a bit cheaper and offer a more aesthetically appealing insurgence.
Review Overview
Summary : Even in performance mode, Red Faction: Guerrilla Re-Mars-tered's framerate can sputter, making firefights feel clumsy. But largely, it's the price you'll have pay to play the game (and it's DLC) on the go.