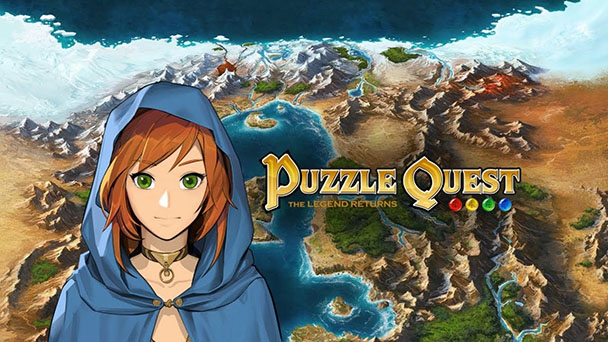 March 2007 was a prosperous month for games, with titles like Grand Theft Auto: Vice City Stories, MotorStorm, God of War II, and Earth Defense Force arriving on store shelves. Despite the release of an assortment of prominent experiences, it was mid-month debut of Puzzle Quest: Challenge of the Warlords that ended up occupying the bulk of my leisure time.
Sure, I had played a multitude of match-three puzzlers. From Tetris Attack (aka Panel de Pon in Japan) to Bejeweled, I moved through a procession of tile-switching games. But Puzzle Quest was completely different.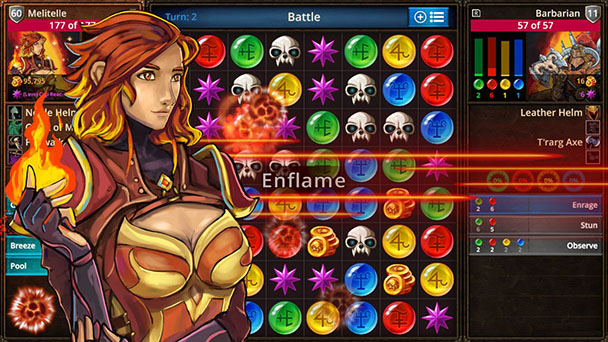 Trying to slide blocks to make matches of three or more of the same tiles was no longer an empty end-goal. Instead, Puzzle Quest was built around role-playing formula, with combat build around a match-three system. But defeating AI opponents relied on more than just creating a cluster of skulls to eliminate hit points from your foe. You also had to build up reserves of mana, by removing different colored blocks from the playfield. Store up enough mana and you could summon spells that could attack, defend, or do things like change tile color.
Another large deviation from match-three formula was having rivals share the same playfield. While luck was introduced when new blocks dropped into the playfield, success often involved being able to predict your opponent's next move. The last thing you want to do if leave a string of skulls, allowing an adversary to slide in a tile for an easy, but hard-hitting, assault.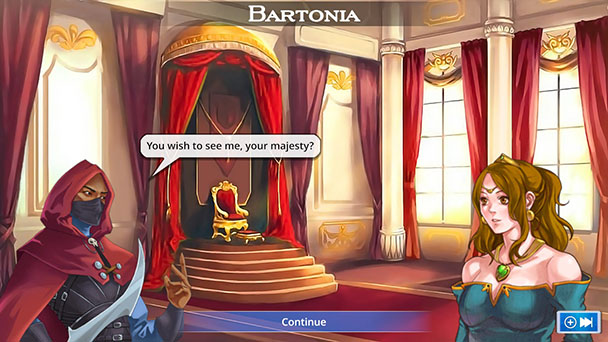 In execution, battles were especially tense, with momentum sporadically shifting between you and your opponent. Combat also took longer to revolve than the fleeting encounters of most RPGs, elevating the intensity of each showdown. Defeating an opponent could be accomplished in a number of ways. While you could gradually wear down foes, you could also try to set up a formidable attack that would put you on the path of victory.
The recent release of Puzzle Quest: The Legend Returns for the Switch is an enjoyable reminder of brilliance behind the original release. Purchase the fifteen-dollar download and you'll be privy to the original campaign and the Revenge of the Plague Lord expansion, as well as 100 new questions. Even more remarkable are the game's five new classes, the Blood Mage, Priest, Monk, Paladin, and Elementalist. Not only does each class play a bit differently, but that increase Puzzle Quest's difficulty range, which is compassionately articulated before you begin each game.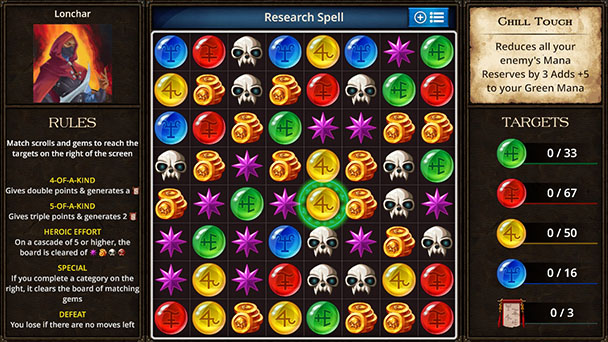 Naturally, the game's storytelling still feels minimal. Voice work for dialog absent and since the text favors brevity, don't expect to become immersed in the stale 'save the kingdom' impetus. Largely characters aren't given enough much depth, beyond being the sponsors for a perpetual cycle of quests. As such, it's easy to lose track of the overarching reason you are traveling across an overworld screen.
But largely a shortage of role-playing exposition does little to undermine the addictiveness of Puzzle Quest. You'll enthusiastically revisit combat because you're spurred on by some new task, whether it's a monster to defeat, an item to collect, or merely saving enough gold to purchase an axe that provides fire resistance. That way you can finally overcome the creature who launches a series of combustion-based assaults. Occasionally, there's the sting of frustration when luck turns against you. But it's never disheartening enough to stop you from grinding up your character to even out the odds.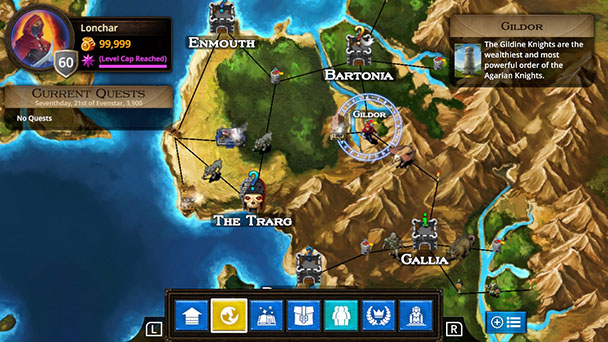 Since the original release of Puzzle Quest, the match-three genre has embraced hooks like cool-down timers, pesky advertisements, and assistive items that cost real-world money. While developers habitually state otherwise, there's usually a point where frustration pushes you into a purchase. Wisely, The Legend Returns eschews all those tacky elements and it's gratifying to play a game that treats you like a challenger rather than a just a consumer.
Puzzle Quest: The Legend Returns was played on
the Switch with review code provided by the publisher. 
Review Overview
Summary : The match-three game was nearly run into the ground by developers preoccupied by revenue streams. Pleasingly, Puzzle Quest: The Legend Returns gives the genre a rejuvenation, mixes match-three with role-playing, all while shunning the need for in-game purchases.