While Nippon Ichi Software is better known for their strategy role-playing efforts, these two platformers demonstrate proficiency. Nearly a decade on, they're still profanity inducing, but never impenetrable.
Prinny 1·2 Exploded and Reloaded 
Platform:
Switch
Developer:
Nippon Ichi Software, Engine Software
Publisher:
NIS America
Release date:
October 13th, 2020
Price:
$19.99 each via digital download, or $59.99 for physical
Just Desserts
edition
Availability:
Nintendo eShop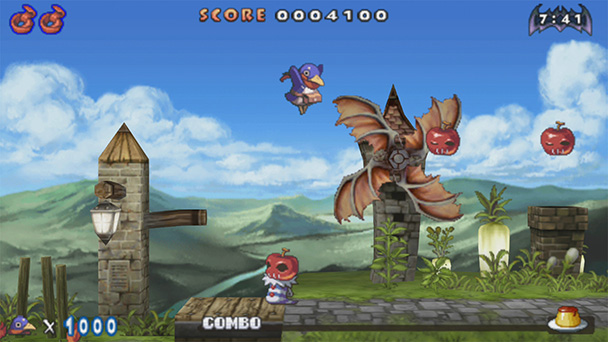 Prinny: Can I Really Be the Hero? and sequel Prinny 2: Dawn of Operation Panties, Dood! were rather perplexing PSP releases. Now recognized for their daunting difficulty, it was as if developer Nippon Ichi Software teased, "you know all that time you sank into Disgaea? We are going to show you exactly what it did to your platforming prowess." If that wasn't trolling hard enough, each title supplied players with one thousand lives for the dozen stages across in each title.
Sure, that figure seems enormous at first, especially as you made your way through each game's two-part tutorial, which offered a watered-down level of challenge. But gradually, you'd lose Prinnies to stage designs that punishes players who were unwilling to memorize every enemy position and environmental hazard. Bosses battles were even worse. It wasn't uncommon to lose a dozen little doods before attack patterns became evident.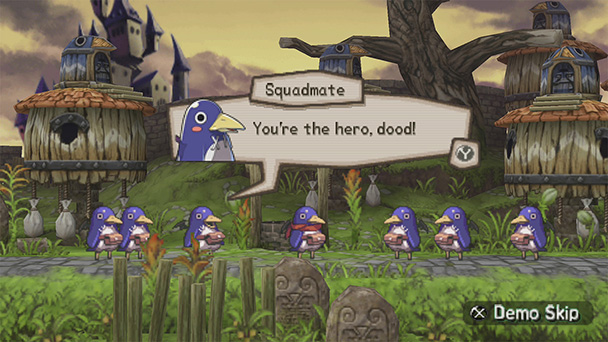 Me and My 1000 Dood Army
Before you know it, you'd be down several hundred prinnies, wondering if the final boss would steal your last life. A decade on, here we are again with the Switch release of Prinny 1·2: Exploded and Reloaded, with unites the two titles (alternatively, there are available separately via a digital purchase). The visuals might be marginally improved, but that same sense of essential game dread hasn't changed one bit.
If you never played the original games, you might be wondering why they're so challenging. Much of the difficulty stems from each game's jump mechanic, which harks back to the eight- and sixteen-bit eras. Like Sir Arthur in Super Ghouls 'n Ghosts, you can only change the trajectory on your double-jump in the middle of your leap.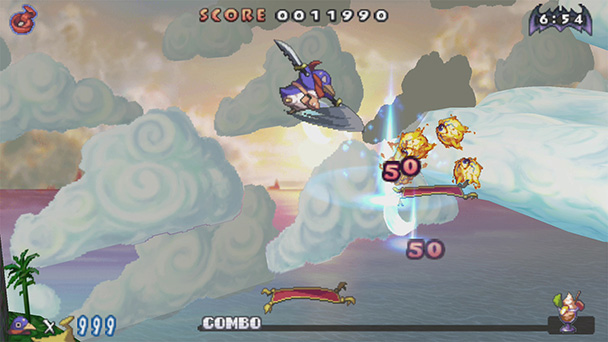 Convincingly Uncooperative Prinny Physics
Unlike most modern games that permit players to use aftertouch for pixel-perfect precision, Prinny hurdles at awkward angles, making a precise ground pound a bit problematic. Besides sluggish climbing speeds when pulling yourself up over a ledge, coming into contact anything perilous would fling you around sadistically.
Fortunately, a hip pound wasn't the only tool in the Prinny arsenal. Gratifying, they come armed with knives with a rapid drumming of the attack button producing a highspeed attack that rivals Chun Li's signature lightning kick. Perform this assault while in the air and not only will your Prinny temporarily hover, but they'll also launch projectiles downward, as the game shifts to a 2.5D perspective.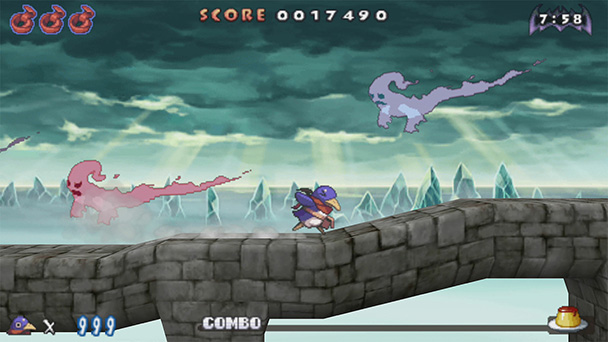 You'll Need More Than Just Razor-Sharp Reflexes
Success in each title demands perseverance and nerves resilient against rattling. Much like the Mega Man games of yesteryear, reflexes alone won't let you make it through alive. Instead, you must memorize the layout of each level, discovering how to pass every new threat the titles toss your way. Initially, it might feel unmanageable but then you'll glean some way to overcome each hazard and wonder why you initially struggled. Can I Really Be the Hero? and Dawn of Operation Panties, Dood! aren't traditional puzzlers, but they'll exercise the same parts of your brain.
Each game has a slightly different pursuit, with Hero's impetus revolving around the recovery of six ingredients for Etna's Ultra Dessert. As the moniker implies, Operation Panties centers on locating the Prinny Squad leader's stolen skivvies. If you're not a Disgaea fan, the interludes won't have much impact, but they're succinct enough to not be disruptive. N1 fans, especially if they missed the original PSP releases are likely to relish the dialog delivered with Japanese or English voice acting.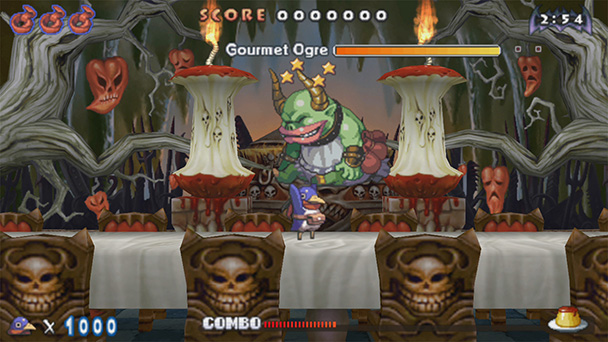 Red Scarf Slapping
Pleasingly, Panties advances on some of Hero's ideas. A combo bar in the first game rewards players with a food item, or more infrequently, replenishes a hit point. But unless a level offers a string of hip-pounding targets, filling the gauge is rather uncommon. With Panties, attacks and item acquisitions fuels the meter making it easier to reach capacity. And once it does fill, Prinny becomes a powerhouse, with moves like the Hip Pound and Dodge Spin damaging enemies. There's also the creatively named, Prinnikaze which lets you perform a spinning air tackle capable of eliminating a succession of foes. Intermittently, these kick in during a boss battle, removing some of the stress of learning attack patterns.
Nicely, Dawn of Operation Panties rewards players with an unlockable mode that features a playable character that should be familiar to Disgaea diehards. One of the most interesting aspects of both titles is a time cycle that advances during play. While the result isn't as impactful as the weapon procurements in Mega Man, playing stages in different successions shows some slight remixing and even a variation in some of the boss showdowns. The result is a bit of longevity that's a welcome addition to the genre.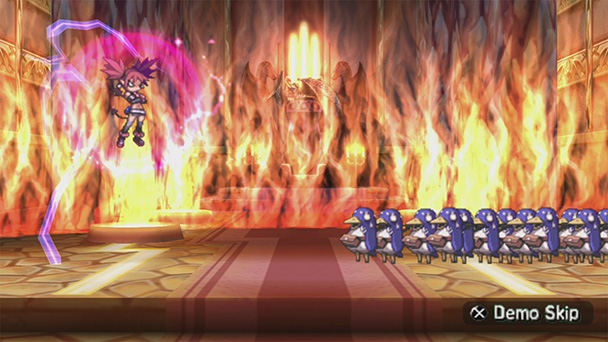 Conclusion
Visually, Prinny: Can I Really Be the Hero? and sequel Prinny 2: Dawn of Operation Panties, Dood! look both looks satisfactory on Switch screens. Sure, the fidelity isn't quite as crisp as titles built from the ground up, but there's a respectable upscaling of PSP assets. More importantly, the game flaunts a sixty frame-per-second fluidity, eliminating response time the list of excuses when you falter. While this isn't the publisher's fault, Nintendo's wayward alphabetizing puts the titles out of order. Although the old-school difficulty of each game might be off-putting to some, there's satisfaction found in the titles, especially for masochistic netherworld devotees.
Prinny 1·2 Exploded and Reloaded was played on
Switch with review code provided by the publisher. 
Review Overview
Summary : With Sony seemingly retreating from the portable market, the Nintendo Switch is rapidly becoming requisite hardware for Disgaea fans. The re-release of these two challenging platformers bring two solid spin-offs to the system, offering at least a dozen hours of punishing, Prinny platforming. Like the rest of the franchise, the two titles in Exploded and Reloaded have aged exceptionally well.