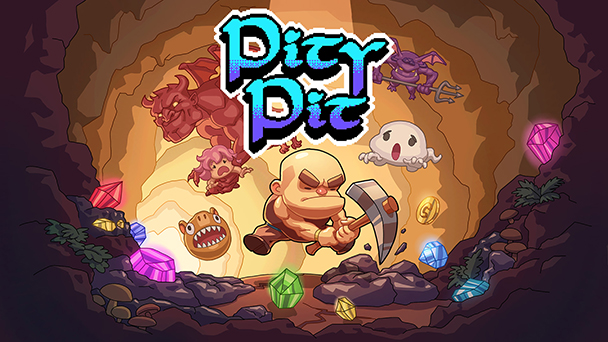 Beware retro adventurers: there's more frustration that fun in Pity Pit. If you do jump into the economically priced title, expect short-lived enjoyment.
Pity Pit
Platform:
PC, Switch
Developer:
Panda Indie Studios
Publisher:
eastasiasoft
Release date:
June 11th, 2020
Price:
$4.99 via digital download, current price $3.99 (Switch)
Availability:
Nintendo eShop
,
Steam
As games like Dig Dug (1982), Boulder Dash (1984), Mr. Driller (1999), and SteamWorld Dig (2013) have demonstrated, tunneling through subterranean environments can be extremely entertaining. With the release of Pity Pit, the solitary developer behind bullet-hell shooter Red Death offers yet another interpretation of the hazards of excavation. However, Pity Pit's a bit too demanding and simplistic to recommend.
Save for an admiration for alliteration, Pity Pit is an odd moniker. Sure, the end of each run is occasionally punctuated with a disparaging, "Git Gud" message and an obviously loud death melody. Given you'll begin the game with two hearts, or two paltry opportunities for mistake, frustration is likely. But you'll probably won't feel any sense of self-shame. Pity Pit starts off hard and doesn't let the adversity let up, so culpability rests on the developer rather than any lack of player skill.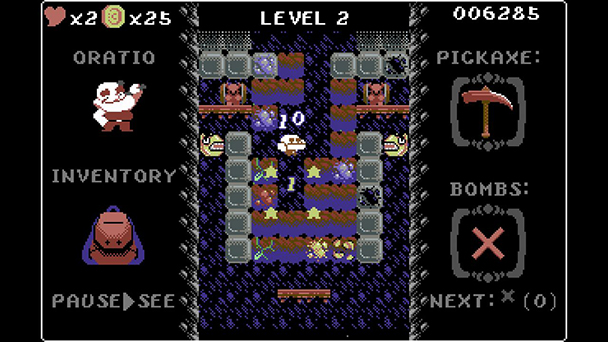 Can You Dig it?
Instead, Pity Pit probably should have been named, "Oratio", after the game's bald, bulky-chinned protagonist. Armed with a pickaxe, the lead determinately burrows through most types of terrain. While basic soil can be dug through in a single button press, denser elements like rock requires a few taps. Oddly, scaffolding can't be broken, so Oratio performs a lot of lateral movement through the procedure-generated landscapes.
Although you're fundamentally free to forge your own path downward, incentives might influence your course. Half-buried resources such as iron, copper, silver, and even diamonds as well as a plentiful supply of gold coins are scattered throughout the soil.  While you'll occasionally unearth an ability-augmenting power-up that boosts you digging speed or adds to your offensive abilities, you'll also use collected resources to purchase items in stores that dot the game's five stages. But you won't have much time to make decisions. The surface is gradually crumbling and if you're caught in its path, the game ends.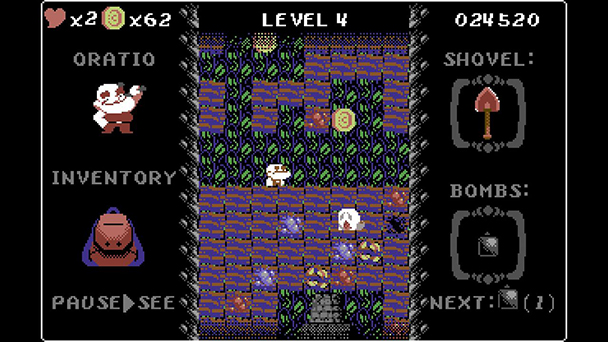 Peril is Pervasive in the Pit
But environmental threats aren't the only dangers. A multitude of monsters will roam about, many of them homing in on ill-fated Oratio. You can defend yourself with your pickaxe when some of the weaker varieties approach from the sides.  You can also strike foes when you're tunneling downward if your timing is precise. But these tactics won't work on shielded monsters, who are best avoided. In execution, evasion is one of the best practices to earn a decent score in Pity Pit.
Bombs are sprinkled around the soil and can be picked up, while TNT crates are surprisingly plentiful. Triggering either of these set off explosions. Although you can jump out of harm's way, near-instantaneous denotations can make use tricky. Other tools like a downward shot that fires when you dig into an empty space are often more dangerous than advantageous.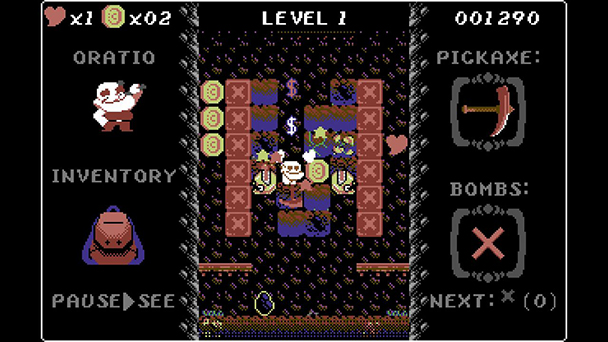 Lack of any Meta-Game Elements Impairs Replayability
Chances are, you'll play Pity Pit a few times, before frustration pushing you away. This could have been avoided with the inclusion of some simple roguelike mechanics. Being able to trade in raw materials for permanent power-up like additional health, greater offensive strength, or armor would have provided a much-needed incentive. Pity Pit has some decent fundamentals, but it seems as if developer Panda Indie Studio didn't strive to endow long-term play value.
Another sign of indifference is found in the game's abandonment of traditional control schemes and any kind of tutorial. Want to turn off the game's music or the basic haptic feedback? You'll do that during the first stage, using your axe to hack at on-screen icons. Although that might sound charmingly antiquated, on-screen text that states, "air dig down → shoot" might be one of the most cryptic communication of any modern game. Even entering a store or blacksmith is more obstinate that it should be.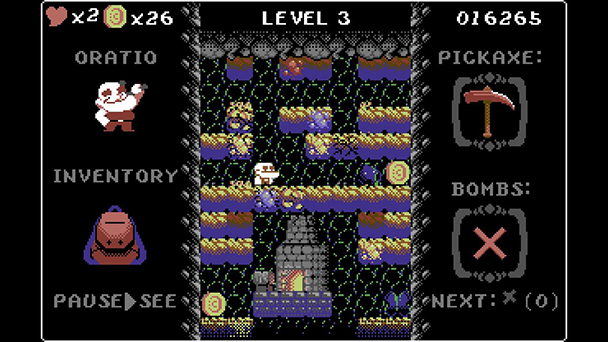 Conclusion
Pity Pit's old-school look, which resembles Commodore 64 game will undoubtedly turn off some players. But even retro die-hards are going to be put off by the title's playability. There's potential in action/puzzle burrowing, as evidenced by the release of Mr. DRILLER DrillLand later this month. But Pity Pit's design decisions put Oratio in an ill-fated predicament.
Pity Pit was played on Switch with review code provided by the publisher 
Review Overview
Summary : Woefully, Pity Pit focuses on the single scoring runs instead of incentivizing repeat play. If you're OK with that, and can overlook control-based blemishes, the low-cost quarry is waiting for reckless adventurers.