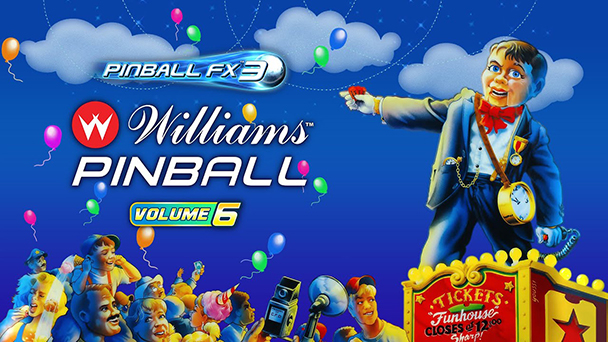 Another trio of classic Williams' tables arrive on Pinball FX3. But before you push the purchase button, you'll want to make sure you don't own two of the tables in another collection.
Pinball FX3 – Williams Pinball: Volume 6
Platform:
PC, also on PlayStation 4, Switch, Xbox One, and iOS
Developer:
Zen Studios
Publisher:
Zen Studios
Release date:
October 20th, 2020
Price:
$9.99 via digital download
Availability:
Steam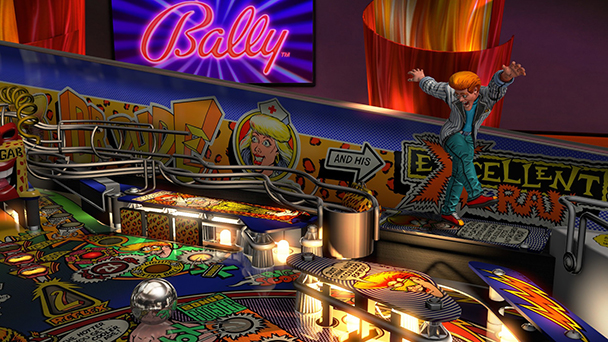 Pinball is a game about tragic inevitability. No matter how good you are at keeping the silver orb in play, inevitably gravity will win, dropping the ball down that stinking sink hole. Similarly, that's also the challenge faced by Pinball FX3 developer Zen Studios. Since the game's release back in 2017, the Budapest-based team has been doggedly adding new tables to the game, in an effort to sustain interest for their pin-simulation.
Originally, Pinball FX 3's add-ons consisted of original tables build around well-known properties, such as Star Wars and Universal films like E.T. the Extra-Terrestrial, and Back to the Future. But in 2018, Zen began adding adaptations of real-world tables. Williams Pinball: Volume 1 was their inaugural effort, bringing console and PC owners dazzling recreations of The Getaway: High Speed II, Junk Yard, and Medieval Madness– a trio of tables cherished by fans.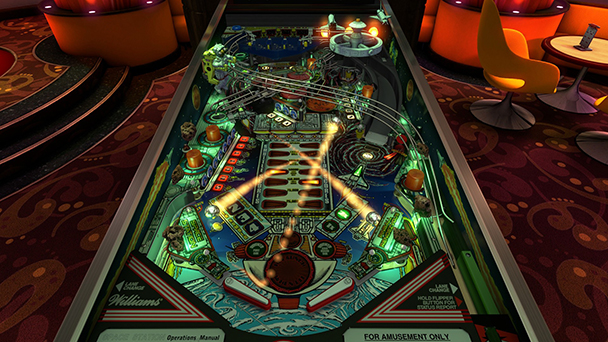 End of the Eighties Pin
With the release of Pinball FX3 – Williams Pinball: Volume 6, Zen provides yet another trinity of time-honored tables. Originally released in 1987, Space Station is the oldest of the collection, and is a follow-up to 1984's Space Shuttle, the machine many feel nearly single-handedly saved Williams from bankruptcy and provided hope for the pinball industry in general.
Both Dr. Dude and His Excellent Ray and FunHouse arrived in November of 1990. Both were some of the last machines to employ an alpha-numeric display (also called a Union Jack or starburst for their sixteen-segment character displays). Soon after, Williams would transition into liquid crystal displays (LCDs), which permitted manufacturers to add elements like animations and mini-games. Undoubtedly, each table plays a role in the legacy of pinball.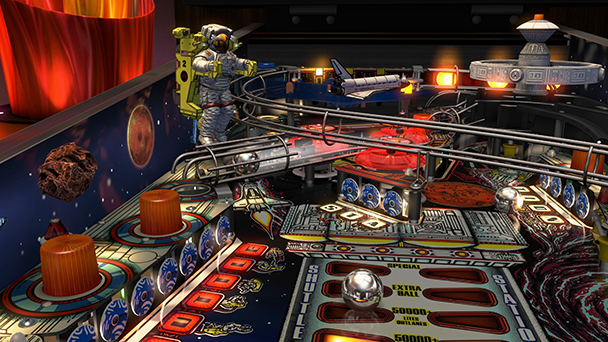 Space, The Final Frontier
Revisiting Space Station reveals an intriguing design decision, with designer Barry Oursler opting for a conspicuously open lower playfield, signifying the emptiness of outer space. The result is a challenging table, but mercifully, there's no shortage of scoring opportunities. Target banks spell out "SHUTTLE" and "STA" and "TION", offering random rewards that range from 150,000 points, activation of the kickback, or even an extra ball. Three glowing green lights lead the way to the machine's multiball, which occurs when after players dock three balls. Redocking two ball afterward results in a modest jackpot.
Similarly, Dr. Dude offers a rather empty space above the sink hole, save for the table's trademark "Dude-O-Meter" inlaid on the playfield. Notably, the original machine extended a progressive jackpot ("a gazillion points") that carried over across games. But because of the potential for exploitation, Zen removed persistence as they did with The Party Zone from the second Williams volume. Still, the table's motif of a charismatic physician imparting coolness feels distinctive, especially given the supply of '80s campiness.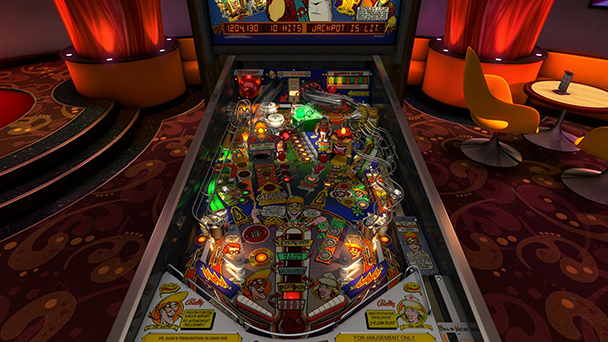 Here, players attempt to secure a trifecta of traits, from securing a magnetic personality, acquiring the heart of rock 'n roll, as well the gift of gab by hitting a trio of targets. Putting the ball in the spinning mixmaster and hitting a ray gun causes the transformation to take place, kicking off multiball. Dr. Dude's incorporation of timed challenges might prove to be contentious, with short opportunities potentially causing frustration.
Rudy isn't Quite as Creepy in Digital Form
With an animatronic toy (dubbed "Rudy") in the center of the playfield, FunHouse is arguably the most iconic of the volume's tables. It's also the most enjoyable. During play, Rudy (voiced by Mortal Kombat co-creator Ed Boon) remarks on in-game events, alerting the players to special bonuses and even following the ball around with his eyes. Sadly, it's not quite as unsettling in a digital simulation, without the clickity-clack of twitchy mechanical movement.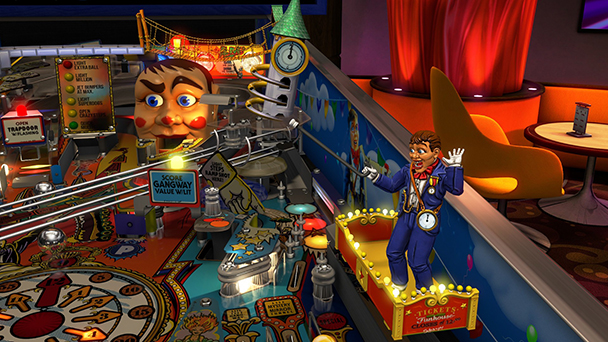 In keeping with the theme of a fairground attraction, FunHouse's numerous ramps transport the ball to different parts of the field. The result is a fast and fluid game of pinball. It's also one that has surprisingly subversive rewards, such as the satisfaction of smacking Rudy with the pinball after he heckles you.  With a multitude of scoring opportunities and quirks like a second plunger, FunHouse has more longevity that your average table. It's easily one of my top five machines.
A Few Blemishes
While Zen's simulation of table physics and ball behavior is blameless, the game's sound mix is obviously flawed. Each table's background music is substantially hushed, and Rudy's voicework seem muffled. Trying to rectify this issue in the game's audio menu doesn't fix the problem, which puts a damper on play. For diehard pinball fans, there's a chance that they might own some recreations of these tables already. Space Station and FunHouse were included in Pinball Hall of Fame: The Williams Collection. The Pinball Arcade has all three titles as part of its library. Developer FarSight lost the rights to these properties in 2018 and they're now in Zen's possession.
Undoubtedly, Williams Pinball: Volume 6 is a worthwhile assemblage, especially with the inclusion of FunHouse. Although the collection's modification of Dr. Dude's progressive jackpot is understandable, the presence of obviously flawed sound mixing is not. Hopefully, the developer can remove this stain on an otherwise respectable pinball package.
Review Overview
Summary : Williams Pinball: Volume 6 send players back the dawn of the nineties, when the fate of pinball slung precariously. Here are a trio of efforts that desperately hoped to reinvigorate the recreation.