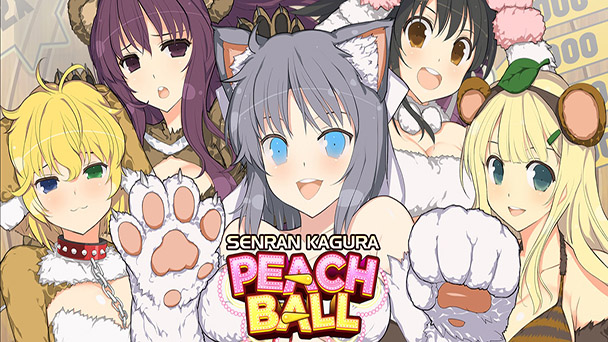 The Senran Kagura franchise is approaching a pivotal junction. Across four main entries and a multitude of spin-offs, the unabashedly cheeky series has centered on the exploits of scantily clad shinobi, extending as much cavorting as factional conflict. But Sony's prudish policy changes have seemingly exasperated series creator and producer Kenichiro Takaki. Although he'll assist with the development of Senran Kagura 7EVEN, a departure from Marvelous sent an unambiguous message that Takaki doesn't appreciate the meddling of his mischievous property, potentially putting the franchise's future in jeopardy.
For now, there's Senran Kagura: Peach Ball, a port of the recent Switch release. Given Steam's current hands-off stance, it's a game that still revels in the kind of playful antics that have become a series mainstay. Here, Shinagawa-based developer Honey Parade Games reinvigorates the blend of pinball with puckishness that was once a part of the pastime's history. Classic pinball tables like Viper, Mata Hari, and Elvira and the Party Monsters managed to make a collection of mechanical parts somehow feel sexy. Removed from the confines of the analog world, Peach Ball has it easier. With a section of Kagura's cast rendered on-screen, the rewards for hitting skill shots include cinematics like bustlines covered with ice cream. While that's amusing the first few times you witness it, you'll probably wish the title emphasized longevity as much as it romanticizes lasciviousness.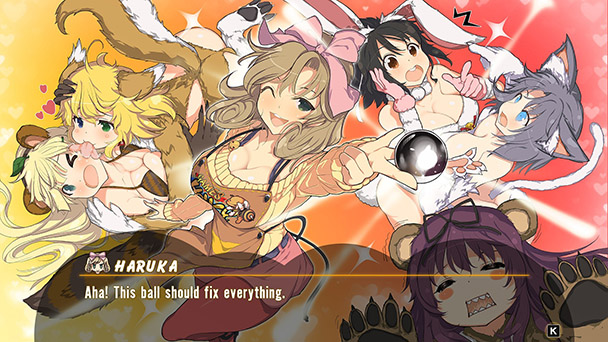 Animalistic Tendencies
While Peach Ball's fan-service will probably get the attention, it's the brazenly bizarre storyline that begs for notice. The premise is rooted in Haruka's reckless experimentation. While working at the local arcade she's also created a special potion. It hasn't been tested, so she puts the bottle on the top shelf, presumably to keep it from falling into curious hands. But when Ryona mistakes the serum for cleaning fluid, things get a bit weird, and her friends Asuka, Marusaki, Yomi, and Yumi, all begin turning into half-human/half animal creatures.
Despite the obvious fetish appeal, the girls want to return to their regular form. Doing so involves having the girls straddle on top of the tables, while the vibrations of the eponymous peach ball release some kind of curative mist. And while the main storyline is wonderfully outlandish, some of the in-game banter leans toward the irreverent, impairing the significance of the main plot.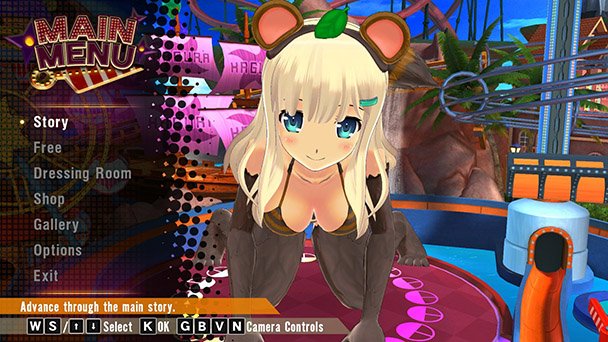 Peachy Play Despite a Scarcity of Tables
Challenge Peach Ball's story campaign and you'll be tasked with restoring each shinobi to their human state. Doing so involves completing a multitude of tasks, which are conveniently listed on the right side of the screen. This gameplay primarily takes place on two rather tables, Peach Land and Spooky Shinobi Park. While the game's physics might mean toward the floaty and with eight balls per play, err on the side of lenient, there's still the archetypal pinball features you might expect. From causing spinners to rotate to spending the peach ball speeding across ramps, there are a healthy number of targets, but just not as many as say the tables in Pinball FX 3 or The Pinball Arcade's recreations of real-world tables.
The key feature on both Peach Land and Spooky Shinobi Park is one of Senran Kagura's five shinobi, positioned at the top of the playfield. After completing enough objective, launching your peach ball into the girl triggers a Sexy Challenge. When this occurs, you'll move to a smaller table, and be challenged to a mini-game where you'll do things like bounce the ball off of the girl's bikini-ed backside. Succeed and you'll earn massive amounts of points and a grade. Accomplish this enough and you'll return her to human state. Otherwise, she'll lay prone on the table, and you can 'bop' her for additional points.
Tanuki Girl Delight
Play on the two tables is colorful, perhaps exceedingly, as it's easy to lose track of the balls position. But it's also thoroughly lively, with cinematics that show the ball gathering up speed, Sonic-style, or the girls in different stages of undress. Although the PC port apparently inherits the low polygon counts of the Switch iteration, a fluid framerate and larger screen make it an advantage trade-off. Although there's not a wealth of visual options, there are enough fundamental selections to permit Peach Ball to play on a multitude of rigs.
Senran Kagura: Peach Ball tries its best to mask the shortage of tables. While different ball weighs and types don't radically change things up, new dialog and unlockable attire help incentivize play. Here, you get to be a fashion consultant, changing the appearance of each girl, for her picture in the game's diorama time-sink. The specter of DLC is apparent and launch and heading down that rabbit hole merely presents additional music options (priced at $5 USD apiece, or $4.49 during the launch window).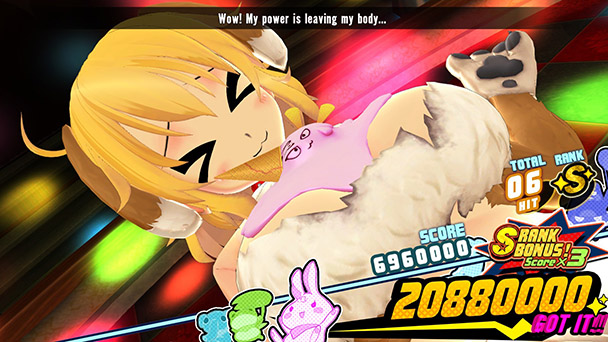 Conclusion
While Senran Kagura's spin-offs have been entertaining, they're struggled to match the quality of the main series. Peach Ball doesn't buck that trend, yet it's still far more entertaining than Reflexions or even Bon Appétit. More than just fan-service, the title extends a serviceable game of pinball that should please fans of the pastime.
Senran Kagura: Peach Ball was played on PC
with review code provided by the publisher.
Review Overview
Summary : Senran Kagura: Peach Ball offers a decent adaptation of the steel-orbed recreation. But the game's real draw is the scantily-clad shinobi.